NFL
Matt Eberflus: Justin Fields Is Out Tonight, But Also Doubtful, But Also Who's Really To Say?
10:42 AM EST on November 9, 2023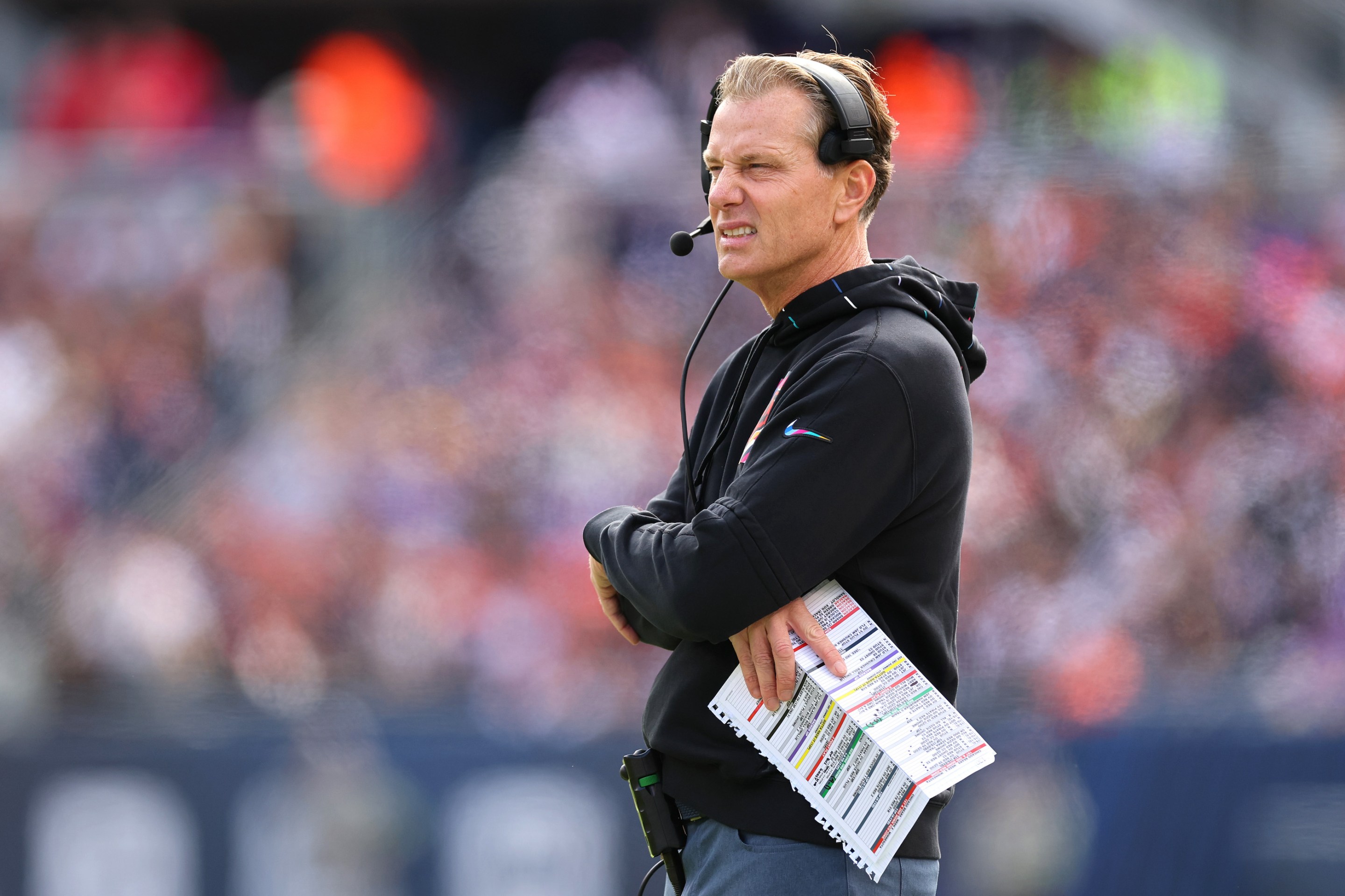 Bears quarterback Justin Fields dislocated his right thumb in a loss to Minnesota a month ago, which has left his team to rely on undrafted free agent and defective Cinderella story Tyson Bagent in the interim. After beating an imploding Raiders outfit in his first start, Bagent has since lived down to his Division II pedigree by throwing five picks in two subsequent losses. So if you're a Bears fan, you're probably eager to see Fields back out there. You'd even like to see him tonight against Carolina if he's up for it. Is he? Wellllll-hell-hell … does head coach Matt Eberflus have an answer for you on that!
Let's go to the full transcription of this exchange from yesterday's press conference, because it reads like something that Aaron Sorkin fished out of his wastepaper basket, un-crumpled, re-read, and then threw right back in. It's a 90-second masterpiece of incoherence. We begin with Eberflus explaining Fields's status in CLEAR and DIRECT terms.
"Like I said, he's not medically cleared to go, um, right now, and uh, he's getting better, though. He's, he's … accuracy's improving, he's throwing it better. He's starting to do more and more, so uh, we'll, we'll see how it goes. And right now we're listing him as doubtful, and we'll see where it goes from there."
Got it? Not medically cleared, but also doubtful. One reporter has a follow-up. The nerve.
"If he's out," the reporter asks, "if not medically cleared, how come he's doubtful vs. out?"
"Yeah, just to see," Eberflus responds. You know, just in case a necromancer shows up at team headquarters and magically reconstitutes Fields's interphalangeal joints using the blood of a sacrificed goat. "We gotta give him one more day. But he's working harder, and it's getting better every day. So we'll see where it goes."
Another reporter attempts to clear the situation up for Eberflus by stating outright, "He's not playing tomorrow." To which Eberflus responds, "Yeah, he's not playing." So OK, I think we've sorted this now: Justin Fields is out and Tyson Bagent will get thrown to the wolves for another horrible Thursday night game. Thank you, second reporter, for being decisive on Eberflus's behalf.
But wait … WHY is Fields still out? Where is he on the healing spectrum? How much better has he gotten? Another reporter would like to know about that!
"What is the medical staff telling you in terms of why they haven't given you the clearance?" she asks.
To this, Eberflus takes a long pause to gather whatever thoughts he can find way back in there. Here now is what he manages to unearth:
"Yeah it's uh, it's really just uh, the clearance is just … you know obviously he's gotta be cleared to play with the medical staff, you know. And so it's really about him feeling good about it, and about the medical staff saying he can go in there and function. And uh, he's just not there at this time."
Another reporter: "Is it an issue of grip strength, or—"
"It's everything," Eberflus interrupts. "It's, it's all. It's all improving. You know, the grip strength, the accuracy, you know, the ability to function as a quarterback. It's just… it's all right there. It's getting close."
Does that answer your question, buddy? I don't know how many times Coach Flu has to explain this. Justin Fields is not cleared, but he's getting better. It's all RIGHT THERE. Can't you fucking see that, huh? He could play tonight, or maybe next week, or maybe in 2026! Let's not get into the WHEN or HOW of this. Just trust the Bears! Justin Fields does NOT have leprosy, and also if he did, he's nearly recovered from it! We'll see where his painful, hideous lesions go from here! Which, again, he does not have, and which are also improving.
But reporters, fiends that they are, were STILL not satisfied by Eberflus's response. "I just, I'm not … I'm having trouble understanding," the grip strength reporter says. "He's not playing, but he's doubtful?" Eberflus nods along with this. "[So] is he out or doubtful?"
"We have it now he's listed as doubtful," Eberflus responds.
"But you're saying that he's out," the reporter replies, correctly. "That he's not going to play."
Eberflus now throws up his hands, almost to preview his reaction to getting beat by a one-loss Panthers squad 15 hours from now. "We'll see where it goes. Uh, the chances are doubtful: 51 percent that he's in or out. And it's gonna be… we'll see where it is. We got a little time left, but again, we'll declare him out when he's out. Right now we're still listing him as doubtful."
"But will he go through some sort of pregame workout tomorrow?" a fifth reporter asks Eberflus.
"He may! He may, yeah."
Every NFL season brings us at least iconic moment where a head coach blows it at the presser. "Playoffs?!", "They are who we thought they were!", meltdowns of that nature. Once these moments enter the clip rotation, they never leave. Eberflus has now created one such clip.
As season highlights go, this is pretty much it for the Bears. This team fired defensive coordinator Alan Williams after Week 2 for reasons still unknown. They fired running backs David Walker a week ago for similarly vague reasons, only citing "workplace misconduct." And now there's a 51 percent chance that their quarterback's thumb is trapped in the Phantom Zone. So while the Chicago Bears have only two wins to their name over the first half of the season, they're also EXOTIC AND MYSTERIOUS. Maybe they have an endemic sexual harassment problem. Maybe putting Fields back out there impedes their effort to tank, again. Maybe they were sent here by the Zorboxxians to conquer earth. There's a 51 percent chance that you'll never know, which is to say it is YOU who are now doubtful.
Stay in touch
Sign up for our free newsletter