Arts And Culture
Martin Scorsese's Second Life As An Adman
1:47 PM EST on November 15, 2023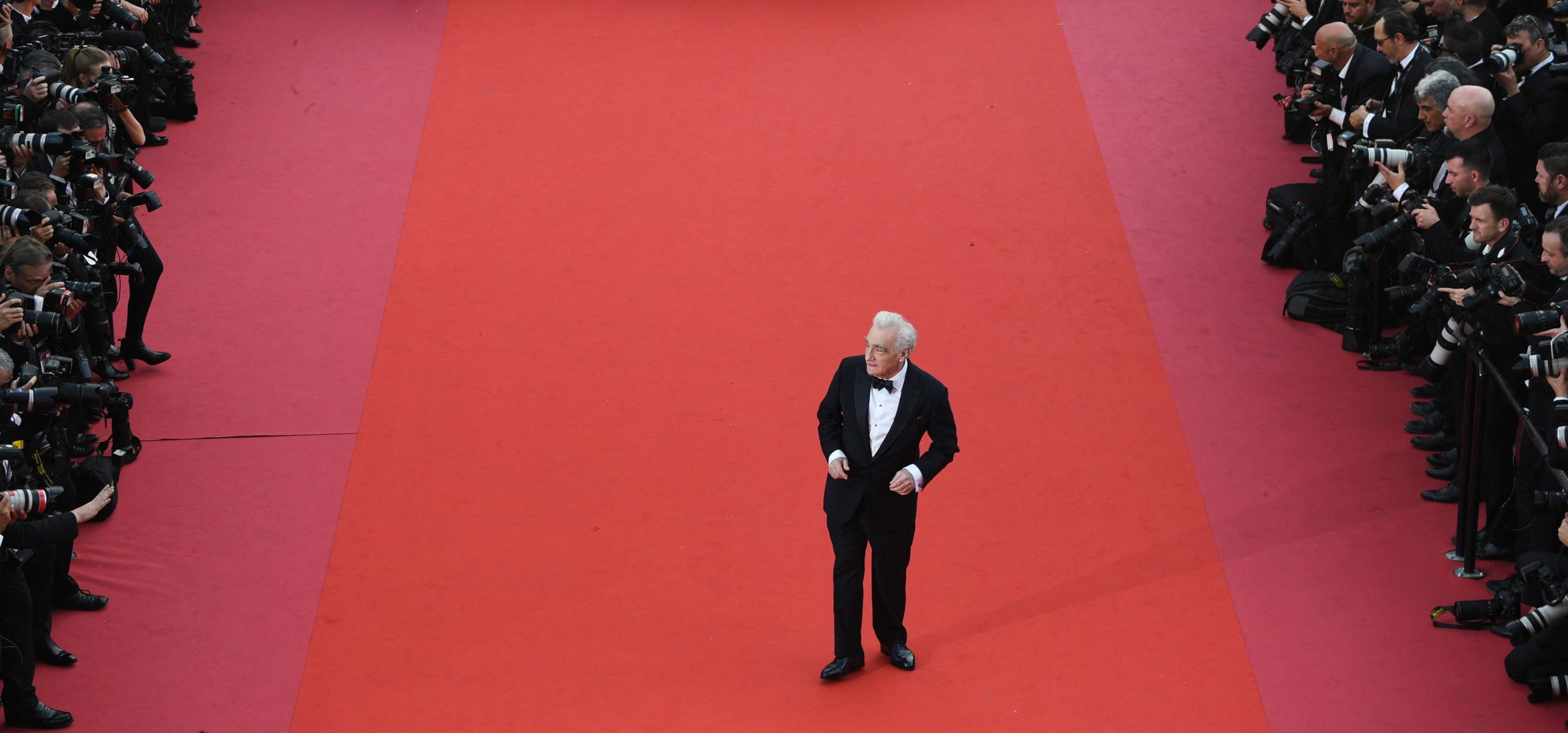 Have you seen the newest Scorsese? It stars Timothee Chalamet and is 60 seconds long:
That this Chanel ad is coming out alongside Killers of the Flower Moon, a $200 million movie with few of the conventional hallmarks of a 2023 blockbuster, feels significant. It's presumably a nice payday for Scorsese, who is, I'm sure, doing just fine, but whose bank account could not possibly reflect the full extent of his impact on American movies or global culture more broadly. The publicity can't hurt, either. Making it must have been a nice change of pace for Scorsese, a quick shoot for a surreal, stylish little curio—about as far as possible from the yearslong development process of a three-plus-hour indictment of the American project, not exactly untrodden ground for him. And while Flower Moon was made with the clear ambition that it might be known as the final, definitive statement of a Master, nobody will remember the Chanel ad. Certainly, nobody will remember it as a Scorsese movie. 
Chalamet plays a young star on the promotional treadmill, whose life on screen starts to blur with his real life. The ad unfolds at a hyper-rapid pace, dreamy and disorienting but also breezy. There are faint echoes of After Hours and King of Comedy, and there's a pleasantly disorienting quality to it. I'm not sure it adds up to much, but it's fun to see Scorsese return to this kind of kinetic filmmaking. It's everything that Flower Moon isn't: concerned with style and with fantasy, a brief burst of impressionistic images that never settles into anything particularly concrete, narratively speaking. 
While it isn't exactly a secret, even the most committed cinephiles rarely think about how much of a working filmmaker's career is devoted to all the stuff besides the actual work of directing feature films: writing, developing, pitching, raising money, etc. A whole lot of these projects never see the light of day, and the ones that do can take years, sometimes decades to actually reach screens. Hence the need for directors to rely on gigs to remain relevant and solvent. As movies become more and more devalued, the people who make them have to turn elsewhere. Even Martin Scorsese. 
---
Among the biggest of big-name auteurs, some started out in ads—Michael Bay, David Fincher, Barry Jenkins—and make occasional dips back into it. Then there are those whose work in ads has been more or less constant—you may be aware that Spike Lee, Spike Jonze, and Ridley Scott have large bodies of work as admen, but the same is true of Errol Morris and Harmony Korine. Most directors successful enough for you to know their names have done a few at some point, from directors with broad mainstream success like the Coen brothers, Tim Burton, Michael Mann, and David Lynch, to the artier end of the art house with figures like Hou Hsiao-hsien, Aki Kaurismaki, and Claire Denis. 
Some of these ads make the directors the star, highlighting the prestige and cool of critically lauded filmmakers alongside prominent product and logo placement. These "branded short films" aren't exactly commercials but do end up promoting both the filmmaker and the brand: "Jia Zhangke for Apple," "Jim Jarmusch for Yves Saint Laurent," "Miranda July for Miu Miu." Gus Van Sant co-directed the equivalent of a feature film for Gucci. Revered Malaysian-Taiwanese avant-gardist Tsai Ming-liang has continued his journey away from narrative towards meditative video art while sponsored by Glenlivet. There are frequently behind-the-scenes "documentaries" and a flurry of press releases announcing "collaborations" between Dee Rees and Walmart or Paolo Sorrentino and Campari. 
If all this keeps Todd Field working and paid until Tár comes along, or gets a paycheck to Nicole Holofcener or Terrence Malick or Lucrecia Martel or Barbara Kopple, well, there are worse forms of patronage. And for some, it is very clearly just a paycheck: You clock in, you clock out, something gets filmed, you get paid. Fair enough. No need to reinvent the wheel. Hell, you might even let an assistant do most of it. 
For others, though, it's an opportunity to try something new or weird on somebody else's dime. Even with all the creative constraints inherent to making a commercial, it has to be liberating to a filmmaker to not be hustling for funding or fighting over budgets. And it can be artistically appealing: Ads can let directors revel in pure style for 30 seconds. They can try out new tech or they can toy with a new style or genre. They can be exercises or experiments or larks in a way that doesn't make sense for a feature film.
None of this is new. Plenty of celebrated filmmakers have had to work in ads, from Orson Welles to Ingmar Bergman to Jean-Luc Godard. It was a way to break into the industry, or to raise money or pay bills in between features. But until recently it was pretty rare among working feature filmmakers—if your films were regularly coming out in movie theaters, you probably didn't need to do a lot of work in ads in between. 
What is new is that it's just part of the job now. Being a film director means having a side hustle, which usually means directing for TV and almost always means ads. Unlike an actor, a director can make a commercial in relative anonymity. Despite all the, ahem, exclusive stories placed in glossy fashion magazines, if you came across the Chanel ad on TV you would never suspect that you were watching a Scorsese film. 
---
Martin Scorsese has been making movies for well over 50 years. He's had high points and low points, but alongside maybe two or three other filmmakers, he's been among America's most famous directors for a significant chunk of that time. His commercials more often have been about profiting off his name as a celebrity than they've been auteurial work-for-hire: Martin Scorsese for American Express, for AT&T, for iPhone. He likes to cast himself as the director in these spots, and when he's not doing that he often pays homage to his favorite old movies—his woozy pastiches of '60s arthouse glamour are particularly appealing to fashion and perfume brands. In 2007, Freixenet gave him money to make one of the nerdiest movies ever made, a very funny short film about film preservation and obsessive cinephilia that manages to cram several dozen Hitchcock references into its brief running time:
Far more unusual in Scorsese's unofficial filmography is his 2015 short film The Audition, which is generally acknowledged to be the most expensive commercial ever made. 
A promotional short film for a Macau casino starring Robert De Niro and Leonardo DiCaprio, The Audition supposedly cost somewhere around $70 million—much of that going toward the reported $13 million fees for its stars. And that doesn't appear to be the only compensation. Ratpac, named after its founders, (alleged—but, it should be noted, frequently alleged) sex pest Brett Ratner and the Kendall Roy–esque Aussie billionaire James Packer, produced the film for a casino that Packer had some sort of financial involvement in. Packer, a habitual dilettante dabbling in movies and celebrity for a few years, then invested in De Niro's restaurants and in DiCaprio's climate change documentary, and served as executive producer on The Revenant. 
What did Scorsese get? Scorsese was extremely busy when he made The Audition. He was an executive producer on a couple of HBO shows and a handful of indie movies. His two most recent features, Hugo and The Wolf of Wall Street, had been the biggest box office hits of his career. Why would he bother?
He was then in the process of making a decisive pivot away from the kinds of thrills we usually associate with his work. Each of his three subsequent movies—Silence, The Irishman, and Killers of the Flower Moon—felt like it could be his last, a series of emphatic statements denouncing and deconstructing the foundations of American society, all of them long and slow and strange and meditative.
Silence was the most insistently uncommercial movie Scorsese had ever made. He'd been working on it in various capacities since the 1990s, getting embroiled in a lawsuit with the Italian rights holder during its long, troubled development. The lawsuit settled out of court before he went into production, so there's certainly a possibility that Scorsese's ad paycheck went right into pockets of the Italians. Who knows. It doesn't really matter, because there are all sorts of extremely clear reasons why, at a time when Scorsese was devoting himself to an expensive and painfully sincere exploration of faith and suffering, he would take a job that offered an easy payday and a short shoot with his friends. 
What's more interesting is the kind of movie he chose to make. The Audition is a light comedy written by The Wolf of Wall Street's Terence Winter, and it gives Scorsese a chance to do something entirely new for him. There are no stakes, no sense of urgency. It's a comedy of manners in which DiCaprio and De Niro, both playing themselves, show up to audition for the same part. They snipe at each other and try to maneuver their way into Scorsese's good graces only for the final reveal that the part is going to Brad Pitt. Cute, and funny enough. 
Scorsese's movies are funny, sometimes extremely funny, but there's a heft and an edge that keep even his funniest movies from feeling like comedies. The Audition, on the other hand, is lighter than air. So's The Key to Reserva. Neither one is the kind of deep personal expression that Scorsese brings to everything else he makes. There's something thrilling about seeing a master get to have a little fun, to see him working without expectations. 
The fact that there are ever-so-faint resonances between The Audition and Silence only makes it more appealing. Silence is gorgeous and powerful but it's no shock that it never caught fire at the box office. It's got bright young stars Andrew Garfield and Adam Driver playing Portuguese monks attempting to secretly minister to Japanese Christians. Nobody's heroic, and nothing the characters do seems to matter—they travel to Japan to find a former comrade, and when Garfield finally finds him, played by Liam Neeson, he blandly informs him that everything he believes in and everything he's been fighting for is a lie. It's devastating and maddening, and it's gorgeous to look at—every shot could hang on a museum wall—but the beauty is oppressive, with nature and everything else in the frame overwhelming and overpowering whoever's unlucky enough to be in front of the camera. 
The Audition, on the other hand, keeps the camera on De Niro and DiCaprio, with whatever's green-screened around them staying very much in the background. Everything that they argue about is obviously and openly pointless, with zero importance for anybody besides themselves. When Pitt shows up at the end, like Neeson showing them how little their squabbles actually matter, it's just a gag. 
So every few years Scorsese gets some corporation to pay him a bunch of money to direct a fun little movie that he'd never, ever think of turning into a feature. Killers of the Flower Moon is a masterpiece. If it's the last feature Scorsese ever makes, he's going out with as powerful a film as anything he's ever made. But the other Scorsese, the low-key, low-stakes Scorsese, is Scorsese too. We're lucky to have both.
Adam Charles Hart is an author, curator, and archivist who lives in Pittsburgh. His second book, 'Raising the Dead: The Work of George A. Romero', will be out in early 2024 from Oxford University Press.
Read More:
Stay in touch
Sign up for our free newsletter