College Basketball
Markquis Nowell Returned Home And Put On A Show At MSG
9:20 AM EDT on March 24, 2023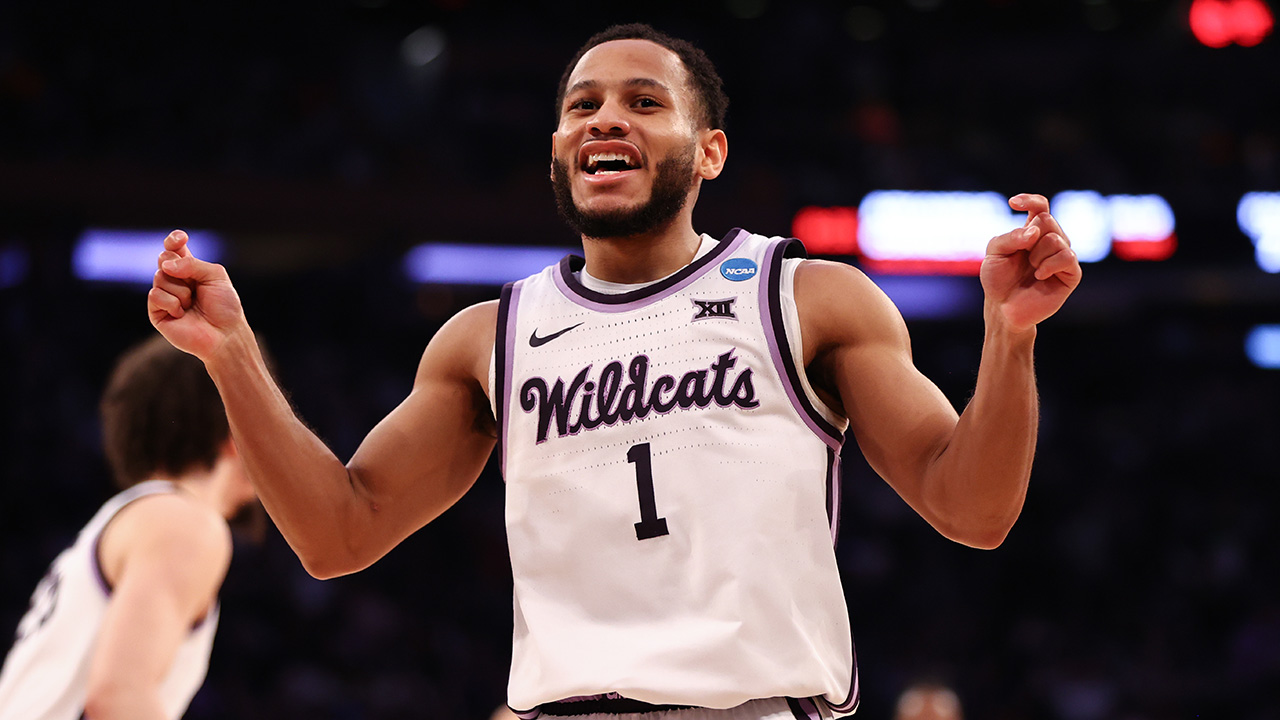 NEW YORK — Officially, Madison Square Garden has hosted the fourth-most games in NCAA tournament history. But most of those were ages ago, in the '40s and '50s, at a different building with the same name. Though the current venue with the name MSG has a long college basketball history, it has only hosted tourney games in 2014, 2018, and this year.
The third time was a charm. Markquis Nowell put on a show worthy of any of the basketball greats who have played in the building. Playing in his hometown, the man whose Twitter handle is @MrNewYorkCityy scored 20 points and had an NCAA tournament-record 19 assists. He also had what has to be a first at any level of basketball ever played: He threw an alley-oop reverse dunk to a teammate for the lead with a minute left in overtime. The Wildcats would not trail again, beating Michigan State 98-93 in overtime to advance to the Elite 8 of the NCAA men's basketball tournament.
It gets even better. During the clip above you can see Nowell gesturing to coach Jerome Tang before throwing the pass. But before that, he turned to the stands to yell "Watch this!" He was asked about it in the postgame press conference. "Dang, I've got to watch what I say," he said. "I was talking to Isiah Thomas because I think he had a friend over there, and he was rooting for them. And I'm like, 'Y'all not going to win today,' and I just kept looking at him for some added motivation." He added it was "nothing but cool vibes" with Thomas, something that is definitely not true of any Knick fans in the building. Nowell was four when Thomas was hired as Knicks president, so this makes sense.
"We knew how Michigan State plays defense," Nowell said. "They play high up, and Keyontae just told me—we got eye contact, and he was like, 'Lob, lob.' I just threw it up, and he made a great play."
Nowell did a lot of his damage while dealing with an ankle injury. In the second half, Nowell rolled his right ankle with 15:32 left to play in the second half. He was helped off, and Michigan State went on a run to take its first lead. The Spartans were ahead, 55-52, when Nowell came back in. He drove inside, saw his pass deflected away, then grabbed the ball and fired up an off-balance three with the shot clock winding down. It banked in. He hobbled back up the court about as fast as a guy who just turned his ankle can go.
"When I saw Markquis go down and hobble off, I knew he wasn't staying off," K-State coach Jerome Tang said. "That dude didn't come here to be injured on his last college game, so I knew he was coming back in."
"You think you play pretty good D," Michigan State coach Tom Izzo said. "He comes flying in and banks it. You say, well, it's just one shot, but I talked to my team at the hotel before we left, and you try to talk about the importance of one shot, one turnover, one free throw, and you can't harp on them because then guys get nervous and uptight."
That shot was huge. But it was Nowell's passing that won Kansas State the game. He's up to second in the country in assist rate after his record-setting night; he assists on 42.4 percent of the Wildcats' field goals. (Yuri Collins, at St. Louis, is first at 49.1.) He literally opened the game with an alley-oop to Johnson. He found teammates for threes and for layups. He passed to guys through the front and back doors. "We got caught mesmerized on Nowell," Izzo said. "He's a special player."
"They do a lot of ball watching," Johnson said. "Quis has always told me when he drives, just keep cutting. He's going to look for me. And the IQ, the feel that we have for each other, it just showed today."
And his defense! Oh, man. Michigan State did not turn the ball over much this season—the Spartans were top-75 in the nation offensively in turnover rate. The Wildcats forced 13 turnovers, fifth-most for MSU in a game this year. The Spartans got 13 offensive rebounds and shot 13-for-25 on threes. They also gave Kansas State a bunch of easy buckets; the Wildcats had 16 points off turnovers to Michigan State's two. The last two points came on the final play of overtime; K-State led by three with 12 seconds left. Michigan State set up a play to get a three, then kept passing it around as the Wildcats refused to let anyone get a good shot. Nowell then stole the ball, raced downcourt, and laid it in at the buzzer for an exclamation point on his night.
"We tried to align the match-ups so that when they set screens and we switched, we had more size on their guards, because they did a good job of getting downhill and then shooting over the top of our smaller guards," Tang said. "But Cam [Carter] did a great job of getting the deflection and then somebody else got one. And when that ball was bouncing around and not in their hands, it played in our favor."
Nowell was good in high school. You can see a highlight reel above. But he bounced around. He didn't play much at Jersey City powerhouse St. Anthony his freshman year and transferred to Bishop Loughlin in Brooklyn. After two years there, he was at The Patrick School back in N.J. Sports Illustrated called him "generously listed at 5-8" in a story that noted he received no Division I offers his senior year. He finally got one over the summer from Little Rock, a Sun Belt team, and spent three years there before transferring. Kansas State was picked to finish last in the Big 12. Now they are one win from the Final Four, thanks to a guy who went from Manhattan, Kansas to Manhattan, New York and had the game of his life.
"This one was special, in front of my hometown, in front of the city that loves me," Nowell said. "I can't even put into words how blessed and grateful I am."
Stay in touch
Sign up for our free newsletter