College Basketball
Jon Solomon, Princeton's Number One Fan, Has Made Me Believe In The Tigers
11:47 AM EDT on March 24, 2023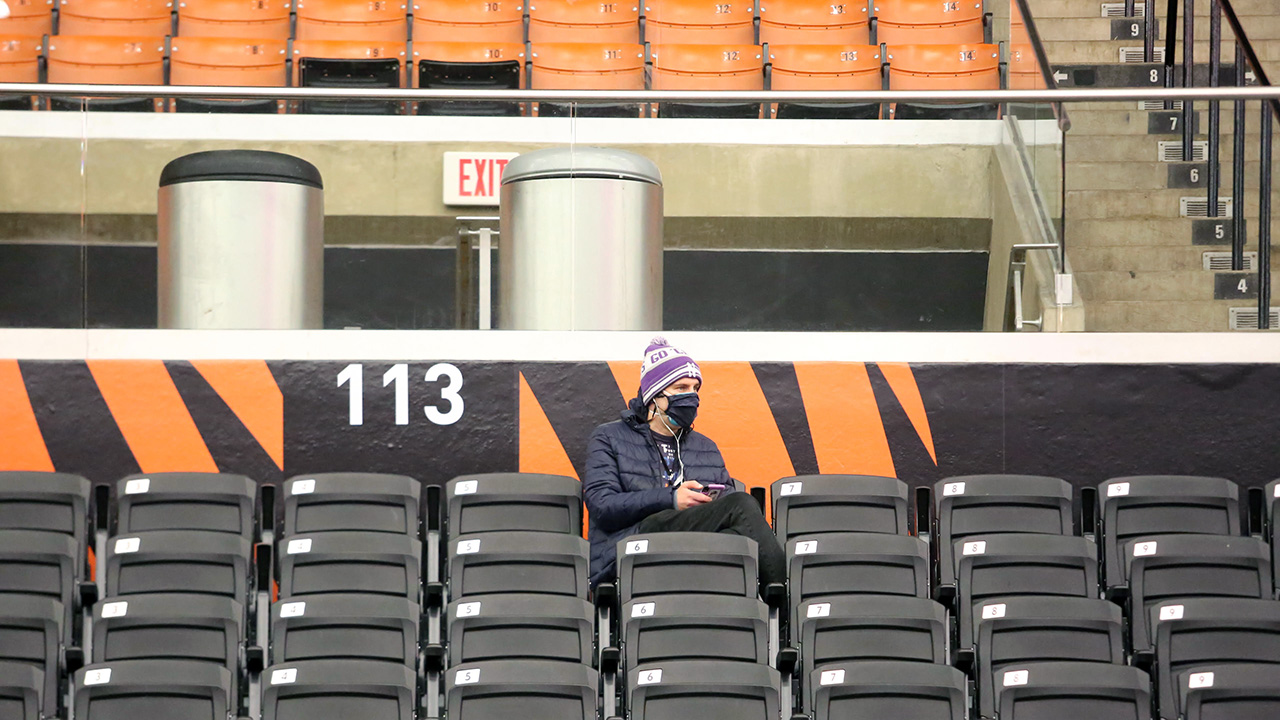 I'll just come out and say it: I've been thinking of rooting for Princeton.
I'm kidding of course. I won't be doing that, for gambling-related reasons. But I did consider it, which is saying something. There are plenty of valid reasons to dislike Princeton. Mine is no less valid, but it is stupid: I don't like their basketball team. I root for their rival, Penn. I have owned several Puck Frinceton shirts in my life. One bracket pool I play in every year is called Princeton Sucks. They are up there, or down there, with the Celtics and Cowboys for me.
The first Penn/Princeton basketball game I can remember was in 1990. I was seven. Here's how it ended: Penn was down 1 with a second to play. Paul Chambers had a one and one. He missed the first, but Hassan Duncombe tipped it in at the buzzer for a 51-50 Penn win. Alan Schwarz wrote the game story in the DP! This is what I cite as to why I wanted to attend the school.
I did not always enjoy my time in college—basketball aside, I might hate Penn more than I hate Princeton—but one thing I loved was traveling around to college basketball games. I wrote scores of stories about the team for the school paper. We'd drive to watch games in Hanover and Lawrence Township and Easton. I still do this—once my buddy Andy and I parked illegally at the Naval Academy for a Temple game and did not get caught—though not to the level I did when I was in my 20s. I mean, I guess I saw eight La Salle games in person this year, but I would even like to do more. I just am not going to make my wife go to Wilmington on a random Tuesday in January because I want to see the Blue Hens.
Maybe I just feel inadequate when compared with a man who has seen basically every damn Princeton men's basketball game ever played. Jon Solomon was at that game where Duncome tipped it in. He was at a number of famous Penn-Princeton games since he started going to games in the early 1980s. He's seen every conference game Princeton has played since the final three games of the 1999-00 season. Solomon is so down, down with Princeton basketball he has attended 311 straight regular season conference games. Add in nine postseason Ivy games for the Tigers, and Solomon is at a cool 320.
Solomon grew up in New Jersey. He became a fan as a kid. He first attended a Princeton game in 1984, when he was 11 years old. Princeton made the tournament, which was only 53 teams back then; the Tigers won a preliminary game against San Diego at the Palestra. 1984 wasn't the year his first Princeton game—"I remember my dad taking me to games that Craig Robinson and Neil Christel played in," he told me—but that year was the one that got him hooked. As with me and that Duncombe game-winner, it happened when he was young. And now he's getting to see the Tigers' longest tourney run since they got to the Round of 16 in 1967.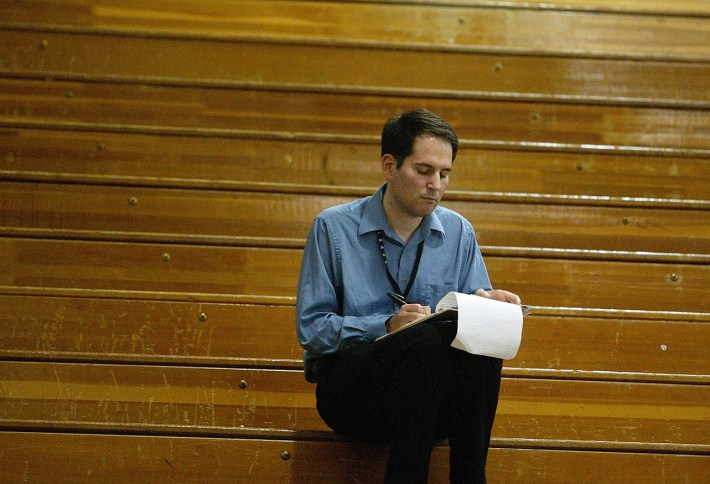 It's not really about the basketball. When I was a sports editor at the paper in college, the two years the Quakers made the tournament were a blast. But the real joy in those years were the adventures I had with other people at the newspaper—trying to get back from Cornell before last call (we did it), betting on little kid basketball games (I won that one), sneaking down at MSG to say hello to a few of my roommates, who were team managers, before a Penn game (Penn's Jonah Charles later lived in the same house we did). There was a weird tradition at DPOSTM—The Daily Pennsylvanian's Only Staff That Matters, obviously—of going to a New Hampshire restaurant called Chicken Hutch on the way to Dartmouth games. I didn't really get it but I played along anyway.
Maybe these aren't the most memorable experiences on their own, but they don't exist on their own; the context, the decision to care about this team and then follow them through a season, is what makes the games meaningful and makes fandom great. One of my favorite basketball memories ever was just last year, when I went to a La Salle game with an Explorers superfan who introduced me to the team's pregame smoke machine. I have no real affiliation with La Salle; they haven't been very good for a while. But I just love going to La Salle games. I don't have to drive on City Avenue to get to games like I do for St. Joe's and there's always plenty of spots at the supermarket parking lot where fans park for home games. I get to yuk it up with people I've become friendly with there. Sometimes I get one of them to take a photo of me in front of the light-up "L", which signifies that I have just witnessed piping-hot Atlantic 10 basketball. It all seems silly writing it out, and maybe it is. I have chosen basketball as one of my obsessions. I feel like it has worked out pretty well.
Solomon feels the same way: "The games are almost secondary to things like 'making sure my dad gets his favorite donuts from outside Providence' or 'going to all three free art museums before picking up a potato pizza in New Haven.'" It's also about the community one creates from fandom. "There was a couple called The 14 Club when I was a kid—these super enthusiastic people named Steve and Pam," Solomon says. "I wanted to be like them." And so that couple inspired him to be his own 14 Club, seeing all 14 conference games a season since the turn of the millennium.
Go to a game at basically any school with a basketball tradition—and maybe even ones without it—and you will find at least one superfan. Sometimes they're students; a man named Dominic Grecco was "Captain Beer" in the St. Bonaventure student section. He passed the beer hat and title to a new student last year. Some alums stay on after they graduate; I spot at least a dozen familiar faces every time I'm at the Palestra for a Penn game. When Princeton played IUPUI in a 2010 postseason tournament, Solomon found a superfan from that Horizon League program: "I remember I found this guy named Michael, and he was, like, the biggest IUPUI basketball fan that you could ask for." Princeton has a few fans I recognize at games. I cannot think of any who have created more of a sense of community around that fandom than Solomon.
Jerry Price has worked in athletic communications at Princeton for 29 years; he's now the official sports historian at a school with a ton of it. "When I started at Princeton, everything was about newspapers, radio stations, TV stations," Price says. "[Solomon] was really the first guy who came along who wasn't affiliated with some outside outlet—he was his own outlet. And yet, his coverage was very complete… His coverage was comprehensive, and he could get into areas that we couldn't get into, especially in recruiting. He earned a very loyal following, and everybody had a lot of respect for what he was doing."
Solomon's Princeton coverage began with an email chain. He was living in Chicago—he's a Northwestern grad—and wasn't able to follow Princeton as closely. First it was just him and and another guy who was no longer in the area. Then a few professors were added to the reply-alls. Eventually it transitioned to a listserv and a messageboard. From 2004 to 2013 he ran PrincetonBasketball.com, an incredibly thorough blog about the team. Now he does a podcast called The Ivy League Hoops Hour with Sydney Johnson (a former Princeton player and head coach) and Lawrence Schuler (an ex-graduate assistant coach for the team). Its report on today's Sweet 16 game against Creighton was tremendously enjoyable.
But Solomon has not just created community through basketball. He hosts a weekly show on WPRB, Princeton's radio station. This December, he DJed his 34th annual 25-hour Christmas music marathon on the station. He runs a record label, Comedy Minus One, that puts out a number of interesting releases. He has organized a Facebook group, Now Fizzing, where seltzer obsessives gather. He even does a weekly Instagram live stream where he takes out his recycling.
I asked a mutual friend of ours, Amy Perlingiero, if she wanted to say something nice about him. "Oh man," she said, "I do. But how do I narrow it down?" After a minute, she had an answer: "Maybe something about him being an excellent friend with a wide and eclectic array of interests who is always eager to learn about your niche interests that are unfamiliar to him with genuine enthusiasm." Wow! I've got to ask Amy to say something nice about me sometime.
Price had nice things to say, too. "He's a very soft spoken guy," he said. "And he's very warm. He's very positive to be around. He's just upbeat. And you don't meet people like that all the time."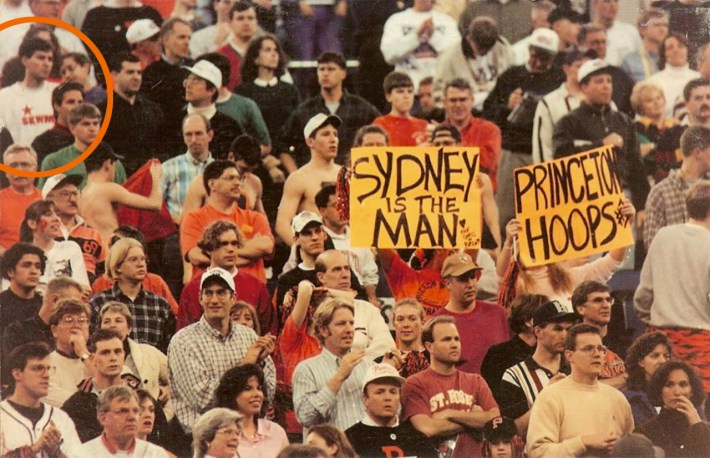 It all could have gone differently. Princeton shared the Ivy League regular season title with Yale this year after beating Penn in the regular season finale; the Tigers were down 19 late in the first half. In the tournament semifinal against the Quakers, Princeton was down a point with just under five minutes to play. They only allowed one Penn bucket the rest of the way in the 77-70 win.
But with 1:23 left and Princeton up one, Penn's Nick Spinoso was called for an offensive foul. The next possession, Princeton got two offensive rebounds before Tosan Evbuomwan hit a jumper. As much as I'd like it to be, it's not that Princeton was lucky to get that call or those rebounds, but when you're a fan of a team that only gets a chance in the tourney if it wins its conference these little things matter. "Princeton's one questionable Keyshawn Kellman charge away from not being in this position," Solomon says.
But Spinoso was called for a charge. Princeton beat Penn, and then Yale in the finals. Though I usually love when the underdog wins, I was pretty bummed when 15th-seeded Princeton beat Arizona. When the Tigers routed Missouri in the next round, I was impressed but also horrified—my favorite college basketball team's rival was having the biggest run of my life. Then I talked to Solomon last Sunday for what was supposed to be a short conversation. We chatted for an hour. He was in Toronto with his family, visiting friends. Yes, the man who has attended 320 straight Princeton league games did not see their tournament triumphs in person—the first tourney game he'd missed since 1984.
This trip had already been planned; Yale was the best team in the Ivy this year, and no one predicted what Princeton has done. When the Tigers got shipped to Sacramento, Solomon didn't change his plans. "I was pretty at peace with my decision to not go from jump," he says. He's gotten older. His years of covering the team nonstop made him really attached to everything about it, and it eventually stopped being fun. They get the NCAA tournament up in Canada—it's on after The Littlest Hobo, probably—and he obviously watched both games. It was invigorating.
"Watching the Princeton/Missouri game in the second half … there were definitely some sounds that came out of my mouth that I didn't expect," he says. "When a Blake Peters three that made it a 17-point game, I made some sort of sound that was like not even cheering—but just like a like an, 'Oh, my goodness,' kind of involuntary noise. And my daughter was truly startled."
It has been a wild week for Princeton basketball. Fans are starting to learn how to say Tosan Evbuomwan's last name (eh-WHOA-ma, he says). Another Princeton athletics communications staffer, Chas Dorman, told me the team got more than 100 media requests. They held press scrums for local and national media at Jadwin Gym. Obviously if you've gotten this far you know I really like and admire Solomon. Dorman is another Princeton guy I like a lot. Price was great the first time I talked to him. I will not let any of this keep me from booing Princeton the next time they play Penn.
Solomon will be in Louisville on Friday night, cheering on the Tigers as they play Creighton. The Bluejays are favored at most books by about 10 points. And after thinking about it a while, I've decided: I want Princeton to win. I will be rooting for them. Princeton's gym may befuddle me. Their basketball team's success against my Quakers in recent years angers me. But if Princeton has guys like Jon Solomon on their side, then I want to be there, too.
Stay in touch
Sign up for our free newsletter