NBA
James Harden Begins Going "Ben Simmons Mode"
3:04 PM EDT on October 2, 2023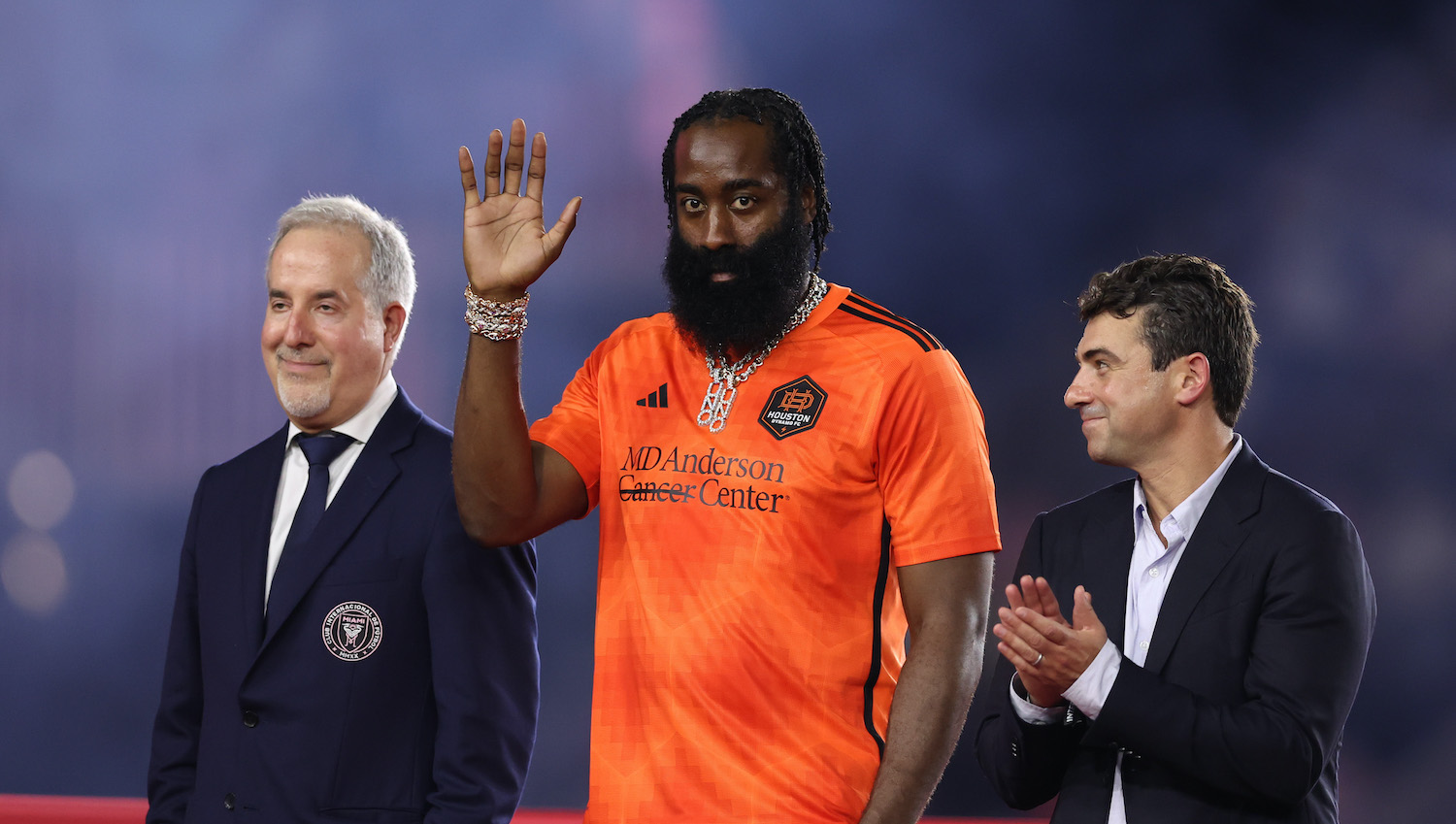 Days after their two primary rivals for Eastern Conference supremacy pulled off mondo trades for all-NBA point guards, the Philadelphia 76ers formally entered the labor-withholding stage of their summer-long standoff with their own all-NBA point guard. Extremely disgruntled Sixers quasi-employee James Harden skipped out on media day on Monday morning, and when the Sixers fly to Colorado for training camp (presumably without him) this afternoon, he will officially be withholding his services from the team with which he has a $35.6 million contract.
This is all an escalation of Harden's ongoing ploy to get himself traded to the Clippers, coming on the heels of such aesthetically ambitious hits as telling a bunch of Chinese NBA fans (twice, for some reason) that Daryl Morey is a liar that he will never play for again before grinning and hitting a loose shaka, and giving a terse interview to a Houston TV reporter who found him hanging out on a high school football field practicing for his charity softball game. Failing to show up at media day doesn't have the visual flair of either of those previous two entries, but thankfully Harden's absence pairs nicely with a recent appearance at a club in Houston, where someone was holding up a sign reading "DARYL MOREY IS A LIAR."
Harden has made himself as clear as the league's tampering rules allow him to be: he opted out of his $47 million deal last summer and took a voluntary pay cut to help the Sixers sign some more guys, likely with an agreement in place with Morey that he'd be traded if things went sideways. Harden has all but said publicly that he wants to go play for his hometown Clippers, though unfortunately for both Harden and his blood opponents in the Sixers front office, Clips management watched the playoffs last year and therefore doesn't seem very interested in trading real stuff for Harden. All the reporting indicates that Morey is still demanding real stuff in return, and per Adrian Wojnarowski, there is "no traction" on any potential deal with the Clippers or any other NBA team.
Harden had two transcendent games in the Sixers' seven-game series against the Celtics last year, only to shoot a combined 7-for-27 (1-for-11 on threes) and go minus-40 in two closeout games as the Celtics snaked out from under Philly's 3-2 series lead. Given that he is now 34 and the athleticism that powered his grim foul-hunting prime has waned to a notable degree, it is not hard to see why potential suitors are wary of giving up multiple picks or a good young player like Terance Mann in a deal for Harden. Why would you mortgage some portion of your team's future in exchange for the opportunity to give Harden his last big contract? And why, especially, would a team do that when Harden is actively trying to engineer an escape from his third team in three years? As Kevin Garnett memorably put it on a recent podcast episode, "You ain't got infinite wiggles."
Looking around at the newly bulked up Celtics and Bucks—I am legally bound to mention here that the Miami Heat have made two of the past four Finals—the Sixers probably can't hope to contend in the East without either Harden or someone who can replicate his (ebbing yet considerable) production. Given that the latter scenario seems impossible, the ideal on-court outcome would be for Harden to put his head down and play out the season with Philly. Though he's made his position on Morey quite clear, the newly agreed-upon CBA might force his hand. A new clause gives the Sixers the power to prevent Harden from signing any contract with any basketball team anywhere if he withholds his contractual services for 30 days.

At least Daryl Morey has experience with the exact scenario of a star guard refusing to play for his team and making a big mess during a training camp. While the sensible scenario would be a peace offering, the funniest outcome would be Morey flipping Harden for a guard who takes two years to hold out and demand a trade, who he then flips for another guard who also holds out and demands a trade, on and on forever until Joel Embiid is on the New York Knicks.
Stay in touch
Sign up for our free newsletter