Tennis
I Finally Understand Why You Ding Dongs Won't Come To The Net
2:30 PM EDT on September 26, 2023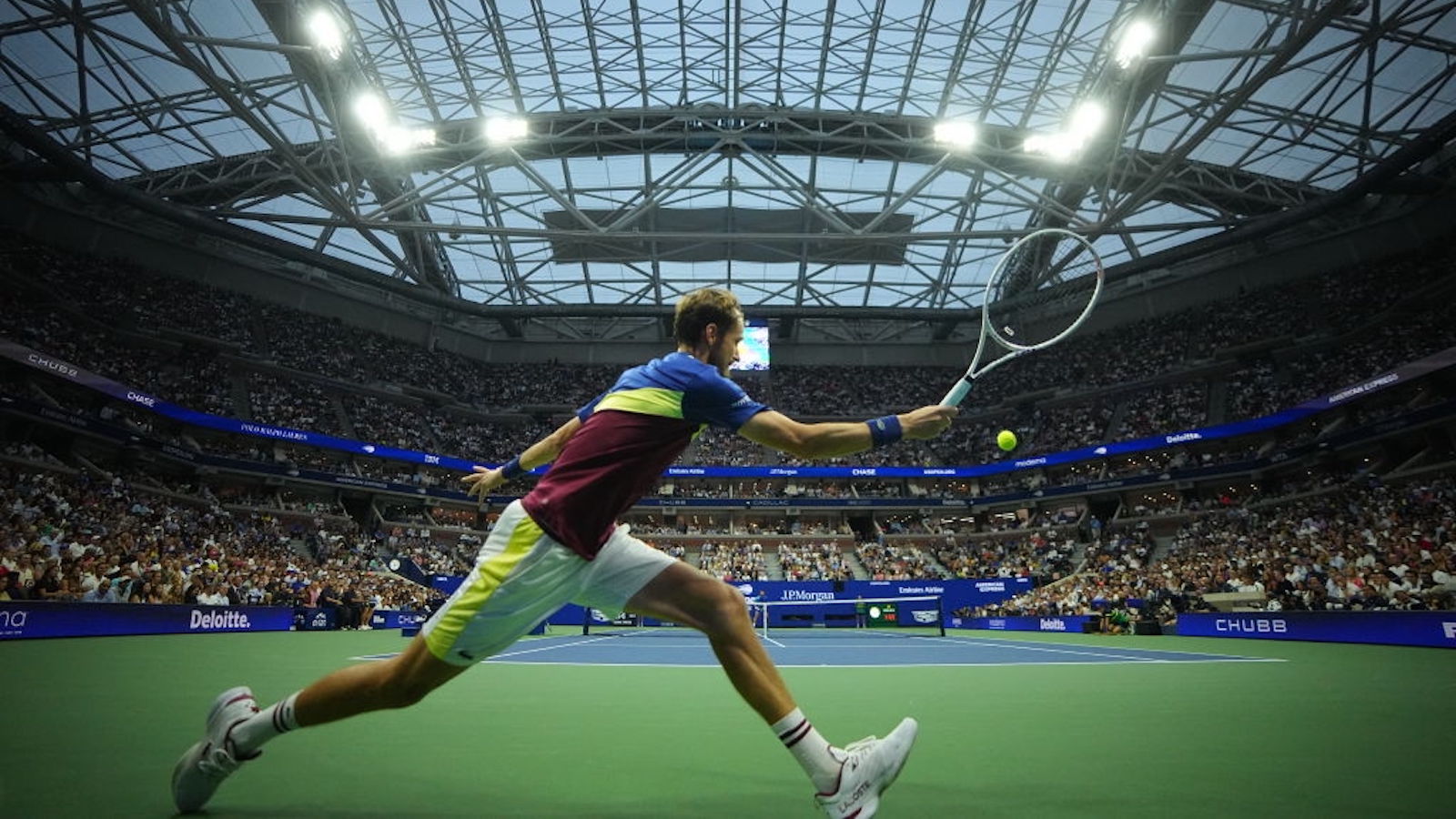 VANCOUVER, British Columbia — Six years ago, writing for the old site, I called an entire generation of professional tennis players "ding dongs" for not coming to the net more. Frustrated by what I saw as their cowardice and lack of creativity, I berated stubborn baseliners like Alex Zverev and Dominic Thiem from my armchair and called them names like "doofus," "boob," and even "moron."
Then at this year's U.S. Open, world No. 9 Casper Ruud, a kind-faced Norwegian who serves as a kind of head prefect for men's tennis, said something that made me reconsider my forceful and bitter screed: "I read a bunch of these so-called tennis 'experts' and their opinions, and it's just insane. It annoys me, because it's just—I feel like if you haven't played professionally, most of them have no clue what they are talking about."
He was right: I have no idea what it's like to play professional tennis, or what I'm talking about. That's why when I found myself at a pre-tournament press conference with Ruud at this week's Laver Cup exhibition tournament in Vancouver, I set aside my frustration and asked him for his professional opinion.
"I'm not going to come to the net because my volley is not really great, so I'd rather play forehands and backhands from the baseline," he pointed out.
"People have become so good at the baseline that coming to the net doesn't help as much anymore. You have people like Novak [Djokovic], who's one of the best returners in the world, who took it to a new level. If you try to serve and volley against him there's a good chance that he's going to pass you."
Ruud was sitting with Björn Borg and the rest of Team Europe, who all seemed glued to the baseline during the practice sessions I watched. Unlike the world-killing "Big Four" roster at last year's tournament, this was a group of almost painfully benign dudes who would probably have to wear their event accreditation between serves.
"I think Hubi is probably the one who will come more to the net," offered Ruud as a consolation, gesturing half-heartedly to the always bewildered-looking Hubert Hurkacz.
---
The Laver Cup felt like an appropriate place for this conversation. Tournament co-founder Roger Federer inspired my "ding dongs" rant in 2017 when he reduced Marin Cilic to tears in the Wimbledon final, got absolutely blitzed, and then bemoaned the death of net play the morning after. ("I drank too many types of drinks," he told the Telegraph.)
Federer seemed to genuinely believe in the event's potential as a site of intergenerational exchange, and his enthusiasm was infectious as he put a dozen pint-sized Canadian juniors through their paces during a pre-tournament clinic in Vancouver.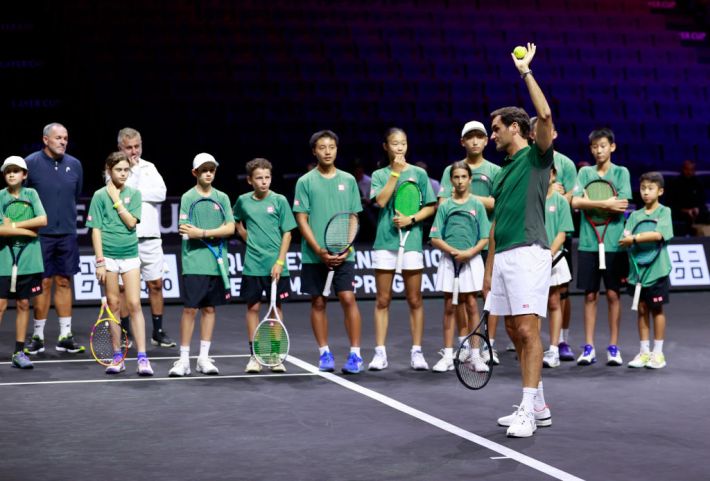 "A running forehand is useful when you're playing on grass, where it can be difficult to stop," he told them after demonstrating one, cheerfully oblivious to the fact that most of the kids will probably never set foot on a grass court.
One of the kids asked him whether he'd use a two-hander if he were a junior today. "I have four children: twin girls who are 14 and twin boys who are nine. All of them use a two-handed backhand," he admitted, a little heartbroken. "Anyone here have a one-handed backhand?"
One player raised her hand before quickly withdrawing it after realizing she misunderstood the question.
"So yeah, I would probably start with a two-handed backhand," conceded Federer, fooling nobody.
When Team World took the court for a practice session, I felt hopeful. In contrast to the stoic and faintly celibate vibe coming from the European bench, Team World was always cracking jokes and seemed like they could come to the net, at least spiritually. Ben Shelton, Tommy Paul, Felix Auger-Aliassime and Frances Tiafoe confirmed this as they spent most of the practice enthusiastically running through a bunch of volley drills.
"The new generation, people like Rune, Sinner, Alcaraz, it's amazing how well they all move," I later heard Federer tell a reporter. He believes that it's more difficult to improve a junior's coordination after they turn 14 years old, and that the sheer number of hours juniors now put in before that deadline has transformed the sport.
"It's become a game of movement. The best movers are the best players. When I look back at how I played at 12 years old, I see how much better the 12-year-olds of today are than me back in the day."
At the Team World press conference, I asked captain John McEnroe, perhaps the greatest ever serve-and-volley player, whether there's anything about his game worth preserving in an era when players are moving so much better than they did in his.
"Hold on, that's where you lost me," he said as Taylor Fritz and the rest of the Team World cracked up around him. "Why don't you throw a pie in my face while you're at it!"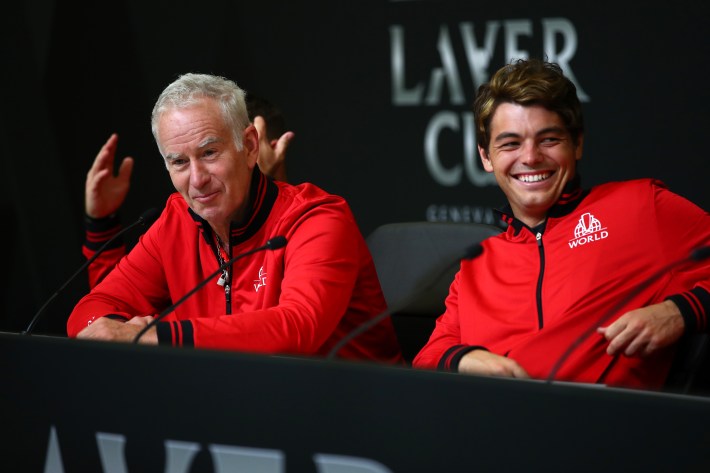 "You know, a lot of that depends on court surfaces and balls. Wimbledon changed their grass, U.S. Open for a while was slow with their courts, then sped them up. Obviously with the equipment, the game's quicker, and you need to be better—and better athletically, more explosive, and that's a beautiful thing to see. But it's the most fun, to me, watching different styles at work."
I pointed out the big servers in the room, Shelton and Milos Raonic, who McEnroe briefly coached in 2016, and asked him whether he at least pushes them towards the net.
"They serve so big that at times they're not even on the service line by the time the ball is coming back! Of course, people who can do a lot with the serve, to me? They should keep coming at people. It sort of depends, but I do advocate, at the very least, mixing it up."
This was wild. Even one of the most successful net-comers of all time was being weirdly hedge-y about the idea of coming to the net. It was becoming clear that if I wanted answers, I would have to come to the net, journalistically.
---
"The lighting in here is terrible. I look like I have no eyes!"
Federer was peering into the front-facing camera of an iPhone someone had handed him. A dozen reporters flocked to the north sideline of the Laver Cup court, waiting their turn to ask him a question, and I was last in line, but before I knew it, it was my turn to confront the eyeless apparition.
Walking up to Federer, I felt vertigo experiencing a giant of my childhood at human scale. His shiny hair and incandescent body language made me think of a candle.
During the clinic Federer had told the Canadian juniors that they "should be able to wake up at two in the morning and throw a perfect serve toss." The juniors had laughed, but to me it didn't sound like a joke. I had read somewhere that Federer would practice his serve even when he was on vacation. I had to know: Was he still sneaking off to the practice court in flip flops?
"No. I feel like I'm very much at peace with everything. I don't feel like I have to go play all the time because it's more of a ... I guess it's a logistical thing, why I don't go play that much. Because I have to book a court, and then I gotta find someone to hit with. And then the question is, what do I work on? Because improvement is not the top priority anymore.
"But look, I'm happy that the feeling I had and everything I was sharing with the public was true: that I love tennis, I love the tactical aspect, everything around the game. How interesting it is and how it functions. That I actually truly enjoyed it. So, no, life's good, really, now." 
I had to grip the recorder with two hands to avoid shaking. Then it was time for me to ask Roger Federer about coming to the net, and I forgot how to speak.
"You've been asked a few times about the next generation of tennis professionals ... maybe what advice you have to [give, I forgot to say 'give'!] them, and you talk a lot about coming to the net, being aggressive, having this mentality … When you're in these situations with these younger players, how do you try to impart that to them? How do you try to make them more confident and make them feel like they can come to the net?"
Come to the net. The first few times Federer said this phrase back to me, he did so with a bit of sarcasm in his voice, even amusement. Then the maestro of fielding the most moronic sports reporter thoughts got to work.
"So the thing is, there are so many incredible movers on tour now. So when you 'come to the net,' you have to have a specific plan. An idea. You can't just say, 'Oh, I'm gonna come to the net,' and then see what happens. This is not how you come to the net!
"You have to come with a plan. You come with authority. You come [with], like a ... 'cat-like' idea how you're gonna win the point.
"So that's already one mindset that is not easy to [have] if you don't come to the net often enough. That needs to be trained. Let's say you have 100 minutes of practice. Probably only 10-20 minutes of it will be at net, maximum. The other 80 will be from the baseline, serving, returning, moving, and all that stuff."
I thought back to an Andrey Rublev and Casper Ruud practice session during which neither player came to the net a single time. Federer then entered Coach Mode and explained how literally anyone could become a good serve-and-volley player if they just practiced their volleys more.
"I think if you want to really be better at the net, maybe see if you can make it 40 [minutes]? Or sometimes go through days where you only do volleys, you know? And you do transitional stuff. And you become so good so quickly, you'll be surprised how quickly you improve!
"But the problem is, we always feel we don't have the time. Imagine if you took three months to practice and you came back. Literally you would be a world-class volleyer if you did that! But the thing is, we don't have, ever, that sort of long-term view.
"So that's advice I would give: really take the time to perfect your volleys. Spend hours and hours doing it. And especially also transitional, that's definitely a different type of serve-and-volley that's required nowadays than before."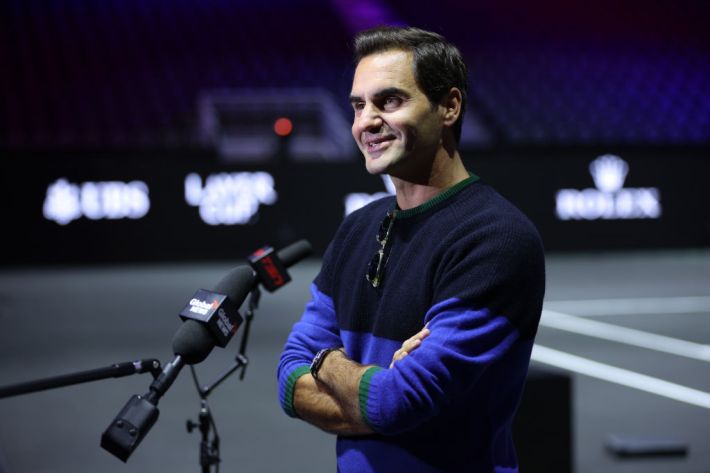 Most people would have stopped here, but Federer was still booting up his tesseract-like assessment of tennis's baseline problem.
"Obviously [it] would help if the courts were a little faster, and not just once a year but several times a year, so that you could also bluff tennis sometimes and apply pressure that way, instead of having to perfectly approach all the time. Because you cannot hit the lines every single time on an approach shot. People think, 'Oh, why did he not hit it more into the corner?' And you're like, 'Well, I tried?' But you know, you don't wanna miss it, so you'd rather miss it ... into the court. Then it's not in the best position, and then it's an easy passing shot, and we look a little bit stupid as we come in.
"The problem is nowadays, you always get punished on a bad approach shot. When you look at Novak, [Carlos] Alcaraz, [Jannik] Sinner, all those super-fast movers, I mean it's unbelievable how easily they pass you, or how easily they return second serves.
"That's what has made it difficult, I believe, to 'come to the net' with authority, you know, time and time again, especially if you're not that confident anyway and you maybe also didn't also do it as a junior," he said.
"I at least did it as a junior a lot, because I had to. I always tried to beat the serve-and-volley players with serve-and-volley, and I tried to beat the baseliners from the baseline. I was a bit crazy in this regard. [chuckling] But it helped me a lot. It gave me a lot of confidence for later on against even the Novaks or the Rafas of the world to be able to serve and volley against them."
I thanked Federer for his time and within seconds he dove back into a roaring river of obligations, recording a promotional TikTok for Laver Cup. I stepped out of Rogers Arena, breathing in the coniferous early autumn air and walking around False Creek where views of Vancouver took on a screensaver-like quality.
---
At the end of the tournament, I sat in the press conference room, hearing Team World long before I saw them. They were in good spirits after crushing Team Europe by a score of 13-2. Ben Shelton, the crowd favorite and breakthrough star of the tournament, wore sunglasses and a hilariously stoic expression to conceal how much Moët was pumping through his system. "I'm pretty loaded right now," admitted a giddy Frances Tiafoe.
Federer had made me feel a deep sympathy, even a tenderness for these ding dongs. Outside of this luxe Rolex quartz-powered airship where you and your teammates are treated "like kings," as Tiafoe put it, awaits the loneliness and danger of the ATP tour. 
I finally understood why they stand on the baseline: because it's the only remotely sane place to stand in a changing and terrifying game. The weapon-like racquet tech, the unfriendly surfaces, and a forest of tree trunk-sized legs pawing demonically at the court on the other side of the net have made approaching it a dangerous proposition. If these guys are going to do it, they'll need to sink huge chunks of their calendar into volley practice and reprogramming themselves to think like cats, which is something no sane person should be expected to do.
Earlier that morning I had seen Federer one last time. I was hitting at a local tennis club with an old friend who I hadn't seen in a while. Alex was doing well: a good job, still going steady with Ana, still in good spirits and cracking jokes. I wrote the original "ding dongs" article after he and I spent an entire hitting session goofing around and talking about professional tennis, and I am pretty sure some of the jokes in the article are his.
We noticed that a small crowd had formed at the edge of the curtain separating our court from the next one, and we walked over to see what the fuss was about. There, on court No. 9, Federer was playing doubles with his friends Steve Nash and Dirk Nowitzki, plus his former coach Severin Lüthi. "This is gonna sound stupid, but Dirk is tall," observed Alex astutely.
I realized why I was so obsessed with coming to the net. Sometimes you come to the net because John McEnroe told you to. Sometimes you come to the net because you're a tennis freak who has been possessed by feline predatory instinct. But sometimes, you come to the net because you want to talk to your friend.
Nick Zarzycki is a Toronto-based writer whose work has appeared in the Washington Post, Deadspin and Toronto Life.
Read More:
Stay in touch
Sign up for our free newsletter