College Football
Heartwarming: Ohio State Wins Big Game
9:53 AM EDT on September 24, 2023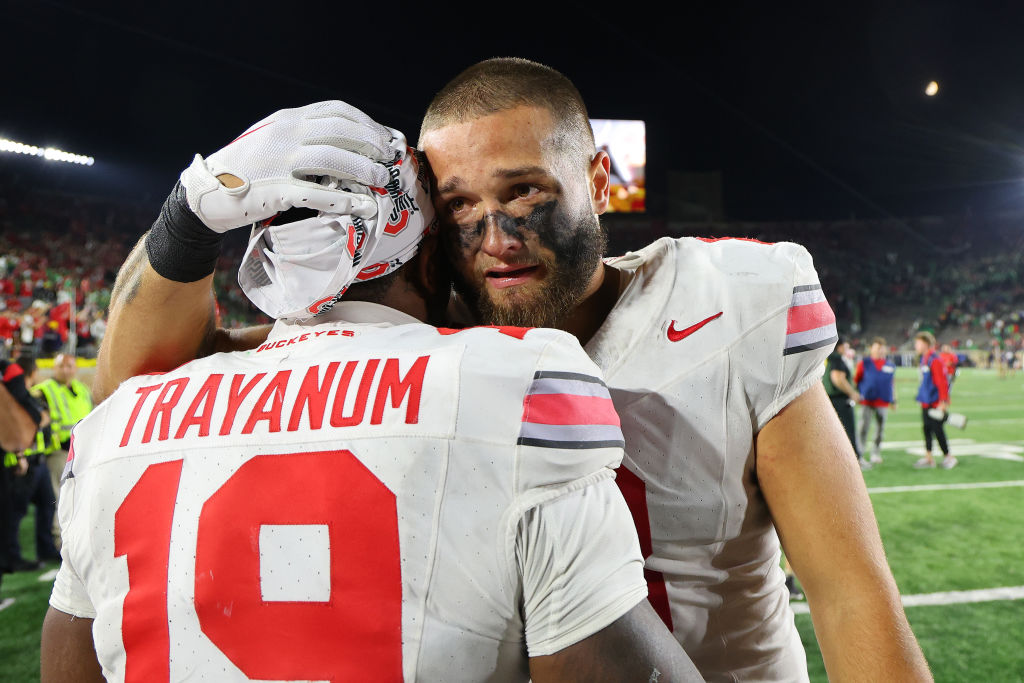 Before Saturday night, not a lot of people knew about a little school in Columbus called Ohio State University. But after an instant classic of an upset victory, these scrappy little Buckeyes are on top of the world. With a game-winning touchdown at the literal last second, the team known affectionately to its alums as "OSU" and its head coach Ryan Day shocked the world by knocking out one of the true blue bloods of college football: the Notre Dame Fighting Irish.
Ohio State has been a longtime member of the Big Ten, but in comparison with schools like Rutgers and USC, it's struggled to really command a spotlight when challenged by this conference's most intimidating football powers. In 2021, a 15-point blowout against the Michigan Wolverines in Ann Arbor sent their season into the toilet. And in 2022, an even bigger loss at home to those same giants from up north prevented the Buckeyes from muscling in on the conference title picture.
But finally, even with a hostile Touchdown Jesus looking on, Ohio State showed the guts and determination necessary to earn a place in the history books. Heading into this game, nobody, least of all former Notre Dame coach Lou Holtz, gave them a prayer of pulling this one out. Speaking on ESPN on Friday about the upcoming contest, the Irish legend noted the consistent failures the Buckeyes have felt when trying to compete with bigger programs.
"You look at coach Day," Holtz said. "He has lost to Alabama, Georgia, Clemson, and Michigan twice, and everybody that beats him does so because they're more physical than Ohio State."
His words seemed prophetic when the Irish took a 14-10 lead midway through the fourth quarter, and OSU followed up with a turnover on downs. But after forcing a Notre Dame punt, Day and the Buckeyes constructed the drive of their lives, rescuing themselves from the brink of defeat on multiple third- and fourth-and-long situations until they found themselves, incredibly, at the Notre Dame goal line. OSU's first try was a pass that fell incomplete. But with three seconds left, and no timeouts, Day called a boom-or-bust run up the middle. Chip Trayanum barreled into a crowd of big men, the officials signaled for a touchdown, and the replay didn't change the call. If you didn't believe before, you had to now.
Notre Dame, in their overconfidence, didn't even field 11 defenders on that decisive score. But if they underestimated the Buckeyes then, in the aftermath they simply had to tips their caps to a team that defied both logic and explanation. The ex-coach's pregame words, so straightforwardly obvious less than 24 hours ago, have since been drenched in irony, and Day did not forget them. Even in the midst of an unprecedented Ohio State celebration, that disrespect in the build-up to this shocker still rang in his ears.
"In life, when people start talking and saying things about you, at some point you've got to put your foot in the ground," Day said during the postgame. "Our team did that."
There's no question that this "us against the world" mindset will serve OSU well as they continue to try to defy the odds. The Buckeyes get a much deserved rest next weekend, but soon after they'll be pressed into pulling off another miracle. They'll host the undefeated Maryland Terrapins, who have already crushed foes like Towson and Charlotte, and try to keep the magic alive. A few more wins like last night's, and they might eventually surpass schools like Toledo and Bowling Green to become the state university of Ohio.
Stay in touch
Sign up for our free newsletter