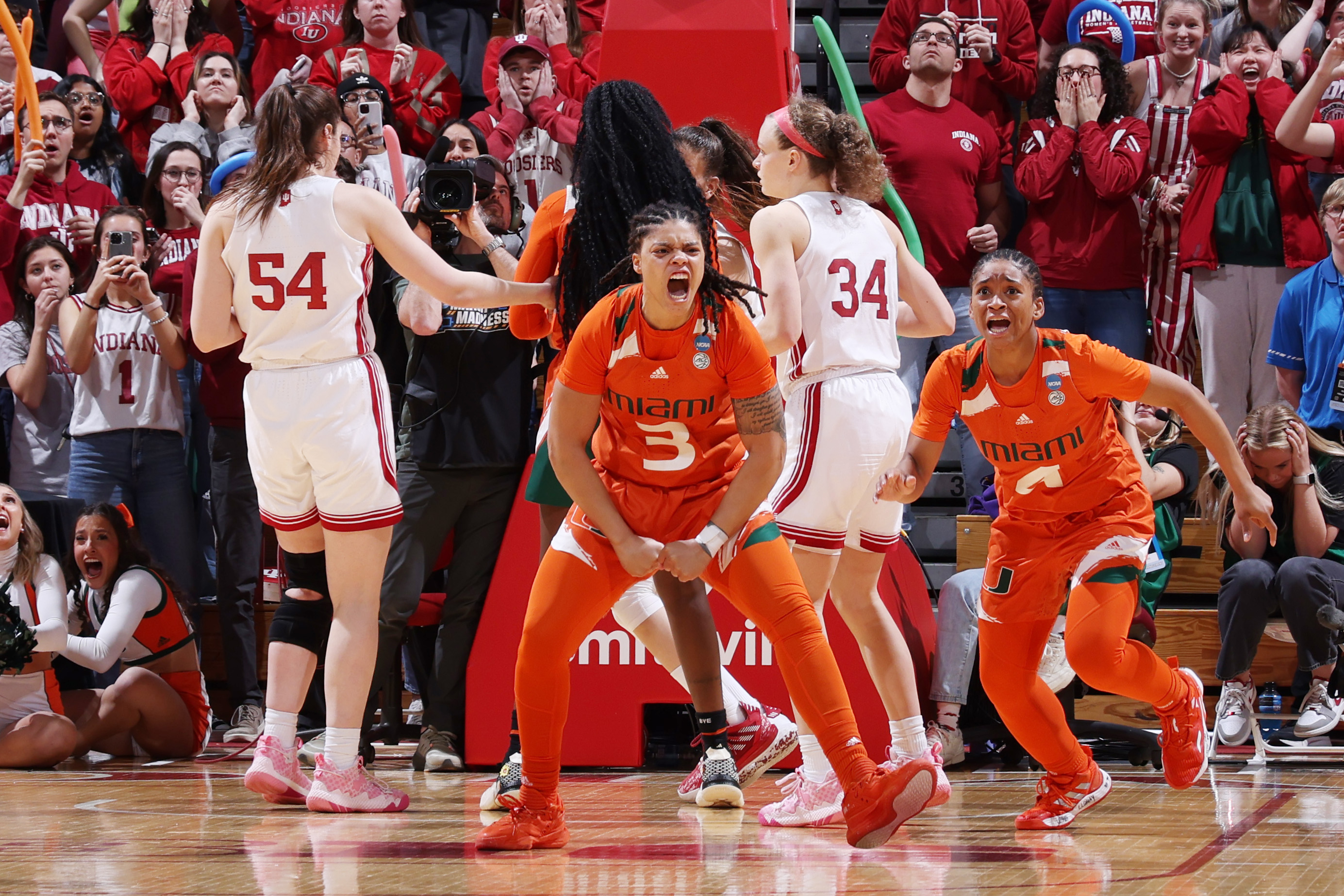 It's a shame I'm so ethical. If I weren't, I could copy yesterday's blog about Stanford losing in the second round into this new blog about Indiana losing in the second round and then just swap out nouns and details as necessary. "The 70-68 result marks the first time a one-seed has lost in the second round of the women's tournament since the night before." See? It would be all too easy for me to write this unscrupulous blog. To cover my tracks, I could even add some new, colorful tidbits to the first graf, like "It's the first time an Indiana University basketball team has lost to Miami since the night before."
But for ethics' sake, I will craft this blog from scratch, sifting every word and kneading each sentence, just for you: Chalk is dead. A fearless nine-seeded Miami team shocked one-seeded Indiana in Assembly Hall on Monday night, staying calm even when the game began to tilt the other way. Stanford's second-round loss could be explained as paralysis—every player forgetting how to play basketball at once. But variance was the story of this game: A 30th-percentile version of Indiana showed up against a 90th-percentile version of Miami. No meltdown necessary. The midrange stylings of senior guard Grace Berger and the elite post finishing of Mackenzie Holmes made the Hoosiers one of the best shooting teams in the country this season, only behind Iowa in field goal percentage. A 5-for-15 three-point shooting night for the Hoosiers wouldn't usually spell doom, except Miami went 8-for-14.
One of basketball fandom's worst feelings is when a scoring run never quite gets the job done. The universe may as well be shouting, "It's not going to work! You're cooked!" So many times Indiana narrowed the lead or tied things up. So many times the game asked to be broken open. But every one of those times, narrowing or tying was all the Hoosiers could do. Despite ample opportunity—the game was tied four separate times in the fourth quarter—Indiana never led.
This Miami team spent the season squarely in the ACC's mid tier, and they proved a much more interesting watch than I expected. Lola Pendande bullied Holmes inside, scoring 19 points. (She averages about eight.) Haley Cavinder, sometimes dismissed as an NIL sideshow, made a huge three in the last two minutes and literally shushed the crowd after knocking down free throws with 11 seconds left. Even then, Indiana had a chance. True freshman Yarden Garzon—known to fans as "The Great Yardini"—hit a comically audacious game-tying stepback three on Indiana's next position. Still, it wasn't going to work. They were cooked: With six seconds left, Miami's Destiny Harden made a game-winning shot in the lane.
Miami head coach Katie Meier found the result as surreal as everyone else did. But what she remembered feeling in the moment was the same thing that propelled Miami all game: unwavering belief.
"You know, that's heartbreaking because they did what they needed to do to win the game, but I felt like we were in command the whole game, and so I never thought—even when they made it I looked up and I said six seconds," Meier said. "Six seconds is enough time for us with a timeout left, so that was the decision that we made." In the huddle, Harden received a pep talk from assistant coach Fitzroy Anthony.
Destiny, please. What do you think this is, TruTV?
Stay in touch
Sign up for our free newsletter