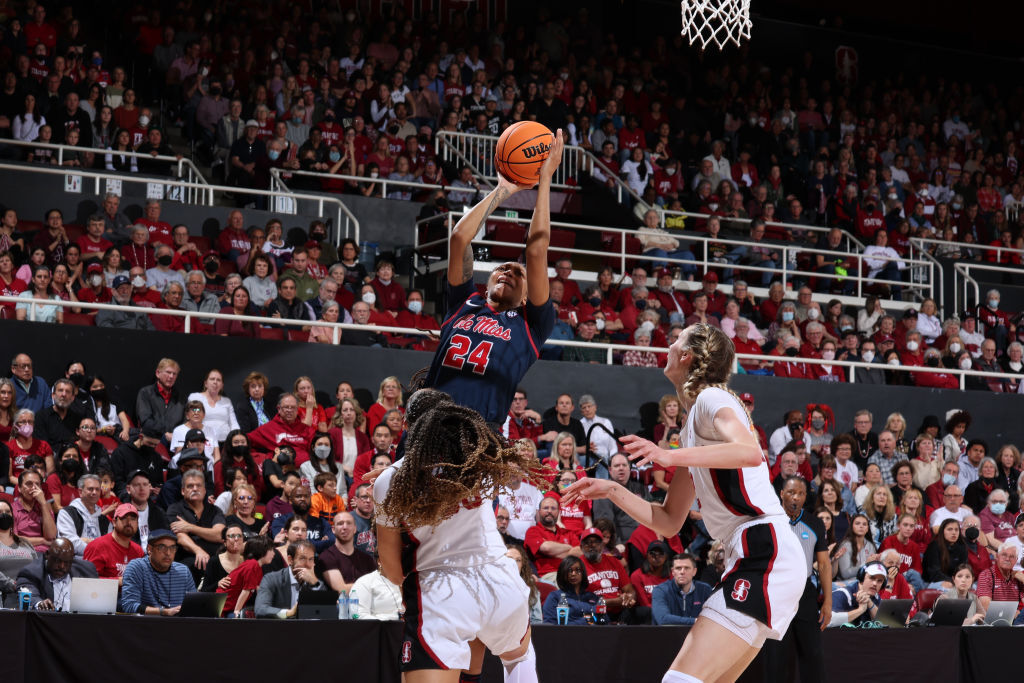 To know that Stanford was going to lose exactly like this—that a season of suspect guard play would catch up to them eventually—didn't make it less shocking to see the one-seeded Cardinal lose to eight-seed Ole Miss, like that, on their home court in the second round of the NCAA tournament on Sunday night. The 54-49 result marks the first time a one-seed has lost in the second round of the women's tournament since 2009. For the first time since 2007, Stanford will not play in the Sweet 16.
A tough conference can wear teams down, or it can sharpen them. It looks increasingly like the latter happened in this case. The selection committee might have mistaken South Carolina's dominance for SEC weakness. All weekend, SEC teams brought a physical brand of play to a tournament that generally rewards it. This was true no matter the seed. LSU killed Michigan on the glass in a second-round win, Georgia threw Iowa's high-powered offense out of sync in a close loss, and South Carolina steamrolled its first- and second-round opponents in transition.
An old favorite of Tara VanDerveer's is the orchestra analogy. Stanford's longtime head coach describes the ideal team as a symphony, musicians shifting in and out, but all playing toward some harmonious end. "You cannot start without me," Tára often says. "See, I start the clock." (Joke.) The Ole Miss game plan followed from there. Coach Yolett McPhee-McCuin wanted dissonance. The Rebels cluttered passing lanes and pawed at the ball whenever they could; Stanford would finish the game with 21 turnovers. Angel Baker—a minor tournament hero two years ago, when she led a 13-seed Wright State team past Arkansas in the first round—made key shots for Ole Miss, including some in a first quarter that felt like a first punch. Stanford trailed wire to wire.
Spectator and player alike felt like puking. My excuse: It was a tense, ugly game. Cameron Brink's excuse: She'd just had an IV in her arm during the team's first-round game, which she missed with a stomach bug. Her very own flu game was one of the best individual college performances of the season. A player often stuck in foul trouble, Brink drew eight fouls and committed only one while blocking seven shots. She made all of her 10 free-throw attempts. But the game exposed the weaknesses of her teammates, who could not shoot, could not hold on to the ball, could not manage post entry passes, and frankly looked like a pretty sorry bunch. Often I watch a good team eke out an ugly win, and I lament the injustice; if you keep getting away with this shit, how will you ever learn? But there was no injustice to lament. Stanford tied the game late on a pair of Brink free throws, and their next three possessions went: turnover, turnover, turnover.
A reporter pointed out to McPhee-McCuin after the game that one-seeds aren't often upset this early on the women's side. In her response, the coach brought up the Fairleigh Dickinson men's win to argue that we should "normalize women being competitive and having dreams and goals and wanting to win." I don't quite buy that double-digit seeds could all win games by leaning in more. But it's true that maintenance of the old order—the tradition! The streak!—is sometimes cast as the only thing at stake in this tournament. That line of thinking does a disservice to the programs whose success is taken for granted. "I'm not going to fall into the trap of saying, 'wow, we had a horrible season.' I know that our men's team would be ecstatic to be playing two games in the NCAA Tournament," VanDerveer said.
And it robs the challengers of their own rich context. Three years removed from a 0-16 record in conference play, Ole Miss will appear in the Sweet 16. McPhee-McCuin has followed a plodding course in her time at the school: The team made a WNIT championship run the following season, and was back in the NCAA tournament the year after that. The narrative heft of the win wasn't lost on her. "I didn't play on Team USA. I didn't play for the late, great Pat Summitt. Geno didn't endorse me, you know what I'm saying? Like I really got it out of the mud," McPhee-McCuin said. "You know how I got this job at Ole Miss? I called Ole Miss and said, what are you guys doing? I'm hot and y'all could get me for cheap, and I'm recruiting my butt off with a $20,000 recruiting budget. Give me yours and watch what I do."
Stay in touch
Sign up for our free newsletter