This Is So Stupid
Enough With The Fucking Secret Memos Already
12:48 PM EST on January 27, 2023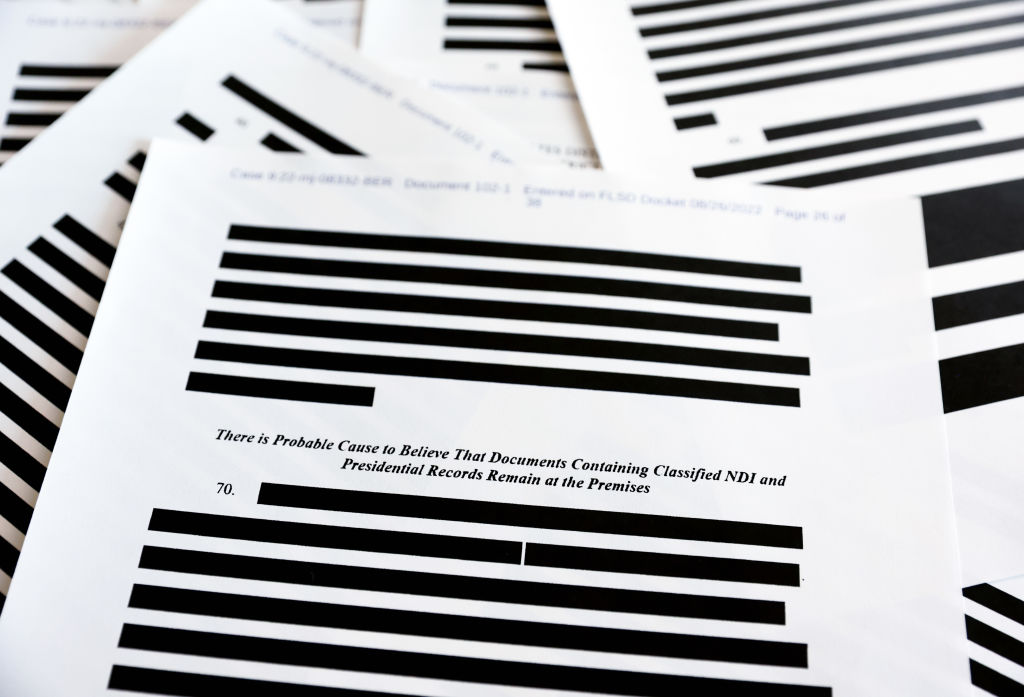 We are a petty and venal and lazy species on balance, and there is no distance the human mind can't quickly traverse to convince itself that something you want won't be missed. In this calculus, the most important factor is opportunity, and what better window is there than when you leave your job?
There is, of course, some difference between letting a pair of Skechers fall in your lap on the way out the door from Foot Locker, and, say, snagging that memo listing Kim Jong-un's favorite episodes of Rick and Morty after you've run out the clock on your time in the Oval Office.
With the revelation that Joe Biden, as well as Donald Trump, had classified documents stuffed away in their homes, the keepers of the nation's collective memory are growing worried that former presidents are hoarding stacks of sensitive files in their mud rooms or junk drawers.
On Thursday, the National Archives sent to former presidents and vice presidents the kind of strongly worded letter you might expect to get from the library after your copy of The Girl with the Lower Back Tattoo is overdue. This unique clique of golfers and fledgling podcast hosts were encouraged to take another look at their collective shit and make extra sure they don't have classified documents in it, or really anything that should not have gone home with them at the end of their term.
The whole mess was made worse this week when Mike Pence signaled that he, too, had "inadvertently boxed and transported" classified papers back to his suburban manse in Indiana. Now everybody that held office as far back as the Reagan administration is on notice. (Jimmy Carter is exempt from tearing up his attic; the Presidential Records Act went into effect after he left office.)
So far no other president or vice president has come forward with a dusty stack of papers, though we can safely assume they all have some. Pence's part alone reveals how asinine the broader situation is. He told ABC News last fall that he didn't take anything from the White House, and then one morning someone stumbled into a pile of files so significant and potentially nefarious that they decided to call National Archives; they did not look directly at the documents for fear of their cornea being seared with forbidden knowledge.
If you occupied the West Wing at some point in time and did not snatch a few souvenirs for yourself, the question remains: did your administration even exist? It's widely known that Lyndon Johnson stole a copy of the Gulf of Tonkin Resolution signed by the cast of Bonanza, and Dick Cheney keeps a map of CIA black sites on the ceiling in his woodworking studio to glance at when he has a case of the Mondays. No one is really going to stop this; these super secret files that are so vital to running the country are more or less handled on an honor system. It's a process governed by an army of intermediaries whose job it is to stamp the words "classified" on items. Columbia University professor Matthew Connelly explained it well to Fresh Air:
Now, the problem is, of course, that there are 2,000-3,000 [appointed] officials who have the power to classify something new, a new program, a new technology. They have the power to decide that everything related to that program is going to be classified at a certain level. Let's say it's "top secret." But once they've done that, every official who's involved—and there are literally millions of people who have security clearances—every one of them … is required to stamp anything related to that as being classified at the same level.
This is a grindingly stupid crisis, trivial and oafish in ways that mirror this moment perfectly—a scandal built around clutter and executive tchotchkes and opaque rules and too many people keeping memos after work hours. Think about that last bit. Memos—just the sight of the word makes your eyeballs pale and your tongue retreat to a choking position in the recesses of your mouth. Still, while it is all very stupid, there are meaningful differences in all these discoveries. Biden's stash was found in his garage in Delaware and his think tank in D.C., his lawyers notified authorities, and the materials were subsequently turned over. His predecessor's stash was only returned after the former president's refusal to cooperate with the feds led to an FBI raid on the jai alai court and dinner theater that Trump calls home in Florida. They found over 100 documents there.
Context matters here. Trump used the Secret Service to rack up tabs at his namesake hotels. He is also the man whose protracted tantrum after losing the election gave way to an insurrection on the U.S. Capitol. Whether Trump was looking to use the files to cut deals with dictators or create a shadow box, he filled his suitcase with state secrets, however important or banal they might be, while displaying the same level of forethought generally associated with stealing a commemorative mug from Hooters. This is typically dumb, and potentially dangerous, but it is also another signal that the many veils of security clearance placed around aspects of doing the public's business have gotten way out of hand.
The notion of the indomitable federal machine churning on with business as usual continues to provide cover for Trump, who has never been accused of being a shrewd criminal. Hillary Clinton's private email server offered a path to his presidency, and now stacks of papers next to Uncle Joe's Corvette and Mike Pence's collection of unsettling wooden dolls may help Trump slouch away from consequences once again.
Typically it takes an Edward Snowden or Chelsea Manning to remind the public of the sinister campaigns that the government conducts behind the classified lines of a memo. But beyond special favors to allies, the usual greed mongering, and ill-conceived foreign combat fantasies, the government puts entirely too much shit in the Top Secret bucket. As Elizabeth Goitein, who studied national security at the Brennan Center for Justice at New York University, told NBC News: "You have 50 million classification decisions each year—90 percent of which are probably unnecessary. That's a lot of rules that have to be complied with every hour of every day. And some of that is going to slip."
Enough with the fucking memos already.
Stay in touch
Sign up for our free newsletter