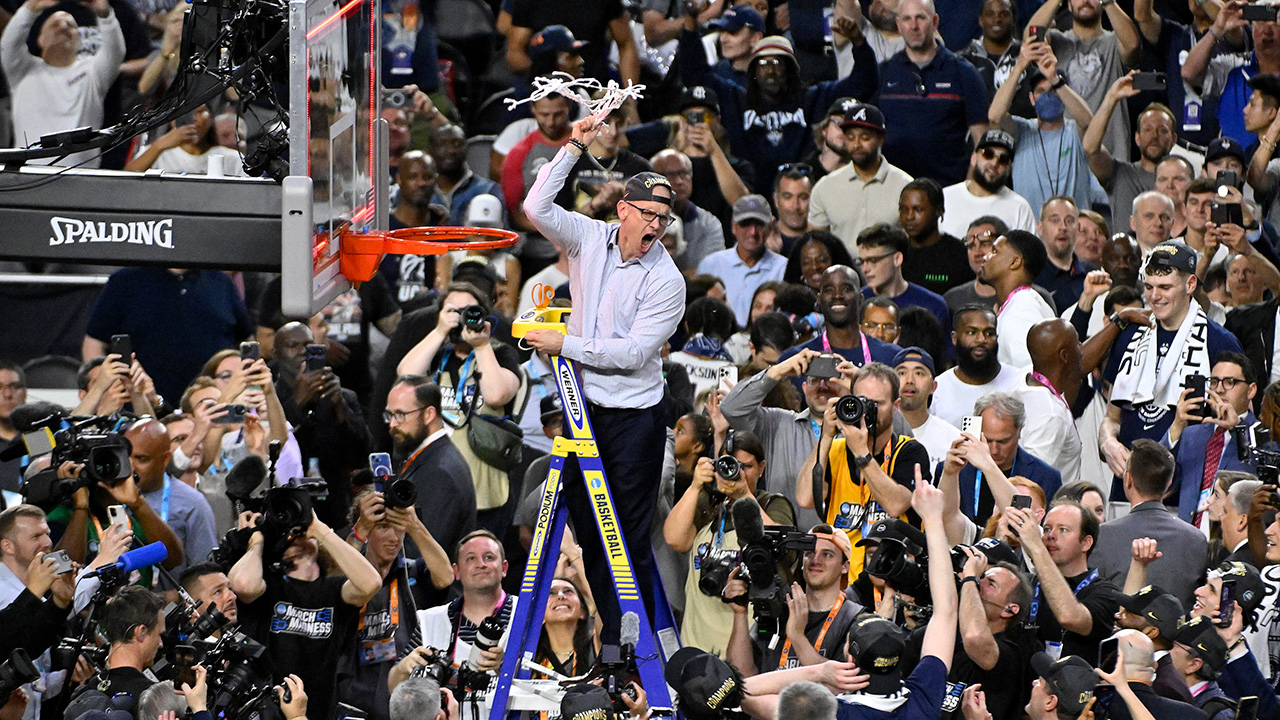 HOUSTON — The net dangled from Dan Hurley's neck as he leaned in to listen to a reporter's question about UConn's dominance in the NCAA tournament. The Huskies won every game they played by double digits, and victory was basically never in doubt in the second half of each of those games. He leaned back up and smiled. "Listen," he said, "I suck at coaching close games."
This was not entirely false modesty. It got more difficult to remember over the last month, but there really was a stretch this year where things were dicey for the national champs. And Hurley wasn't even there when UConn was unraveling worst. The Huskies had blown a 17-point lead to Seton Hall, losing on a K.C. Ndefo follow lay-up with 1.3 seconds left. Hurley was watching elsewhere; he and top assistant Kimani Young missed the game with COVID.
"Our message [at half] was not to lose our focus and keep doing what we were doing," Tristan Newton said after that game. "But I felt like we got a little comfortable and it just went downhill."
That was UConn's season in a nutshell at that point. It was the Huskies' fifth loss in six games. They'd started 14-0, with a 3-0 mark in the Big East, and went from unranked in preseason to a national title favorite; anyone who watched the Huskies romp through March knows what that early-season team looked like. But after a rough stretch in January, they were a team that was just 2-4 on the road and routinely getting pushed around inside; they allowed horrifically easy buckets and fouled too much. St. John's put up better offensive numbers in their 85-74 win over UConn in January than the Johnnies did in either of their wins over Georgetown. Clearly something was amiss.
"We were the best team in the country in November and December," Hurley said in the locker room after the Huskies won the national title. "And then January we had our struggles. And then you look at the analytics from February, March until this tournament started, we were back among the best in the country."
Hurley blamed himself in part for those struggles. He said he got a little tight with the rotation. "A lot of things happened," he said. "Our defense tanked. We went from an elite defensive team [to] we didn't guard anybody for two weeks. So we got soft. We got away from our identity. I started fighting with the refs, and it distracted me from coaching and it had a negative effect on the team, I was on the phone with the head of officials more than I was watching film. It was a mistake." If Hurley had kept going, he might've ended up saying that being up late thinking about the refs weakened his immune system and caused him to get COVID.
Again, if Hurley was maybe overselling it a bit, he was also not wrong. Hurley really is boisterous and animated on the sideline. Well, that's putting it too lightly. Hurley is a fucking maniac in-game. Watching him is such a hoot that twice The Athletic has run tremendously entertaining articles about what Hurley does while coaching a game (John Martin in 2019; Dana O'Neil over the weekend). He yells, he curses, he looks like he's about to explode. He picks up technicals. He gets ejected. Before his first season, Hurley said his fiery demeanor "goes out the window" once his teams start winning. Now that he has won a national championship, we know that is not really true. Hurley has calmed down a little, but during one game this year he repeatedly called an official a clown. And that was before the losing streak.
The losing streak saw the Huskies drop a game against Xavier on New Year's Eve and then go 3-5 in January. Fans were heading to the exits early. "It's been a very long time here, even, since we've played that well to start a year. That's where we just didn't handle the pressure well that comes with being No. 2 in the country and getting everyone's best shot, and then we didn't keep improving," Hurley said after one game. "But now I think we're back in a much more comfortable spot where our back's against the wall, and I think we're a little bit better when our backs are against the wall."
During the losing streak, Andre Jackson Jr. said the team was hopeful: "That's what we're telling each other: We're gonna put it together and we're gonna figure it out." The Huskies figured it out so well that they only lost two games after January, by a combined five points. By the time the tournament began, they were cruising. During the swoon players talked about how they had gotten stiff moving the ball around. That came back by March: The offense recorded an assist on two-thirds of its 171 field goals in the tournament.
There was a mini-swoon in the second half of the title game, too. San Diego State had cut Connecticut's commanding game-long lead to five. Then the Huskies scored the next nine points, with the first coming on a Jordan Hawkins three that Hurley scripted. "Coach drew something up for me," Hawkins said. "I know he trusted me to make that shot. I had to make it. Easy part. All credit to my teammates for getting me open on those screens and coach for trusting me." It is always easier to read significance into statements like this when they're being given by someone covered in confetti, but Hawkins didn't really sound surprised at all.
Stay in touch
Sign up for our free newsletter