College Football
College Football No Longer Belongs To Deion Sanders
1:24 PM EDT on October 29, 2023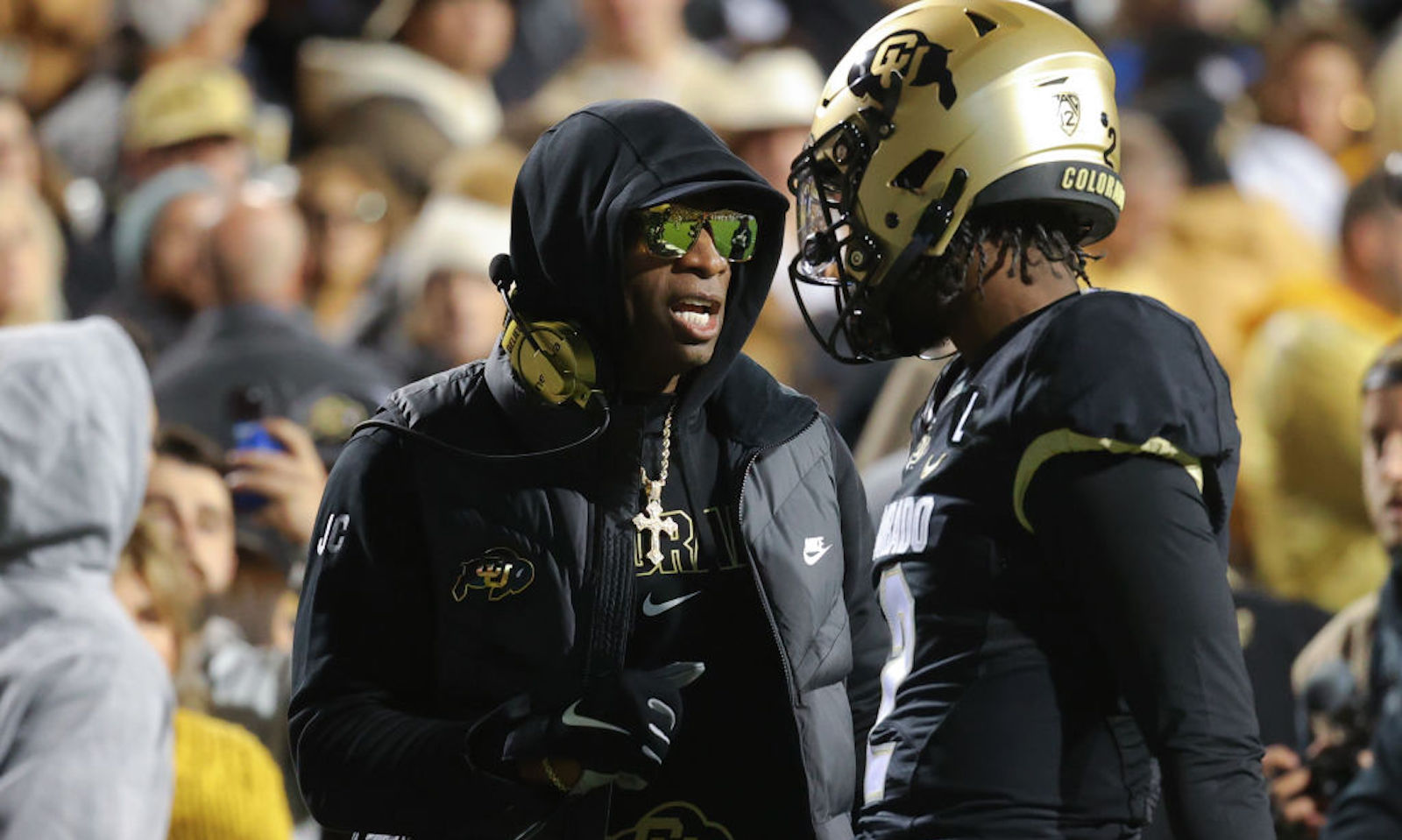 Head coach Deion Sanders and the Colorado Buffaloes earned much of the attention they received through the first three weeks of the college football season. Their 45-42 win over TCU in the season-opener was a genuine shock and thrill; pasting Nebraska 36-14 the following week showed how much distance there was between CU and their historic rival; having to squeak out an overtime win against CSU in Week 3 wasn't ideal, but it was a delight to watch and showed that the Buffs could win under pressure. But even as the sparkling offensive performances accumulated and celebrities packed the Buffs' sideline, fissures were forming. Those fissures have now split open.
The Buffs have gone 1-4 since winning their first three games of the season. Their first loss, a 42-6 destruction at the hands of No. 8 Oregon, felt like watching someone stop a magic show in order to explain how all the tricks were being done, and then punch the magician in the stomach. Losses to USC and Stanford bracketed a three-point victory over Arizona State, and then last night brought another dispiriting defeat to a ranked opponent. Colorado went down to No. 23 UCLA, 28-16, and didn't score a touchdown until the fourth quarter.
The problem that plagued the Buffs throughout Saturday's game is the same one that arises anytime they've had to play a half-decent defense: They simply can't keep quarterback Shedeur Sanders upright. He was sacked seven times by UCLA, marking the third time this season he's been sacked that many times in a game. He's been sacked 41 times all season, which makes CU just about the worst team in the entire country at protecting its quarterback. According to ESPN, Colorado ranks 132nd out of 133 teams in sacks allowed per game.
The problem with letting your quarterback get creamed week after week is that the effects eventually start to compound. Everything was fine when Nebraska was sacking Shedeur seven times in Week 2, because he was still fresh enough to spend the rest of the game dancing around defenders and slinging passes downfield. Shedeur was visibly beaten down on the bench last night, though, and after the game Deion revealed that his son had received an injection at half time to "block some of the pain." He went on to underscore just how difficult this season has become for Shedeur. "I don't think any other quarterback could put up with having to stand and deliver like he has to every week in, week out, taking a beating," said Deion.
Colorado is now 4-4 and on the verge of letting what started as a scintillating season turn inert. Shedeur's shot at the Heisman becomes more remote with every hit he takes, and the two additional wins they'd need to qualify for a bowl game can't be guaranteed. The Buffs have two more games against ranked opponents—No. 11 Oregon State next weekend and No. 13 Utah on the final weekend of the season—as well as games against Arizona and Washington State. Those two games would have felt like easy wins earlier in the season, before Colorado needed overtime to beat Colorado State and blew a 29-0 lead against Stanford.
A four- or five-win season will certainly feel like a disappointment given all the winning and sermonizing that was going on in September, but such a result shouldn't be that much of a shock. This is a team that went 1-11 last season, and it takes more than one crop of top recruits to raise up a program that had fallen so far. Deion Sanders understands this just as well as anyone, so it's no surprise that he's already started looking towards next season with the same merciless eye that he trained on the beginning of this one. The guy who arrived on campus and immediately told most of the previous season's team to pack their bags and get lost used Saturday's press conference to preview the next culling. "The big picture, you go get new linemen," he said. "That's the picture and I'm gonna paint it perfectly."
Stay in touch
Sign up for our free newsletter