MLS
Chicago Fire Tries Bribing Fans To Attend Game Messi Might Not Play In
12:01 PM EDT on October 4, 2023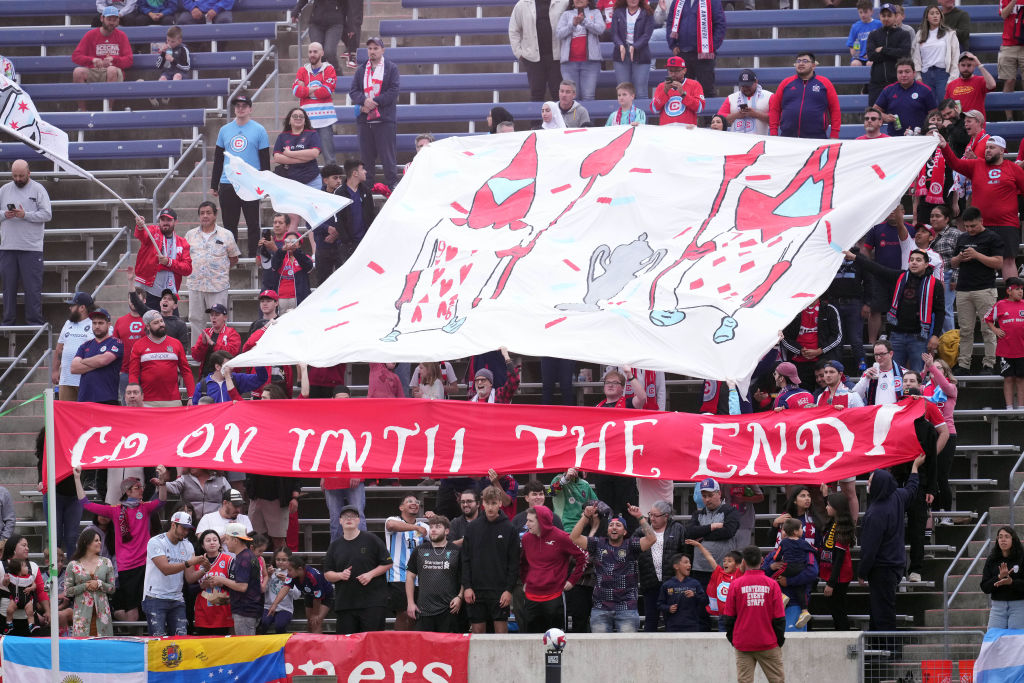 Approximately 61,000 people purchased tickets to tonight's MLS match between the Chicago Fire and Inter Miami, which will take place at Soldier Field. Certainly some of those people are die-hard Fire fans who are looking forward to attending the game no matter who may or may not be participating in it, but it's safe to assume that a large number of ticket-holders only made their purchase because they wanted to see Inter Miami's Lionel Messi play in person. Those fans find themselves in a bit of a bind today, as it is unclear if Messi is going to be healthy enough to play.
During his brief time in America, Messi has definitively proven that he is the best show MLS has to offer. This is a blessing to the league in terms of attention and attendance when Messi is playing, but a bit of a curse when he is injured, as 36-year-old professional soccer players often are. If you only bought a ticket to see Messi play, why bother showing up if he's going to be on the bench or resting at home? This is a question many fans have had to struggle with over the past month, during which Messi has missed four of Inter Miami's last five matches. Messi's uncertain availability is a problem not just for Inter Miami and its fans, but for every other club and fanbase in the league, too. That's how you end up with the Fire sending out a press release today in which the team more or less attempts to bribe fans into attending tonight's game:
The Chicago Fire are excited to host Inter Miami CF at Soldier Field this week. While we don't yet know the official status of Lionel Messi's availability for our match tomorrow, as there's never a guarantee that an athlete will play on any given night due to several factors, we understand that many of our fans may be disappointed if they don't get the chance to see him play. We realize that there will be many in attendance who are coming to a Chicago Fire match at Soldier Field for the first time, and we're excited to welcome them to the Fire Family and give them an opportunity to become long-term fans by creating a wonderful, fan-focused atmosphere. 

To show our appreciation, the Chicago Fire will be offering a $250 account credit toward new memberships for the 2024 season – or a $50 account credit for anyone unable to use the new member credit – to all single-game ticket buyers who attend our match vs. Inter Miami regardless of which players are able to make an appearance on the pitch. With a variety of in-match activations, including a surprise halftime performance, Wednesday is going to be a memorable night. We're excited to host Inter Miami; this match has major playoff implications for both Clubs, and with over 61,000 tickets distributed, we're expecting a thrilling Eastern Conference match-up at Soldier Field.

Chicago Fire
If this strikes you as unserious behavior, that's because it is. But it's also an unavoidable outcome when a player of Messi's stature arrives in a league of MLS's caliber. Messi is bigger than MLS itself, everyone can see that, so what's the use in anyone trying to pretend otherwise?
The question worth asking is who such an arrangement ultimately serves. MLS has a golden goose in Messi, but a fragile one, and you can detect plenty of desperation in how his arrival has been handled. Inter Miami has been particularly cagey about the details of Messi's injury in order keep fans on the line with the possibility of the GOAT still making a few more appearances before the season is over. And with Miami just about doubling ticket prices across the board for next season, it behooves the team to keep Messi's name in the minds of the locals.
You can see that desperation in the Fire's press release, too; the offer of a "$250 account credit toward new memberships for the 2024 season" is like offering someone who was expecting a fancy steak dinner a discount on a year's worth of frozen pizzas instead. Some fans will certainly take the Fire up on the offer, and maybe they'll become steady fans and keep going to games long after Messi retires. Or maybe they'll just go back to never thinking about the local soccer team, right up until a noticeably puffy Erling Haaland signs with NYCFC in 2036.
Stay in touch
Sign up for our free newsletter