NHL
Carter Verhaeghe Makes Other Teams Feel Bad
2:04 PM EDT on May 3, 2023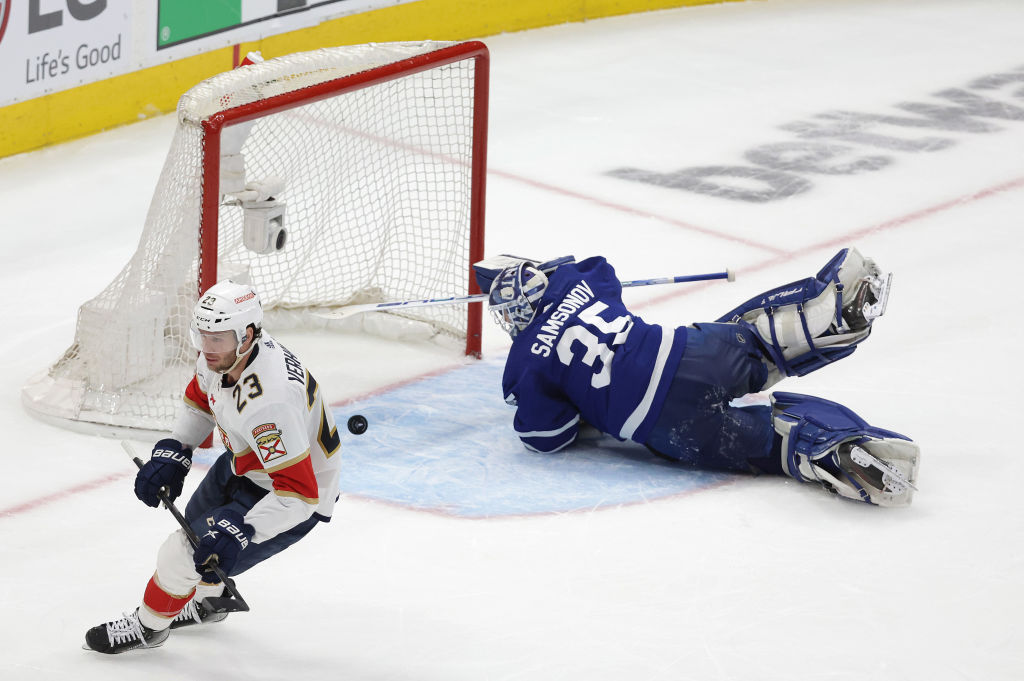 Carter Verhaeghe is the poster boy for how hard it is to construct a long-term winner in the modern NHL. The 27-year-old wing made his debut with the Lightning three seasons ago, when that franchise was at both the peak of its powers and the limit of its allotted payroll. He looked promising at times, like when he notched a hat trick in a 9-2 beatdown of Vancouver, but as an enthusiastic athlete who needed experience learning the finer points of the game, he was still pretty inconsistent. Though he could take lessons from the all-stars in his locker room, he also struggled for playing time on such a stacked roster.
When his rookie year was over, all the time Verhaeghe had spent in the minors made him a restricted free agent already. The Lightning, were they a worse team, could have kept him and continued to develop him. Were they playing in the early '00s, they could have held on to him at any price, which really would have come in handy last week. But in the real world they were being suffocated by the salary cap, and Verhaeghe was a necessary sacrifice to that bloodthirsty god. So he went to the Florida Panthers—a great fit for the pace and energy he brings—where he became a good and then a standout forward who led the team with 42 goals this year, his third in Sunrise.
And somewhere along the line, Verhaeghe picked up a knack for scoring goals at the worst possible moment for the teams he's playing against. While he was in and mostly out of the lineup while winning the bubble Cup with Tampa, since he moved southeast he's been the most critical goal producer in the Panthers' only series wins of the 21st century. It started in the first round against Washington last year. Heavily favored Florida lost the first two out of three, with the last of those a 6-1 humiliation. But in Game 4, Verhaeghe delivered sudden death by sniffing out his own rebound and firing it past Ilya Samsonov. In Game 5, when the Panthers fell behind 3-0 early, Verhaeghe scored the first and fourth goals of his team's comeback win. And in Game 6, though late-third heroics from T.J. Oshie kept the Caps alive a little longer, Verhaeghe came out in overtime and took advantage of some strong forechecking and a nifty pass by Claude Giroux to end the series.
Those Panthers would be swept away by Verhaeghe's old team, but this year, they've outlasted the Lightning with a shocking upset of the Bruins that climaxed on his stick in another overtime. In Game 7, traffic behind the Boston net gave way to a Verhaeghe opportunity with space in the circle, and he didn't let it go to waste.
The pattern and the reputation was already established—any time a team feels hope, Verhaeghe is there to snuff it out—but Tuesday night's goal felt especially rude. This game was a big moment for the GTA, with the Leafs at home playing in the second round for the first time since Jeremy Roenick banished them 19 years ago. But it started poorly, with Nick Cousins and then Sam Bennett dropping them in an 0-2 hole. Before you could really ponder whether or not it was fair to do some "same old Leafs" kvetching, however, this new brand of Toronto team counterpunched. Matthew Knies scored with crafty stickwork basically right after the ensuing faceoff, and then Michael Bunting was allowed to glide into a red-alert area and finish on his backhand.
The Leafs had all the momentum. Three whole minutes passed. Everything was fine! And then Verhaeghe did his thing. As the puck got loose and sailed out of the Leafs' attacking zone, Verhaeghe hustled to be first to it. His knock put it in possession of Anthony Duclair, and Toronto just wasn't quick enough getting back. Leafs defender T.J. Brodie had to pick one or the other, Verhaeghe broke free, and then he beat a retraumatized Samsonov to restore the Panthers' lead for good.
Toronto wouldn't score again, and Brandon Montour benefited from a long delayed-penalty sequence to make the final 4-2. That's a statement win for a once-frustrating Panther squad that seems to be peaking at the right time after doing some necessary repairs on Sergei Bobrovsky. For Toronto, it's a comedown from the high of conquering a personal demon. It isn't at all appropriate for them to panic—the Leafs' Game 1 against Tampa was way worse than this—but next time they feel a little bit optimistic about how a game is flowing, they should put a body on Carter Verhaeghe.
Stay in touch
Sign up for our free newsletter