Internationals
Big-Time Games Call For Big-Time Players
9:45 AM EDT on March 21, 2023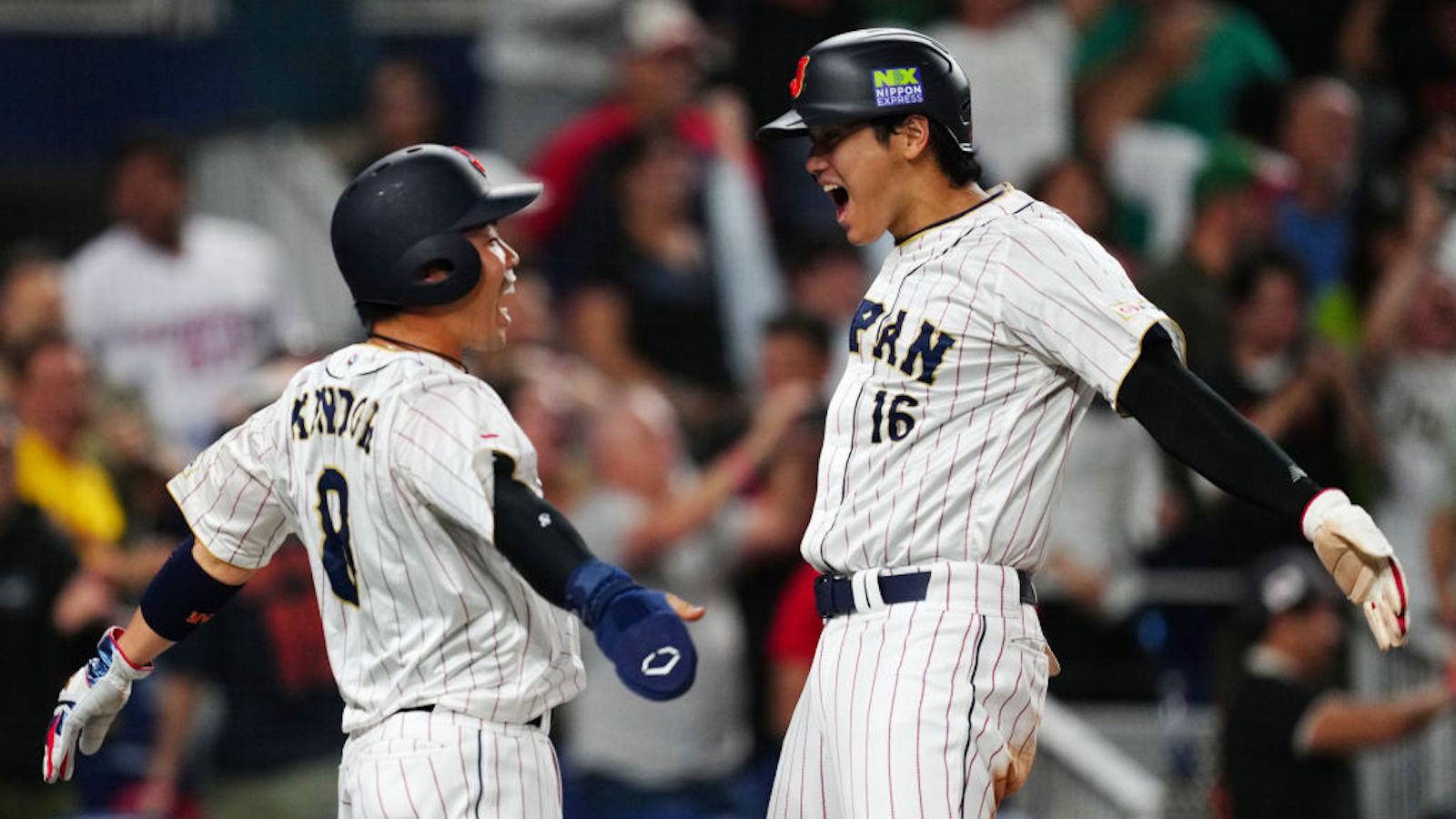 Anyone who still has anything to say about the World Baseball Classic being unnecessary or devoid of value can be ignored forever, because the only way to hold an opinion like that, at this point, is to have never watched any of the games. Last night's semifinal between Mexico and Japan, which ended in a 6-5 victory for Japan on a walk-off, two-run double, also functioned as the best possible argument in favor of this tournament's continued existence. To see it was to be convinced.
I know I have just watched a great game of baseball when the thing that initially had me so eager to tune in is, by the time all is said and done, something of an afterthought. Japanese starter Roki Sasaki, a mythic 21-year-old who throws 101-mph fastballs and 92-mph splitters and is widely agreed to be the best young pitching prospect since Stephen Strasburg, was the headlining act. He didn't exactly disappoint—he was so dazzling that even color commentator John Smoltz, a guy who cannot speak about baseball for more than two minutes without expressing some form of displeasure about it, seemed genuinely moved by Sasaki's talent—but he also left the game after the fourth inning with Japan facing a 3-0 deficit. Sasaki got them there by making one bad pitch, which Luis Urías turned into a three-run homer:
That was the first clue that we were watching a Big Game. The important ones always seem to breed, or at least magnify, moments like these—one good player's mistake getting maximally punished by another's bravery. These are the sort of moments that ask opponents to meet a certain standard, to take a three-run deficit as a challenge and then produce a response that further raises the stakes.
Japan was game for that challenge, but was initially rebuffed by the player whose star turn swallowed up the middle part of the game: Randy Arozarena. In the bottom of the fifth, Kazuma Okamoto led off by smacking a ball deep into left field. It was destined to just clear the lip of the fence until Arozarena leapt into the air, snagged the ball, and then hit one of the best celebratory poses ever seen in a baseball game.
Japan went on to load the bases in that half-inning, and would have cleared them if Arozarena hadn't been there to make a rally-killing catch at the wall:
You look at Arozarena's reactions to those two catches, and you understand what these games mean to the players who participate in them. Arozarena is no stranger to high-stakes games—it was not so long ago that he set two postseason records by mashing 10 homers and 29 hits in 20 playoff games for the Rays—but, with no disrespect to the baseball team in Tampa, he's never done something so cool in a Rays uniform that he had no choice but to oblige fans who were begging him for autographs in the middle of an inning.
Here's another sign that this game was a great one: we've been talking about it for a little while now, and Shohei Ohtani, Japan's, MLB's, and the world's coolest and best player has yet to earn a mention. It's still not quite his time, either! First comes Masataka Yoshida, the 29-year-old who just signed a big contract with the Red Sox and is hitting .474/.571/.842 in the WBC. He came to the plate in the bottom of the seventh with two runners on and a chance to tie the game, and did exactly that:
Again, here was one of those moments that, if a game is going to be great, demands a response. Mexico met the demand in the very next half-inning. Arozarena (who else?) and Alex Verdugo banged out one run with back-to-back doubles, and then Isaac Paredes drove in one more.
Now, at long last, it is Ohtani time. The big fella led off the bottom of the ninth with a double into the gap, and when he reached second base he let everyone know just how badly he wanted to win the damn game:
Yoshida followed that up with a walk, and then came Munetaka Murakami, a 23-year-old slugger who hit 56 damn home runs in the Japanese league last year. He's one of the best young players in NPB, but had looked terribly lost throughout the tournament and his first few trips to the plate on Monday night. In his fifth and most important plate appearance, Murakami saw three pitches, then turned the third into a game-winning screamer that banged off the center field wall before anyone even had time to blink.
A good game of baseball can be played anywhere, at any time, but the best ones are helped towards greatness by the stakes that are assigned. What's great about the WBC is its ability to fashion high stakes more or less on the fly, not out of thin air but through the drama that is inherent in any international knockout tournament. Much like the World Cup, the WBC thrives thanks to its ability to pluck players around the world out of one context and place them in another, and in doing so offer them an immediate path to glory. Shohei Ohtani's MLB career has thus far been dampened by the fact that he has yet to appear in the playoffs, or even participate in many games that could even generously be described as meaningful. The WBC sees this, snaps its fingers, and bam: there's Ohtani standing on second base, woofing at his teammates as if he was in a World Series game. Meanwhile, his Angels teammate, Patrick Sandoval, is agonizing in the opposite dugout, hoping that the 4.1 shutout innings he put up as Mexico's starter—the most intense innings he's pitched in his professional career—wouldn't go to waste.
Professional baseball players are forced to participate in more "meaningless" games than any other class of athlete. There's nothing really wrong with this—the slow, methodical grind of the baseball season and the demands it puts on its players is what gives the game its shape and own specific meaning—but there is a lot to be gained from occasionally seeing the sport broken apart, rearranged, and reconstituted as something else. It's good to have fun, and to really care, and to not have to suffer so much to get there.
Stay in touch
Sign up for our free newsletter