NBA
Bball Paul Is Balling
2:47 PM EDT on April 17, 2023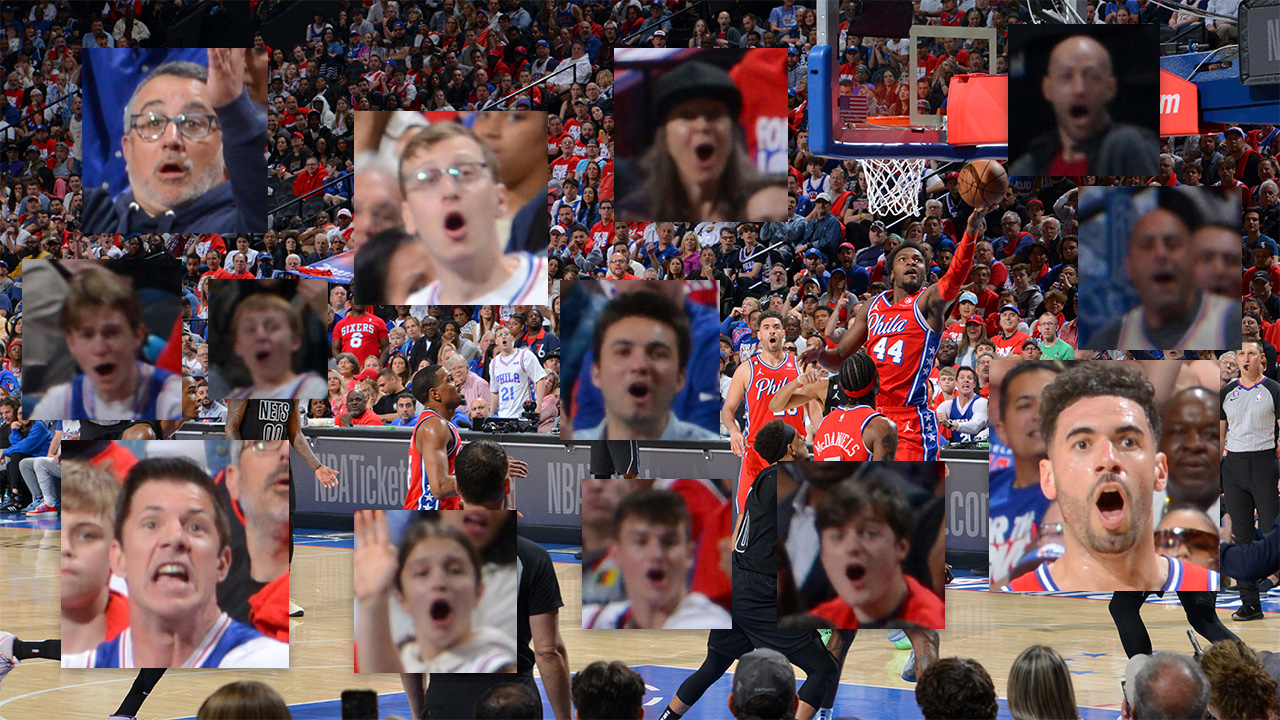 There were three Nets players around Paul Reed and it did not matter. The 6-9 Sixers backup center out-muscled Joe Harris for the rebound, dribbled through his legs to get past Royce O'Neale, drove past Spencer Dinwiddie, stopped, and pivoted past Harris and laid it in with a finger roll.
My phone blew up immediately. More texts followed after Paul's reverse jam a few minutes later. I was not the only one impressed; Jesse D. Garrabrant's photo at the top is of that play, and I've highlighted a few great faces in the crowd. One of them is Reed's Sixers teammate George Niang, hovering around the three-point line on the court watching. It was not just my friend group; "Playoff Paul" was trending on Twitter.
I think that people would've gone wild no matter who made the play. It ruled. It put the Sixers up 19 in the fourth quarter. Dinwiddie was furious afterwards; I think he thought it was a travel. But the reason I got all those texts is that it was Bball Paul who made the play. It's why the fans chanted for him at one point. He is a fan favorite, and more than that he is a favorite of mine.
Bball Paul comes from his Instagram and Twitter handle, @Bball_paul, which he took when he signed up for the site in middle school. It's what the fans were chanting. Reed was a three-star recruit out of high school and played three years at DePaul. By his junior year he was pretty good, especially on the defensive end, on a DePaul team that finished 16-16. Reed was 32nd in the nation in block percentage, per Kenpom. He also shot the ball pretty well, especially for such a high-usage player. He was bit of a project, but seemed as if he could be worth the work. The Sixers took him late in the second round in 2020.
Sixers sickos became enamored with him basically right away. Reed won both the MVP and Rookie of the Year awards for the 15-game NBA D-League bubble season, averaging 22.3 points, 11.8 rebounds, 1.9 steals and 1.8 blocks per game. He showed some flashes in a rookie year where he played 26 NBA games, too. Fans liked him in the way fans like a young guy who comes in and shows some flashes in limited minutes. Basketball fans tend to like the big guy at the end of the bench—sometimes more than the starters. Dave Barry wrote a great profile of Grant Long in 1991, when Long was with the Heat. Long, now a studio analyst with the Pistons, was a prototypical guy in the trenches for his 15-year NBA career. But Barry wrote that, late in a blowout, it was end-of-the-bench center Alan Ogg who got the cheers. "Ogg is not considered to be highly talented," Barry wrote. "What he is considered to be is seven feet, two inches.… Ogg is a cult figure among Heat fans. They go nuts when he comes into a game."
But it's not just that Reed's a tall bench guy. He is much better than Alan Ogg, who played just 80 games in three NBA seasons. The distinguishing factor here is that fans have long wanted to see Reed more in games. Sixers coach Doc Rivers basically did not trust him to play against experienced centers, and so resisted using him. Philadelphia fans disagreed with this decision. "Doc Rivers shoots down 'Paul Reed victory tour' with condescending lecture," read a headline at SB Nation's Liberty Ballers last season. When Joel Embiid missed the first two games of the Sixers second-round series with the Miami Heat last year after an elbow to the face in the first-round clincher against Toronto, Rivers played DeAndre Jordan instead of Reed. The Sixers lost by 14. People got angrier than usual. That has continued into this year. Here's the headline on a segment two weeks ago from a show called Philly Take With RB on YouTube: "Doc Rivers Does It AGAIN! | Paul Reed DISRESPECTED!"
But if I had to put one reason down why Reed is the Sixers fanbase's cult bench guy, I'd probably attribute it to his Twitter handle. Bball Paul! It's so good, and is so obviously something he came up with when he was young. He was into bball, so he was Bball Paul. If he were older you could picture him wearing a "Basketball is life. The rest is just details." shirt. Rich Hofmann, writing in The Athletic in April 2021, wrote that Reed is "catnip for a fan base that relishes in rooting for under-the-radar players with outgoing personalities."
I was a Bball Paul fan by then, too, when I attended a socially-distanced in-person game the same month. In the blog I wrote about my experience, I called him "my favorite Sixers scrub." The lineup he was in cut an enormous deficit to a merely big deficit and forced the Grizzlies to sub their starters back in. That lineup was Reed, Mason Jones, Ignas Brazdeikis, Rayjon Tucker, and Isaiah Joe. In a way, Reed feels like a throwback to the days when the Sixers were awful in the Process era—a young guy with talent who is a bit of a lottery ticket. Maybe he'll be good, probably he won't, but the chance to find out only costs a dollar. (My favorite of these guys was Byron Mullens, who played 18 games for the Sixers in 2014. "He's going to do something else," Sam Hinkie said in a post-season press conference. That sounded like he was going to begin a new career, but Mullens is still playing professionally—now with the New Taipei Kings of Taiwan's P. League+. He scored 44 in a game in February!)
Reed is no longer a lottery ticket, at this point. He's a legitimate NBA backup who still sometimes shows some flashes of being more. He played in 69 games, averaging 11 minutes a game, for a 54-win team this season; on Saturday, he scored 11 points on 5-of-6 shooting in 13 minutes. The Sixers beat the Nets 121-101 in the first game of the playoffs. Rivers said "energy guys" like Reed were crucial to the win. If the Sixers can keep going, it won't just be Sixers fans who know Bball Paul.
Stay in touch
Sign up for our free newsletter