Soccer
Arsenal Is Halfway Home
9:50 AM EST on January 23, 2023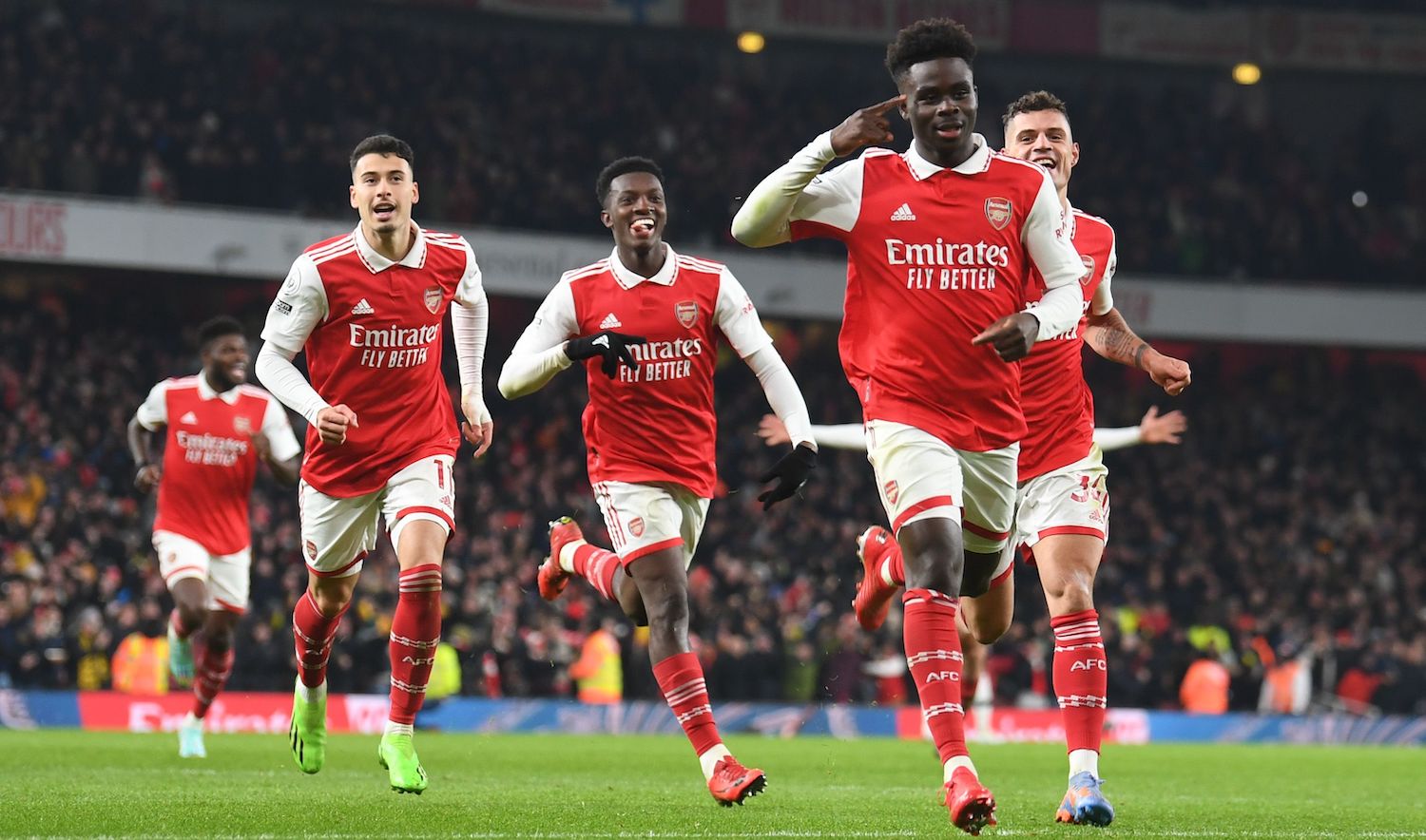 With scant minutes left until Arsenal's Premier League campaign hit its official halfway point, with the World Cup hangover evaporating and the task of keeping the old Norse gods at bay looking as difficult as ever, Arsenal produced the moment of its season. An EPL campaign is a slog, and though winning the league requires constant vigilance and a sustained high level of play, the magic of this sport is that discrete moments. Single kicks of the ball, taken at exactly the right time, are what ultimately matter. Nobody remembers Zabaleta 39'; everyone remembers Agüero 90+4'. Maybe they'll remember Nketiah 90'.
Manchester United, fearsome and newly determined, paid a visit to North London on Sunday afternoon with the chance to puncture the Gunners' hopes and crash the title chase. A win would put United within three points of crosstown rival Manchester City, and only five points behind Arsenal for the league's top spot. Arsenal played one of its best games of the season, yet a spectacular first-half goal from Marcus Rashford (briefly turned the soccer ball into a free electron) and a stupid second-half goal from Lisandro Martinez (sand wedge header) nullified an even more spectacular Bukayo Saka rocket and an Eddie Nketiah header, and it seemed that this classic would end in a 2-2 draw that one side would feel way happier about. Nope. Instead, Leandro Trossard, seven minutes into his Arsenal debut, played it off to Oleksander Zinchenko on Arsenal's left side, who fired in a plain, vanilla cross that a sprinting Martin Odegaard brought to life with a chip to Nketiah for a stunning winner.
Whether you support the Gunners or revel in the many avant-garde ways they can self-inflict pain, I think it has been appropriate to view Arsenal's multi-game cushion atop the EPL table with a fair bit of skepticism. Arsenal is far younger and less experienced than the defending champions, its best player just suffered a four-month knee injury in Qatar, the guy it planned to bring in to bolster the frontline got swooped upon by Chelsea at the last second, and Erling Haaland is on pace for like 50 goals. You should always assume that entropy will win in the end, and perhaps it still will, as Manchester City only trail Arsenal by five points (the Gunners have a game in hand).
But we are too far into the season for anything Arsenal has done to be considered remotely fluky, and with every big win the Gunners rack up, their chances of ripping the title away from Manchester City seem more realistic. It's not just that they beat Tottenham and United in back-to-back weekends that's so encouraging, it's the way they swaggered through the 180-plus minutes against the league's fourth- and fifth-placed teams. This Arsenal play with an indomitable spark, eschewing spatial rigidity for freedom and creativity. There's Thomas Partey hitting a wide overlap off Gabriel Martinelli; there's Takehiro Tomiyasu cutting all the way over from the right flank to the left; there's Gabriel Jesus defending between the center backs.
United wanted to press Arsenal hard after turnovers, and the Gunners seemed to be able to find tidy little three-pass sequences to break the pressure and fly forward with numbers whenever they wanted. Spurs had their moments last weekend, though they were hardly in the game at all. I watch Arsenal smoke Spurs and keep their heads long enough to score in the 90th against United, and I see a team that believes in itself. I don't see a group punching above its weight. I see a team worth being scared of, a team melting away my cynicism with every crisp goal. To win the title, you first have to believe you can win the title.
Of course, belief alone is not enough. City has spent a concerning amount of this season playing bland, unthreatening soccer, yet there's plenty of time left to make up ground on Arsenal. This feels like a two-team race, and they still have to play each other twice. Gabriel Jesus probably won't return until the last quarter of the season. Last year's title race was decided by one point, and though the neutral would probably prefer a lively, well-populated title race, I think the contrast between City and Arsenal makes up for the lack of other contenders.
Pep Guardiola's ideal vision of a soccer team is as a machine, controlling the ball and moving it in predictable patterns between players occupying predictable spaces. His midfield is experienced and calm, and his star striker pretty much only touches the ball when he's in the process of scoring. This core has won four out of the past five Premier League titles, and his captain is eight years older than Arsenal's. City is trying to finally win the Champions League; Arsenal fans desperately want their team to rotate the squad for Europa League games. Arsenal manager Mikel Arteta worked under Guardiola for three years, yet his team plays a completely different style, as indicated by the divergent roles Gabriel Jesus has played under each manager.
Arteta's Arsenal is young and don't know what fear is, gleefully breaking the rules and attacking with decisiveness and panache. Jesus was key to their early-season success, yet the team hasn't missed a beat without him thanks to Eddie Nketiah. The Arsenal academy graduate made his first-team debut under Arsene Wenger, served as a dutiful backup to Alexandre Lacazette, Pierre-Emerick Aubameyang, and Jesus, then stepped into the starting striker role with a team's title hopes on his shoulders. Nketiah has shown promise for years, though there is a considerable gulf between exhibiting flashes of talent and leading the line for the best team in the EPL. Since the World Cup break, he has four goals in his five starts.
It feels emotionally coherent that Nketiah got the winner on Sunday. Most hotshot young prospects that languish on the fringes of the first team for six seasons eventually stop lingering and go play for, like, Sunderland. Nketiah has been given opportunities, never quite making enough of them to lock down the starting striker spot for Arsenal. That's a huge ask for any player, but so is staying ready for your moment and stepping up when the stakes are this high. Nketiah is a smart, willing runner, with some sauce on the ball and the athleticism to do all the traditional striker tasks, as demonstrated on Arsenal's first goal of the day. Jesus's omnipresent production is, to a certain degree, irreplaceable. As Arsenal have shown over the last weekends, their strength is more collectively held.
There is nothing quite as thrilling in sports as the tectonic shift when a new champion emerges and shakes off an established power, as Leicester City did in 2016. Many of the past few EPL title races have been close, though they've been squabbled over by the same quartet of teams. Arsenal has been on the fringes for a while, and now it's taking its shot and it feels incredible to witness. Manchester City will feel unbeatable in a 38-game season, to me anyway, until someone beats them. If it happens this year, there will be more capital-m Moments for Arsenal, but remember the United winner. It's a foreshock, and I can't wait to find out what it portends.
Stay in touch
Sign up for our free newsletter