College Basketball
Angel Reese Absent From Recent LSU Games Amid Mom-Instigated Social Media Feud
12:32 PM EST on November 20, 2023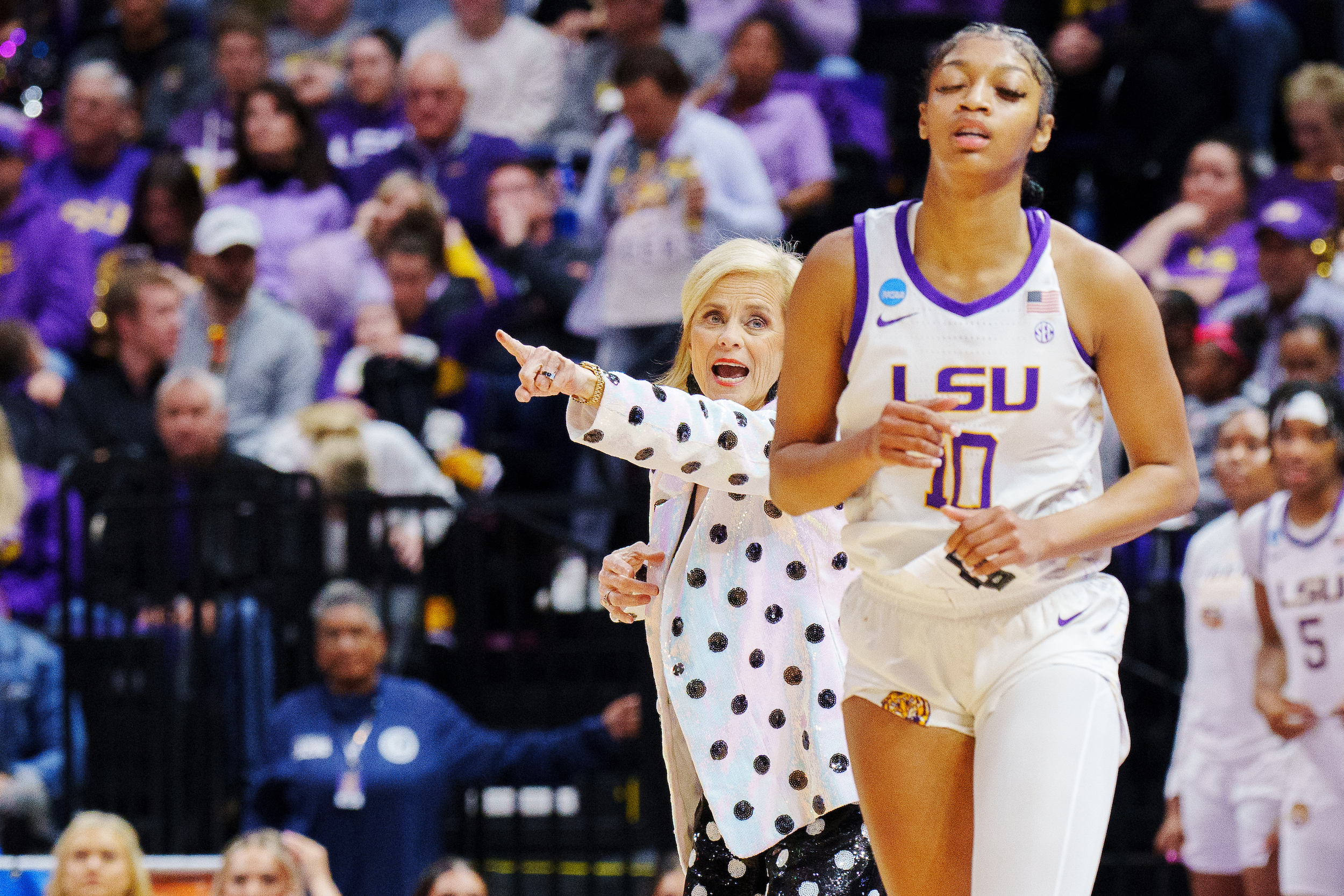 Have the reigning champion LSU Tigers fallen apart five games into the season? Probably not. But star Angel Reese has missed the team's last three halves of basketball for reasons head coach Kim Mulkey won't explain, and she's also now at the center of a feud between team mothers. Somehow LSU's first crisis of the year has nothing to do with the addition of two high-profile transfers. (I had money on Mulkey and Hailey Van Lith reaming each other out. Alas!) Everyone involved was on or around the team last year.
Mulkey benched Reese for the second half of LSU's game against Kent State last Tuesday, an eventual 30-point blowout but only a two-point game at halftime. I wondered if it was just a basketball-related benching; Reese had taken some bad shots without giving the team much on the glass, and freshman Mikaylah Williams so dominated the third quarter with her shooting that it may have been pointless to put Reese back in the game. Asked about the benching afterward, Mulkey called it a "just a coach's decision" and didn't say more.
But then Reese missed all of LSU's next game, against Southeastern Louisiana on Friday. "You want me to explain why?" Mulkey said to a reporter who wanted to know what was up. "It's very obvious Angel was not in uniform. Angel is a part of this basketball team. We hope to see her sooner than later." Later Mulkey would admit to having some kind of cold—"It might be COVID, but I ain't testing"—and she blew her nose vigorously as she listened to a follow-up question about Reese. "I'm not going to answer any more. That's it. That's all y'all need to know."
A random Instagram story request made by Angel Reese's mother last week would seem irrelevant to all this: "Folks pls do not send me long text msgs with a bunch of grammatical errors it gives me a headache," she posted.
But this plea for proper grammar was not received so kindly by Kia Brooks, the mother of Reese's teammate and good friend Flau'jae Johnson. "You definitely know about grammar errors when your daughter got a 2.0 or less GPA," Brooks wrote on her own Instagram story. "And in fact when writing your smart message you didn't capitalize nor did you use any periods. Stop being petty, fake and hateful. And take responsibility for you and your daughters actions. Your just as responsible you raised her that way. Nobody give a damn who you think you are since you came up off another's brand."
Well, OK! It's unlikely the GPA issue explains Reese's absence. If she did have some academic eligibility issue, that probably wouldn't surface at halftime, several games into the season. (Though I do like to imagine every school having a concussion spotter equivalent who monitors grades in real time and yanks players in the middle of games.) And Brooks wasn't revealing anything new with her out-of-nowhere dig. Last year, when Reese was left off the list of finalists for the Wooden Award, LSU confirmed it was because she didn't meet the criteria for the award, which requires a 2.0 GPA.
The "responsibility for...your daughters actions" bit might be a clue to what happened, though no one has said what those actions were. Alexis Morris, a member of last year's LSU team and someone with experience being kicked off a team by Mulkey, has tweeted about the drama, but in a way that makes it impossible to understand the battle lines being drawn here. This weekend, Morris said "Free Angel" on an Instagram live video titled "FreeAngel." She also tweeted, "You can't pay me to bash Kim!"
So this is just your standard college sports melodrama, in that any attempt to make sense of it requires deciphering the bluster of a surly head coach and closely monitoring the social media accounts of various players' mothers.
Stay in touch
Sign up for our free newsletter