Tennis
Andy Murray Begrudgingly Gives Himself Some Credit For Exhilarating Upset
4:56 PM EST on January 17, 2023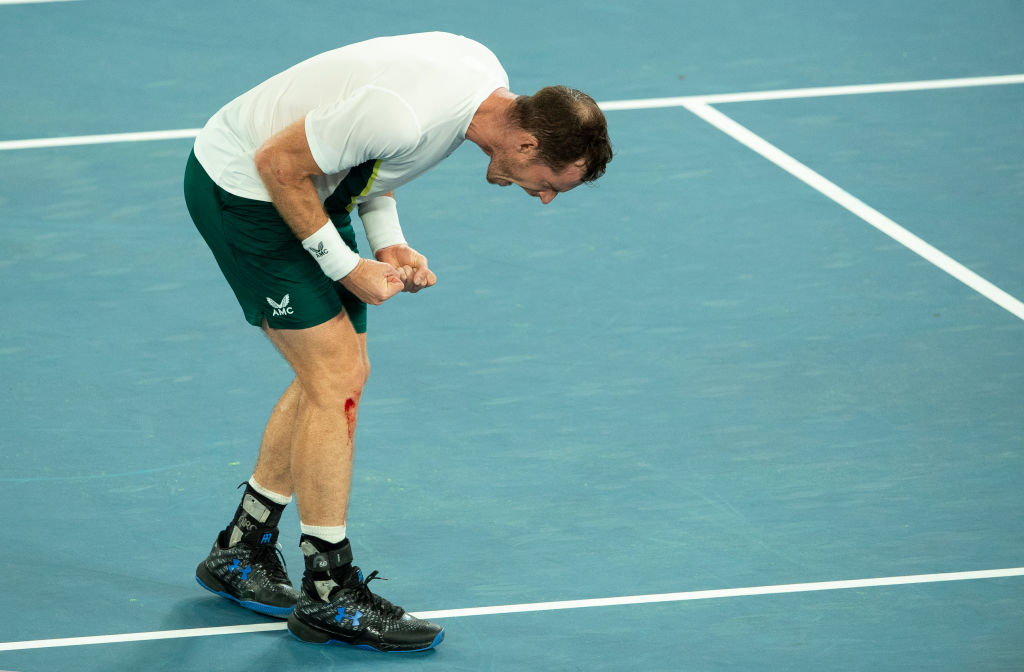 The highest compliment to pay post-comeback Andy Murray is to skip that qualifier altogether. He doesn't seem to view his own prospects with any hedging; ahead of big tournaments he talks like he can win them, the way he used to, back when he was a top player in the world. Murray has said that he doesn't want anyone's pity, anyway.
Taking him at his word, it was just Andy Murray out there Tuesday at the Australian Open, dispatching No. 13 seed Matteo Berrettini 6-3, 6-3, 4-6, 6-7(7), 7-6(6), in four hours and 49 minutes. It was the Murray who should even be taken to task for failing to close out the match in straights, who should be deemed lucky because Berrettini squandered the easiest match point ball he'll see all season, and who should be only moderately happy to proceed to the second round of a tournament where he's made the final five times.
From Sir Andy's perspective, it was just another match, but extreme suspension of disbelief is not the spectator's job. In order to do his job well, he might have to strategically overlook reality and believe he can beat anyone alive. Those watching on TV are free to see the world as it is, not as anyone wills it to be. It's fair to be astonished that Murray is 35, with a surgically resurfaced hip, four years removed from his apparent retirement at this same tournament, upsetting last year's 26-year-old semifinalist in the first round. Surely he'd want those details left out of the lede, but sorry, bucko. On Tuesday, Murray secured exactly the style of win—name-brand foe, major tournament, high quality of play—that has eluded him over the last few seasons, that now hints a return to the level of tennis he expects from himself.
Even Murray, a permanently self-deprecating curmudgeon, softened up for an instant after the victory. "I felt very proud of myself after the match. That's not something that I generally felt over the years at the end of tennis matches," he said in the presser. "I'm hard on myself usually. But tonight I need to give myself some credit. Because the last few years have been tough. I've lost a few of those matches, those types of matches at the Slams the last couple of years. Whether that's the Tsitsipas match [at the 2021 U.S. Open] or Isner at [2022] Wimbledon. That one could've gone the other way tonight. But I stayed strong and I deserved to win." Those were five- and four-set losses respectively, and eminently winnable matchups. Finally, one went his way.
Murray nearly played well enough to avoid baring his soul to the press altogether. It could've been a tidier exit. The first two sets were vintage Murray, methodically deconstructing a gifted but flawed opponent with reliable patterns. Berrettini has one of the heaviest forehands in the world, but his backhand is a dinky inflexible wing in comparison. Murray attacked that side without mercy. On his serves, Murray stuck to a useful formula: Serve out wide and push the next ball into the open court. It kept his tall slow-footed opponent moving, so that he couldn't load up and smack his forehand.
Berrettini had yet to find his own rhythm on serve, partially because Murray was smothering him with deep returns. That's vintage Murray, too. So were the passing shots slung into impossible corridors, the full court sprints to re-drop the drop shots. His court coverage looked as sound as it's been since his major surgery. At his best Murray is tactically airtight, fast as hell, and stubborn as a goat, like he was in those first two sets. After the match, he credited an intense offseason in Boca Raton with his coach Ivan Lendl for restoring this long-lost level of play.
By the third set, though, Berrettini found his form, perhaps having found the right racquet configuration for the hot, closed-roof conditions, as he'd been fiddling with a few options. His serves and forehands began to fall in. If Murray was to win from here on, he'd have to match Berrettini at his actual level of play. He was up for the task. He scrapped for break chances early in the third, but couldn't capitalize, ultimately getting broken himself and losing that set. Berrettini wrested control of the match as his own service games grew more straightforward. In the fourth set their collective quality peaked, all the way through a spectacular tiebreak, in which Murray dove for a volley, onto his metal hip. Had it gone in, he'd have secured a match point. It sailed a few inches long. Berrettini closed it out instead.
Fatigue began to take visible tolls on Murray's movement in the fifth set, but both players defended their serves admirably until a brief but dire Murray panic while serving at 4-5. Down match point, he hit a miserable drop shot, and was shuffling around in poor position at the net while Berrettini had a whole luxurious second to line up and play any kind of backhand past him. The Italian instead deposited the ball into the middle of the net. Murray survived into the tiebreak, where he opened up an early 4-0 lead and rode it until his last chip return sputtered over the net cord, giving him the most important win of the last four years. It wasn't exactly clear when he shredded his right knee, but in victory, he was bleeding.
Ahead of the match, the world No. 66 acknowledged that he'd gotten an objectively brutal draw. "But I also feel like I'm in a much better place than where I was during any of the slams last year coming into it," Murray said. "I feel well prepared, I feel ready to play a top player early in the event, whereas maybe last year at times my game didn't feel that great." It felt like so much of the usual mandatory optimism, but he's now backed it up with the only thing that matters: his tennis.
Stay in touch
Sign up for our free newsletter