MLB
An Exhilarating Night With The Saddest Teams In Baseball
3:21 PM EDT on April 25, 2023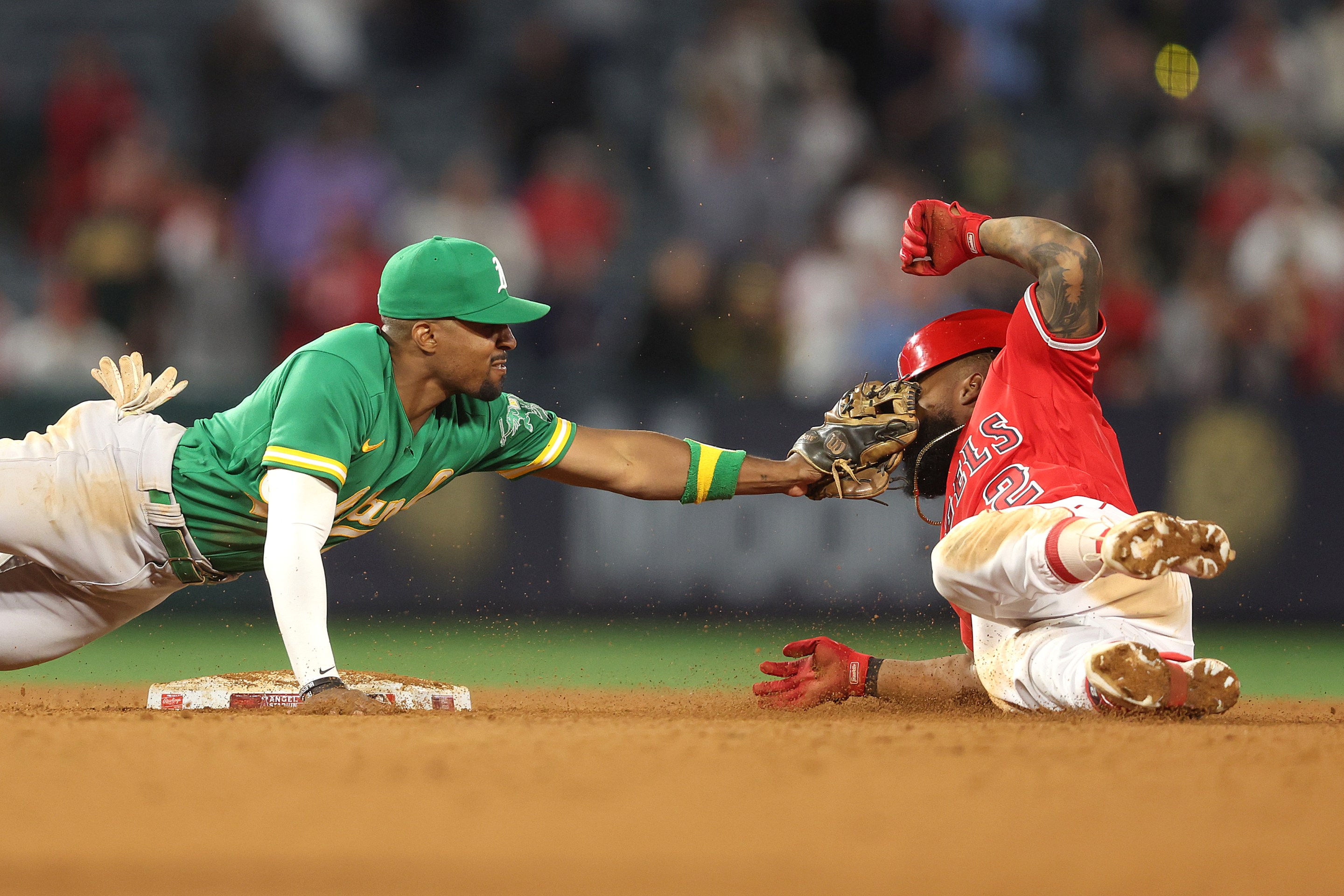 The Angels cannot win. This we know. Two of the greatest players in history, game-altering talents left to rot, Tungsten Arm O'Doyle of the Akron Groomsmen, and so forth. The Oakland A's also cannot win, though their losing at least observes a certain logic. They are the worst team in baseball because they were built to be the worst team in baseball. If they're losing about 80 percent of their games right now, they are only getting what they deserve. Each losing team is a loser in its own way, but of these two best-in-class losers, which team's compulsion to lose is stronger? The Angels and A's play each other nine more times this season, so we'll have many opportunities to find out. But here, from last night's clash of losers, are some preliminary results:
It's Over:
Angels starter José Suarez gives up back-to-back solo homers to Brent Rooker and Jesús Aguilar in the first inning. Rooker, by the way, might be the one pleasant surprise in Oakland this season. The outfielder is 28 years old and was DFA'd by the Royals this fall before becoming an everyday player with the A's; he has six home runs and a 1.170 OPS on the season. His Baseball Savant page, hue-wise, looks like when Kramer had the Kenny Rogers Roasters sign beaming into his apartment. Later in this game, he will be pitched to like Barry Bonds, and it will be very funny, but we have lots of stuff to get to before then. Angels starter José Suarez gives up back-to-back solo homers to Brent Rooker and Jesús Aguilar in the third inning. Do you need a copy editor? Have you suffered a head injury? you are thinking, because the sentence I just wrote is nearly identical to the sentence that began this paragraph. I don't and I haven't. In fact, this pitcher gave up back-to-back homers to the same pair of hitters twice in the first three innings. The A's have a 7-1 lead.
We're Back:
But the thing about A's pitching is that the runs don't really count as "insurance" until the lead is in the teens. Just 23 games into the season, Oakland's pitching staff is already worth three wins below replacement by the FanGraphs metric. The team ERA is an MLB-worst 7.98. So after giving up a solo home run to Brandon Drury in the bottom of the third, A's starter Ken Waldichuk has only a 7-2 lead to work in the bottom of the sixth.
Mike Trout begins the sixth with a single; he will end it with a strikeout. Between those at-bats, the Angels claw all the way back. Trout's single is followed by a double, double, strikeout—here Waldichuk is pulled for James Kaprielian—wild pitch, walk, walk, single, and then the game-tying double from rookie shortstop Zach Neto. Neto, selected in the first round of last summer's draft, was called up unusually fast for an MLB prospect, but his presence doesn't rank among the 15 weirdest things in this game, so we'll congratulate him and move on.
The Angels' momentum carries over into the seventh, where a couple hits give the Angels another run. The extremely freakin' back Angels lead, 8-7.
It's So Over:
It is the top of the ninth. An Angels victory is in sight. But it's never so easy as seeing victory, is it? Rather than record three outs like a normal reliever, Andrew Wantz walks the first two A's hitters he faces. Dammit!! God dammit!! Wantz is replaced by Jaime Barria, who makes one out and then gives up a single to load the bases. I consider switching to the Lakers game, but I want to watch Brent Rooker, so I can tell my children about him one day. He draws a four-pitch RBI walk. The game is tied, 8-8.
We're So Back:
I consider switching to the Kraken game. The bases are still loaded, and A's catcher Shea Langeliers blasts a Barria slider deep to left. In the air, it is so over. But then, we're so back: Taylor Ward robs Langeliers of the go-ahead grand slam at the short wall. Ward should not be confused with Tyler Wade, who was also in this game, but playing in the infield for the A's. Wade, not Ward, put together the worst at-bat I've seen in my life—it actually took place between the Rooker walk and the Langeliers flyout. Wade, having just seen the pitcher allow a four-pitch walk, chases the first two pitches Barria throws and then takes a called third down the middle. So thanks to both Taylor Ward and Tyler Wade—who otherwise shouldn't be thanked for anything ever, and should be arrested—the game remains tied, 8-8.
It's So Fucking Over:
This is gross. This is really gross. I should have switched to the Kraken game. Everyone's talking about LeBron James and Dillon Brooks! I could have been watching that! The heart of the Angels' order cannot walk it off in the bottom of the ninth, and we are in extra innings. This Barria guy is still on the mound, and things are going for him about the same way they were going when we last saw him. Brent Rooker is (wisely) intentionally walked, but his teammates chip in with a few sharp singles and a double. That should do it. The A's have an 11-8 lead.
We Never Left:
But the thing about A's pitching is that Jeurys Familia is the closer. I think the Lakers game might be over. I am going to switch to the Kraken game when Brandon Drury homers and suddenly it is a one-run game with no outs.
Even when Familia does record a first out in the next at-bat, it is really a stolen-valor out; Luis Rengifo singled and then got thrown out when he tried stretching it into a double. These teams are horrible. Matt Thaiss walks!!! Zach Neto gets plunked!!! Taylor Ward does his best Tyler Wade impression and strikes out. But there are runners at first and second with two outs, and up to bat is Mike Trout, the greatest hitter of his era!!! Who would you rather have in this spot? They are going to do this!!! They are so back!!!! The A's are going to score three runs in the 10th inning and LOSE. The A's have an 11-10 lead.
It Never Began:
Trout grounds out. A's win, 11-10.
Stay in touch
Sign up for our free newsletter