NFL
All The Lions Have Are Moral Victories, For Now
5:27 PM EST on January 9, 2023
Everyone is feeling very good about the Detroit Lions. They won eight of their last 10 games this year. They ended the reviled Green Bay Packers' season. Jamaal Williams gave a star-making interview in the postgame. Neutral fans are honest-to-god wishing they could replace the 8-9 Bucs in the playoffs. I am taking advantage of this cheer and goodwill to tell you all a story about darker days.
After over a decade of Matthew Stafford and now, somehow, a resurgent Jared Goff at the helm (Papi's Home), the old adage "the most popular player on a football team is the backup quarterback" hasn't been true for the Lions in a long time. But oh boy, did it used to be. And when I think "Lions backup quarterback," the first Guy who always comes to mind is Mike McMahon.
McMahon, a fifth-round pick out of Rutgers in 2001, backed up Charlie Batch and Ty Detmer in his first season with the Lions and then Joey Harrington in his next three before finishing his active NFL career as a mid-season replacement for Donovan McNabb in Philly. I remember, in 2004, everyone in the stadium fruitlessly calling for him in an absolutely miserable loss to Washington. It was 3-3 at halftime, the Lions didn't score a touchdown until the final two minutes, and my dad swore never to give the team money again until they had a winning season.
But long before that day, McMahon had a fleetingly glorious moment as a rookie. After the team's most successful decade of the Super Bowl era, when Barry Sanders carried its mediocrity to five playoff appearances (plus one more after he retired), the Lions crashed hard in 2001. Following up on a chaotic nine-win year that closed on a heart-breaking kick at the end of the regular season (sound familiar?), new head coach Marty Mornhinweg and new GM Matt Millen began their tenures with a long unbroken streak of disappointments. The Lions lost their first 12 games, the last nine in a row by eight points or less, and quickly became the laughing stock of the league. The Tampa Tribune, ahead of their local team's 15-12 win in Week 13, even saw fit to publish these tasteless jokes at the Lions' expense.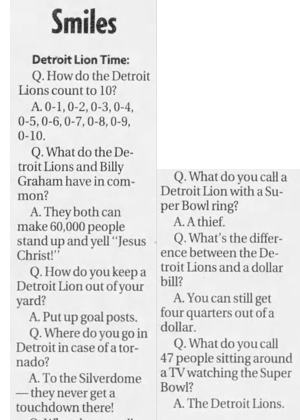 Those at the franchise half-heartedly came to their own defense. "The only similarity between a bad team and our team is our record. I've been around teams with good records that couldn't hang with us," Millen said with the team at 0-12. "But then again, we'd probably find a way to screw it up and lose in the end. "
But Mike McMahon briefly put a stop to all this gloom and doom in Week 14 against the Vikings, who back then sported that immortal WR-QB connection of Randy Moss and Todd Bouman. His performance in this lonely Lions victory was so memorable, even, that over 19 years later a YouTuber saw fit to upload a Berman-narrated highlight video from that now-immortalized day.
The Lions built a 20-7 lead on the back of a pick-six, a McMahon one-yard rushing TD, and some work from beloved kicker Jason Hanson. Then, of course, they gave up the lead. But this time, they spat on Millen's sardonic prophesy. McMahon, using his arm and his happy feet, led an 80-yard drive that ended with fullback Cory Schlesinger punching it in to regain a 27-24 lead in the fourth quarter. Two fruitless drives by the Vikings later, Detroit was 1-12.
After the clock hit zero, the AP reported that Lions wideout Johnnie Morton "took off his helmet and threw it about 20 feet in the air and 30 yards away from him, like a graduate tossing a cap at graduation. The Detroit receiver then danced, hugged his teammates and screamed with joy on the field, while fans did the same in the stands."
"It sounds awkward to say that this is one of my best moments in sports," Morton said. "But after all we've been through with our record and injuries, this is the best."
The feeling wasn't confined to Morton alone. "It feels like we just won the Super Bowl," guard Tony Semple said. "Hopefully, it will get the comedians off our back," Schlesinger remarked.
Added Vikings coach Dennis Green, "Everybody in this league deserves to win a game."
I've struggled with what to make of the present-day Lions' empty-yet-triumphant Sunday night in Wisconsin. After getting torn apart just a few hours earlier by that Jason Myers game-winner in Seattle—which was, really, the end of the Lions' season—I didn't know whether to laugh or shrug or smirk or sob at how convincingly they closed it out on the road against the desperate Packers, like a real playoff team would have done. On the one hand, beating Green Bay in an officially meaningless season finale feels annoyingly familiar by now. On the other, even though they prepared for a do-or-die game, then suddenly found themselves in a no-worries-if-not affair, the Lions' positivity after an overall disappointment of a day still shined through. They were the Whos in Whoville after the Grinch stole their presents.
The lesson, I think, is that if there's joy to be found when an 0-12 punchline stops the laughter for a week, and proud gratitude all around when a team is dealt a knockout blow then plays like it still matters anyway, that means every Lions win at least counts for something. They are the Detroit Lions! Stop playing with them!
Stay in touch
Sign up for our free newsletter