NWSL
Alex Morgan Had A Year
3:19 PM EDT on October 27, 2022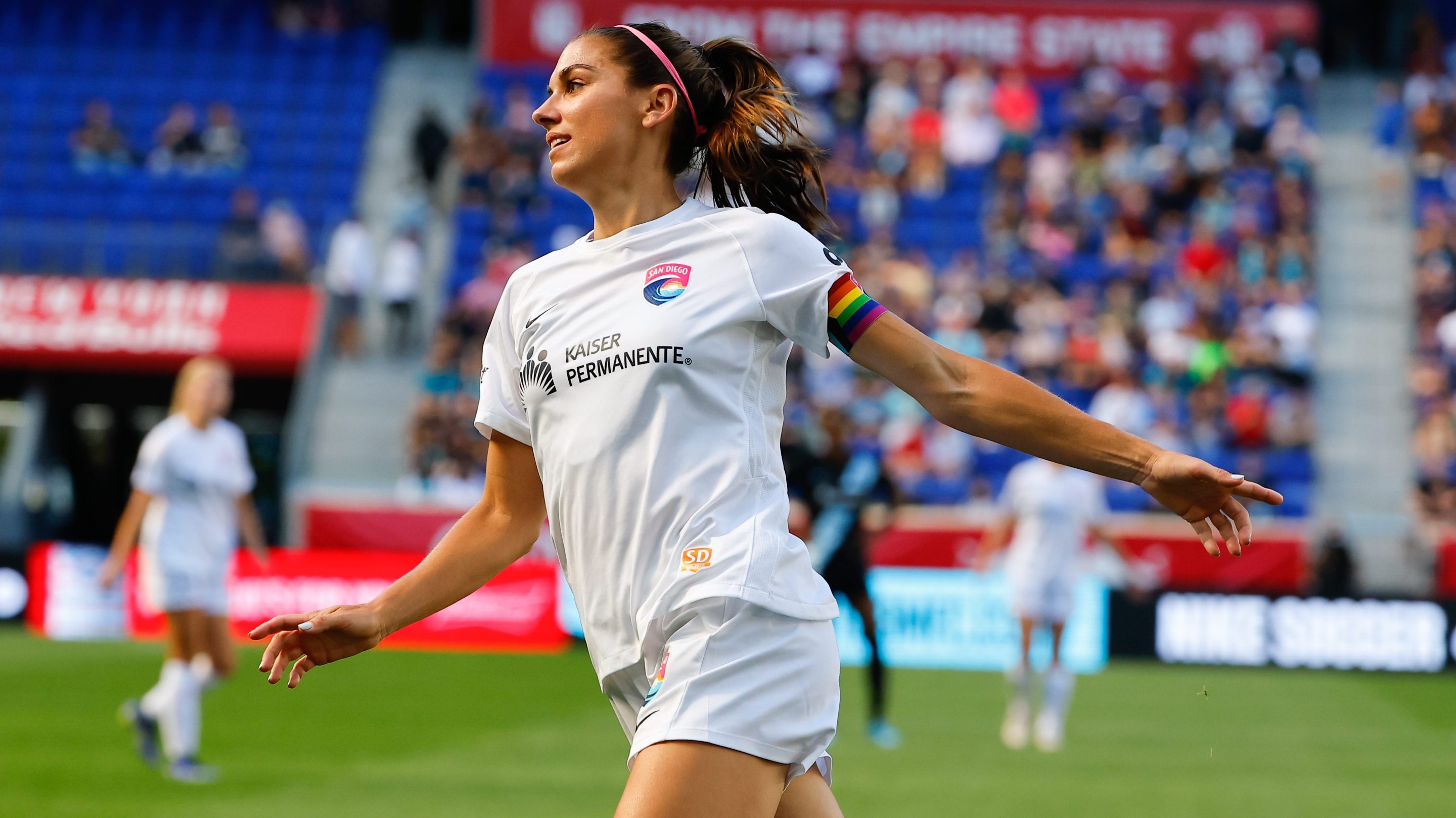 One of my favorite goals from Alex Morgan this year was not an Alex Morgan goal. It was an assist, in the NWSL semifinals. For it to happen, the Portland Thorns made the grave error of giving Morgan space; Morgan, after all these years, is still a player you can't give much more than an inch. Sure enough, as she has done for years now, Morgan took that space, dribbled to the exact spot she wanted, and delivered a perfect pass to San Diego Wave teammate Taylor Kornieck, who headed the ball into the net with ease. For a moment, the perpetually near-the-top-of-the-table Portland Thorns had to worry they might lose a critical game, at home, to an expansion side.
The daydream of the Wave making it to the NWSL championship game in their very first season would only last until the 12th minute. Then the Thorns scored to tie, and they would score again with a rocket blast in the 93rd minute from Crystal Dunn, her first goal since giving birth just five months ago. But as the sun set in Portland and the Wave players walked off the pitch, I still wanted to think about that Morgan goal, partly because I just found the whole sequence so aesthetically pleasing, but also because what I really wanted was what I see for other athletes when they exit the field after the type of year that Morgan had: the pomp, the circumstance, the glossy TV package about courage and destiny and family—that immediately tosses to a commercial break where said athlete is also making an endorsement for, I dunno, an electrolyte beverage or an overly expensive watch or Subway. Instead, it just sort of ended. So I decided I would write about it. Because, truly, Morgan had a year.
In her first NWSL year playing not far from her Los Angeles County hometown, Morgan won the league's Golden Boot award with 15 goals. The stats bear out her dominance. Morgan lead the league in goals per 90, goals plus assists, and penalty kicks made. She finished second, behind only the Chicago Red Stars' Mallory Pugh, in goals plus assists per 90. In expected goals and expected goals per 90 she finished second in the league, behind only Portland's Sophia Smith. Her stats do drop off a bit if you take out Morgan's penalty kicks; without them, her expected goals drops to fourth, and her expected goals per 90 drops to seventh. But, without a doubt, the answer remains obvious: You wanted Morgan on your team, and San Diego was lucky to open up its existence with her.
In theory, a great year by Morgan isn't newsworthy, She's Alex freaking Morgan. She made her U.S. Women's National Team debut before she could legally buy alcohol and quickly made it apparent she would be a linchpin on the team for a long time, forming a powerful two front with fellow forward Abby Wambach, and making both World Cup-winning squads in 2015 and 2019. But more recently, Morgan has struggled. There was the USWNT's bronze-medal finish in the Tokyo Olympics. And there was her stretch with the NWSL's Orlando Pride, a team that hasn't qualified for the playoffs since 2017.
Morgan told The Washington Post back in July that when she arrived in San Diego, a fresh start with a new club, she wanted this club to be "done the right way." This being the NWSL, that doesn't just mean winning more games. Last month, ESPN aired its documentary looking back at 2021, when multiple coaches across the NWSL were fired for abusive behavior that had gone on for years and, despite repeated reporting of it by players, went mostly ignored by those at the top.
One of the most egregious cases involved NWSL coach Paul Riley. Former players told The Athletic that Riley sexually coerced and harassed them, which lead to Riley being fired and losing his coaching license. One of Riley's coaching stops had been the Thorns when Morgan was on the roster. Morgan helped teammate Mana Shim figure out a way to report Riley's behavior, and later organized a group of players who demanded and got the NWSL's anti-harassment policy. After The Athletic broke the story, with Sinead Farrelly and Shim recounting how Riley sexual coerced them on their NWSL teams, the league issued a statement that seemed to imply its leadership had no idea what was going on with Riley. Morgan quickly shot that down.
Later, it would be reported there was even more that Morgan did to keep Riley out of coaching, at least to the extent she could. Riley was dropped by the Thorns, but he quickly bounced back to another head coaching job with another NWSL team, and even was being considered to coach the USWNT. When Morgan learned about this, she told ESPN that, once again, she spoke up, "sharing as much information as I could with the people who were in charge of selecting the next head coach." Morgan added that, in response, leadership at U.S. Soccer told her that "they had never heard of this misconduct or harassment. Not the report that Mana submitted, not the investigation, and that this was a surprise to them."
Like I said, you really want Morgan on your team.
This can't last forever, and Morgan knows that. The human body breaks down and new, younger legs will show up on the pitch. That's how soccer goes. On the We Can Do Hard Things podcast, Morgan talked with Wambach and Glennon Doyle, Wambach's wife, about what it's like being the veteran instead of the scrappy new kid on the USWNT, and taking Mallory Pugh under her wing, like Wambach once did for her. She also talked about what a difference being happy off the field made in her life and, conversely, how it made her soccer better. Living in San Diego means she's just an hour away from both her family as well as that of her husband, Servando Carrasco. Their daughter Charlie can easily see her aunts, uncles, and cousins every week.
"It just feels like I'm in a different place in my life. And I think that's helped with the success on the field. Because if I have a bad day or if I have a bad game, I'm not going to over-analyze it like I used to," Morgan said. "In general, you're your own worst critic. But as athletes especially, you just dwell on the bad moments. And you could just get so negative. You can just let the negativity just overcome you so easily. And I feel like I've just let that go."

Diana Moskovitz is Defector's investigations editor. You can reach her at diana@defector.com or, if you prefer protonmail, dfmoskovitz@protonmail.com. If security is a concern, download the Signal app and send her a text at 929-251-8187.
Read More:
Stay in touch
Sign up for our free newsletter