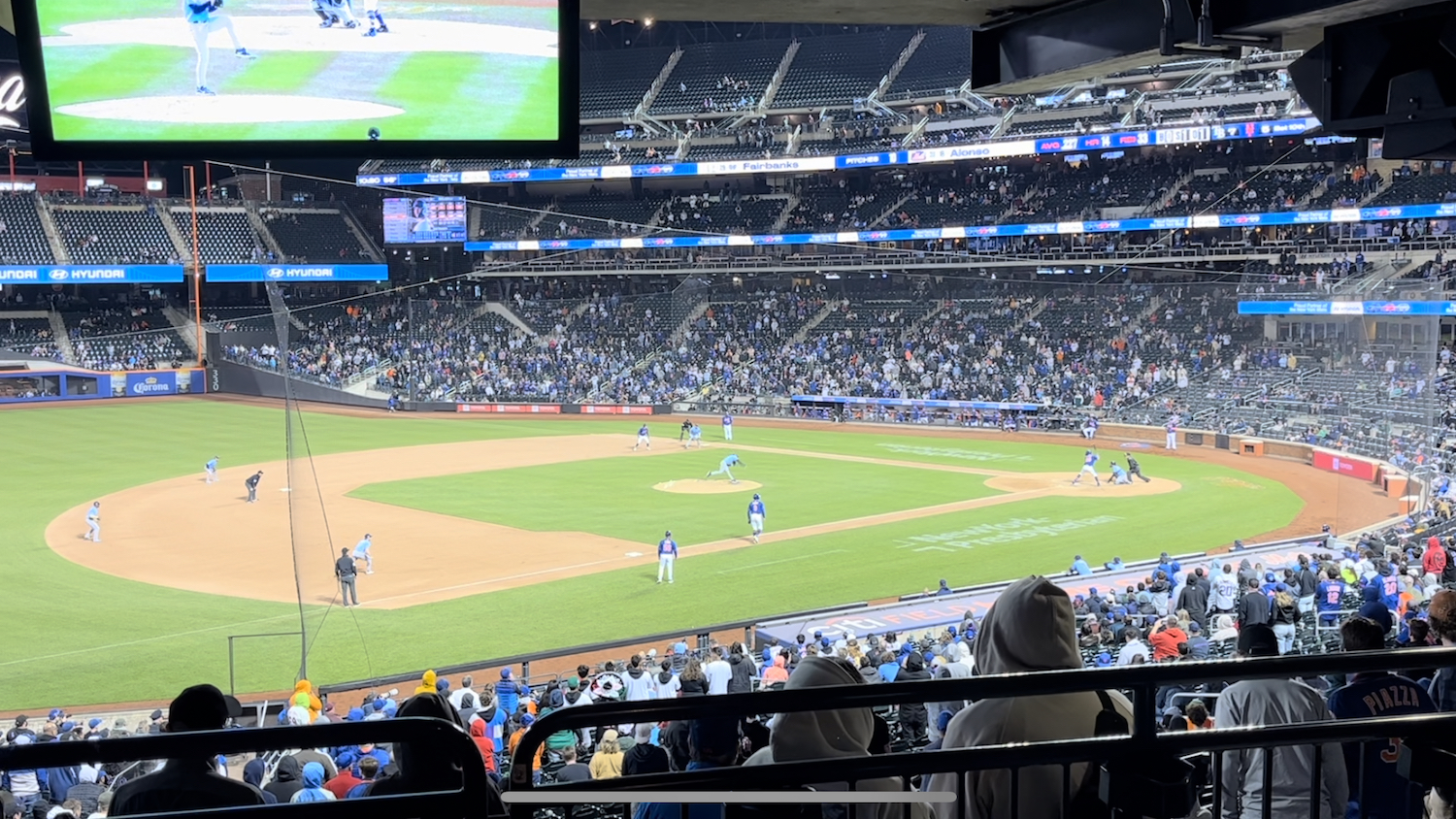 The common refrain about baseball is that if you go to a game, you can see something you've never seen before. But you can also end up seeing a lot of things you have seen before. By my mental accounting and box-score research, in my life I've been to roughly 20 major-league games across eight stadiums. Each one was fun for its own reasons, and I never had a bad time, but a good chunk of them ended with the home team losing. Not enough defeats to suspect a curse, but enough to wonder about the law of averages.
The reason I went to Wednesday's game between the Rays and Mets was not because of a desire to see something new. I wanted to hang out with my friend Jacob and watch some baseball—both of which I have seen many times before. The Mets had been flailing around in the middle of the NL East standings. The Rays had the best record in baseball. The outfield ticket was around $15 after fees. It felt like a no-brainer.
Originally, I thought my memory from the game would be Kodai Senga's performance. The Mets starter was dealing, with 12 strikeouts in six innings. It was a gas to watch him baffle Rays hitters, even as his rising pitch count made it untenable for him to stay in the game. Would this be the thing I had never seen before? Well, in 2016 I watched Chris Sale pitch a 14-strikeout complete game and lose, so no. As cool as Senga's performance was, technically this did not qualify.
Or maybe the atmosphere would be the indelible part of my night. Shortly after Jacob and I found our seats, the rest of our row was filled with a dozen zoomers, whose haircuts and voices were indistinguishable from one another. Throughout the game they displayed a tendency to exit and return to their seats in one large group, moving in their pinstriped jerseys like a dazzle of zebras. Every time they would each individually say "thank you" and "excuse me," which I appreciated but also made me feel old.
It was hazardous to be at the edge of the pack; the one sitting closest to me, farthest away from his friends' conversation, was rowdy at the start of the night but eventually mellowed out and took interest in the game, asking basic questions about baseball to the second-closest zoomer. It was obvious and endearing that he didn't know much about the sport but wanted to learn. If there was one thing I had never seen before, it might have been this: During the mid-inning T-shirt toss, one of the other zoomers caught a prize and instantly started to air-fuck it. After posing for photos of his trophy and then unwrapping the shirt, he realized it was too small for him to wear, and gave it to a woman sitting nearby.
As memorable as that was—and it was memorable—there are interesting fans at every game. My truly new experience came in the last inning. The Mets trailed 5-2 going into the bottom of the ninth; Jacob and I agreed that we would start making our way toward the exit, but around the lower concourse so we could see the final at-bats. Many fans, including the zoomers, had already left. Rays reliever Jason Adam walked Daniel Vogelbach and plunked Starling Marte. "Tying run at the plate," I said with more than a little insincerity. Brett Baty struck out on four pitches and Mark Vientos flied out. Francisco Álvarez, the No. 9 hitter, was the final hope. Then this happened:
Everyone around me went feral. Yelling and cheering and random high-fives. I had no emotional connection to the home team, and I was hooting and hollering. The final batter on the offensively constipated Mets had just hit a big dinger off the best team in baseball. Extra innings. I was glad we had stayed.
The Rays tried to put a damper on everyone's good feelings by scoring two runs in the top of the 10th. In the bottom of the inning, though, Jeff McNeil hit a single off Pete Fairbanks to join ghost runner Brandon Nimmo on base. Francisco Lindor struck out and Pete Alonso, who had been 0-for-4 up to that point, stepped to the plate. He's gonna do it, I thought with more than a little sincerity. I took out my phone and started recording but kept it out of my line of vision. Even with my careful planning, the video I took was completely worthless and unpublishable. On the second pitch, Alonso hit the fattest, most consequential homer I have ever seen in person. The sound of the bat was so obvious that nobody needed to wait for the ball to land.
Do you know what it's like to wish for something to happen and then 30 seconds later see it happen right in front of you? It makes you so self-centered; you get at least a few hours of adrenaline that may convince you that the world is performing for you, all the puppets dancing for your personal entertainment. That gradually subsides as you go home and rewatch what you saw on your phone over and over to appreciate it more, to see what little details you missed in the moment, as the memory gets stored away.
That, for sure, is something I had never seen before at a baseball game. I'll also remember the guy air-fucking the T-shirt, though.
Stay in touch
Sign up for our free newsletter