Tennis
The U.S. Open Men's Final Was A Dispatch From A Future We Must Resist At All Costs
11:01 AM EDT on September 14, 2020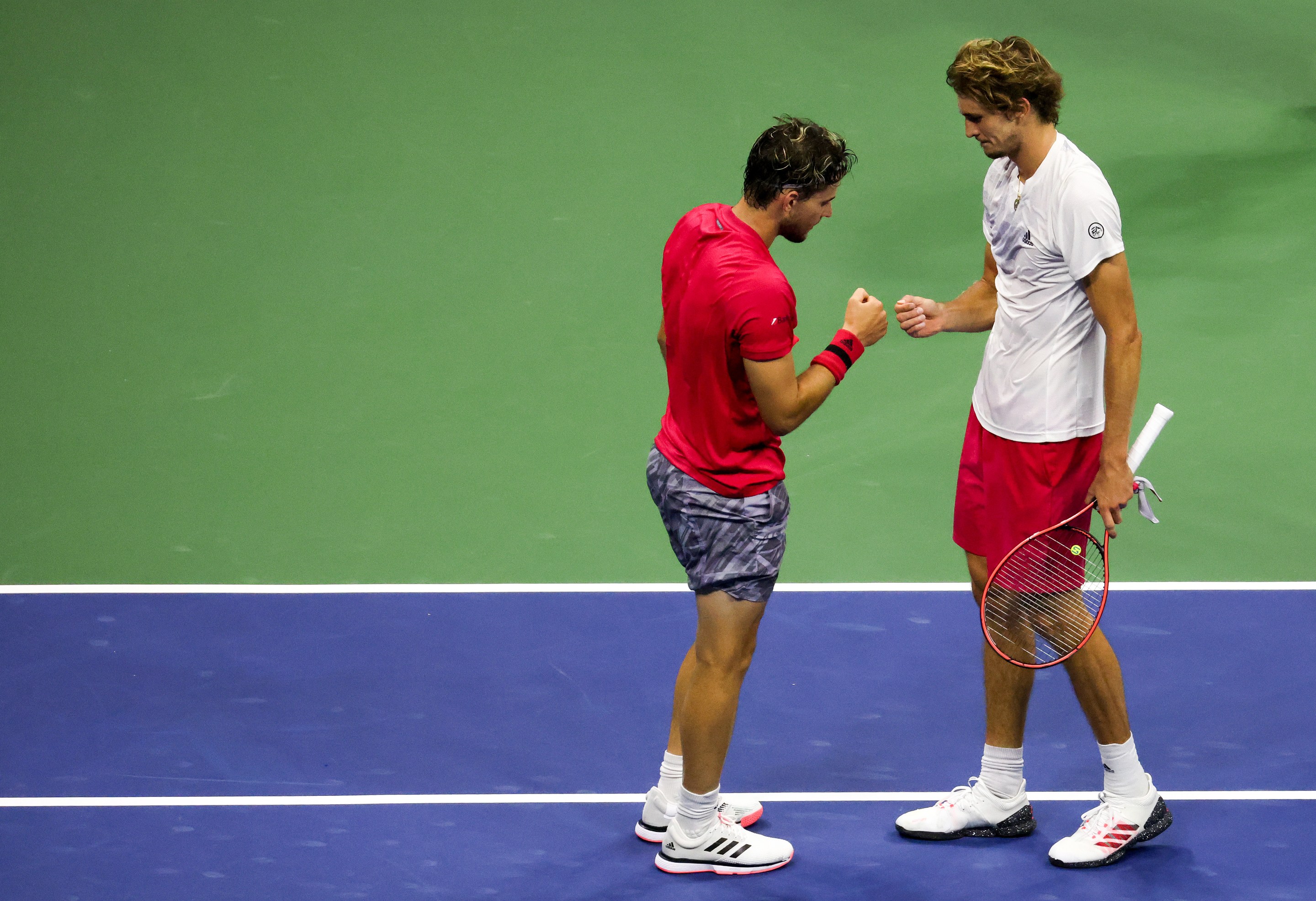 The U.S. Open men's final was a reminder of why we all love sports. We love to watch the largest tennis stadium in the world lie vacant as two young talents steel themselves to remain conscious and upright on live television. We love when a player barely clears the net cord with a 68-mph serve in the deciding tiebreak of a major final and suffers no consequences for it. We love to see players unable to sit during a changeover for fear of career-altering cramps, and we love to see some of the world's most powerful backhands wilt into geriatric slice. We love to see one of the sport's grandest pedestals vacated by the three best players ever—partially because of a pandemic, partially because of an accidental assault of a windpipe—and watch as two leaders of the next generation spend whole hours circling that pedestal, faceplanting before it, daring the other to ascend it first. We love for victory to feel like a permission that the players must be granted by some benevolent pain-reducing deity. We love for sports to feel like the business end of an Ari Aster film. We love that iconic sports fan sensation of wanting to shower and lie motionless after the big game is through.
Dominic Thiem's five-set victory over Sascha Zverev Sunday was as as much a relief to his audience as it was to him. It cannot be overstated how disorienting and disillusioning this match was to watch down the stretch. On paper, it was rousing: Thiem, who is 27, became the first man of his cohort to claim a major title, which have since been hoarded by players currently 31 and older, mostly Roger Federer, Rafael Nadal, Novak Djokovic. And Thiem's 2-6, 4-6, 6-4, 6-3, 7-6(8) victory marked the U.S. Open men's final's first comeback from a two-set deficit in the modern era. The last instance was in 1949, and if I knew this is how it would go down, I would've deferred it another 100 years.
But to a sufficiently sick mind, this final did have its charms. The match wasn't entertaining on a minute-by-minute level—patches of ingenious play were followed by extended failures to reproduce some of the sport's most fundamental motions—but it was worth following on an hour-by-hour level. Who could recover more quickly from morale-obliterating mistakes? Who was going to retain the ability to bend their legs at the knee? Who was going to fail to fail?
Dole out some credit where it's due: For the first two sets, Zverev, the No. 5 seed, temporarily reversed every possible criticism of his game. Zverev, now 23, is in his third straight season of being The Next Big Thing But Not Really. He has won titles at every level of the pro tour besides the four majors, where he had never beaten a top-10 player, but his prospects began to darken as his game turned erratic. Zverev, who stands 6-foot-6 and looks lab-grown to thump 135-mph aces, forgot how to serve. In a three-match span early this season, he saw his serve broken 12 times in 33 service games while amassing 31 double faults. (He also went on a tirade of magnificently profane Russian and made his dad cry.) An easy narrative was coalescing around his early career: boy prince heard too much praise too early on to develop any resilience, is now doomed to underperform. At this U.S. Open, Zverev traced one of the least convincing paths to a major final in recent memory, shambling through two widely reviled quarterfinal and semifinal matches.
And then this final began, and he looked like the best player in the tournament. He patched up the main flaw I harped on when covering his rise in 2017—an inability to advance to the net and close out points with conviction—and added some bonus tricks to his bag. Somehow Zverev was dipping his racket down to the hard court for Federer-like half-volleys, touch shots especially difficult to execute at his height. Mobility, wingspan, and keen timing made for sharp returns of serve. He even broke through the usual aesthetic critique of his game: His joyless, efficient prosecution of tennis was suddenly enjoyable to watch. Here was a fluid baseliner with albatross reach bashing balls from both corners and plucking volleys out of the sky. Zverev leapt to a two-set lead and notched an early break in the third set, and haters of every stripe confessed to me that they were liking the way he played.
Then it was his turn to play dead as Thiem, the No. 2 seed, came alive. Thiem, perhaps more than any other athlete, has made me eat my blogs with the trajectory of his career. His transformation was slow but persuasive: a ball-bashing clay-court obsessive, to the only player who could beat Rafael Nadal on clay with some consistency, to the uncontested heir apparent of clay who had an annual appointment with Rafa in the French Open final. He went from a middling and inflexible hard-court player, to a player who could challenge Nadal at a major on hard court, to a player who could beat Federer on a fast hard court, to a player who could beat Nadal at a major on hard court en route to nearly beating Djokovic in the final. With experience he filed down his blunt power to a fine point. Nobody hits as big as he does and covers the court as fast as he does. He had lost three major finals, and a win seemed inevitable.
That said, he was an abomination for almost half of Sunday night's runtime. When Zverev rolled lifeless serves into play at 81, 76, even 68 mph, Thiem retreated to the back wall of the stadium as if cowering from the raw might on display. This combination of serve quality and return position was mystifying and possibly unprecedented at the pro level. Not just tactics but execution went missing for Thiem. Power is the crux of Thiem's game, and he played much of this match without it. When he plays passively, he is no threat to any top player, which is how Zverev was able to run up the score on him so fast.
Thiem was playing poorly enough to arouse suspicion that the ankle or Achilles he had tweaked in Friday's semifinal was causing problems. After the match, he revealed that it was all nerves. He shook them off to win the third and fourth set. Then Zverev's own nerves took over, and the remainder of the match was just one long anxious spasm. Both players had opportunities to serve for the set, and both failed. By the fifth-set tiebreak, physical and mental systems had aborted. Some rallies were not easily distinguishable from what these players could have done as 12-year-olds. All shot-making ambition abandoned them. When a little prodigy visualizes winning the big trophy one day in the future, this is not the kind of action they envision.
There are too many ways to appraise this match. As a way to enjoy a late-summer Sunday evening, it is dubious. As a scoreline, it is historic. As a memory, it is indelible. As a psychodrama, it is gut-turning. As a reward for a player skilled enough to warrant a title this big even as he struggled on this particular night, it is fair. As a predictor of match quality in the post-Big Three era, it is bone-chilling. But it's only uphill from here. I think.
Stay in touch
Sign up for our free newsletter