NBA
The Suns Did It Again
1:46 PM EDT on May 12, 2023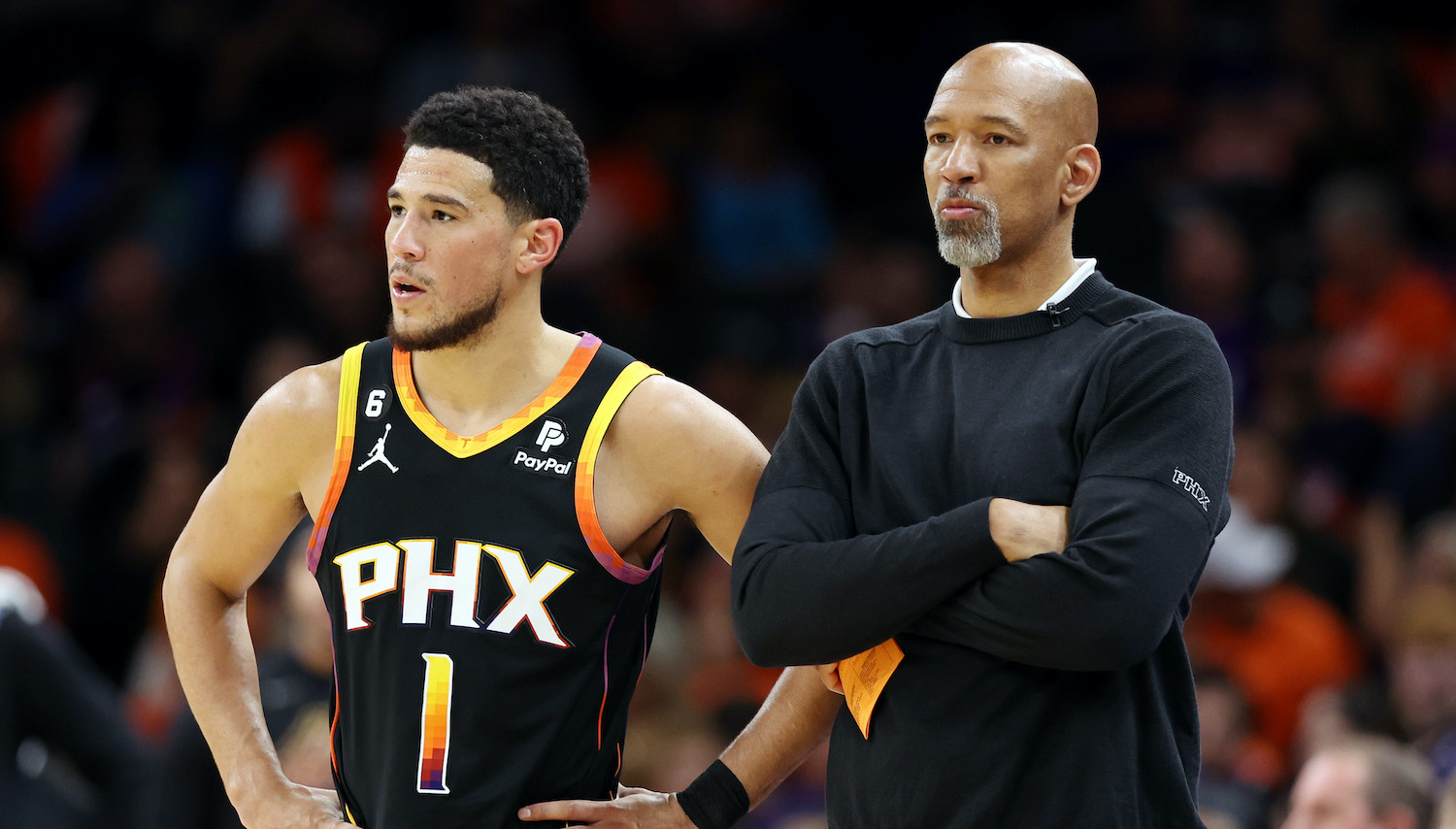 There comes a point in certain great, all-action playoff series, usually after the fourth game, where two relatively evenly matched teams adjust and counter-adjust to each other and reach a tactical stalemate. Phoenix-Denver was not that.
After Devin Booker glowed Betelgeuse-hot in an all-timer of a Game 4 win at home, against a 53-point night from Nikola Jokic, the Suns' win condition was clear, and it was not an optimistic one: Booker and Kevin Durant, producing at a historic level, would have to keep going nuts for their team to have any chance of taking the series. They had shown zero proficiency at even slowing the Nuggets down, so the only route to the Western Conference Finals was to shoot their way there. In Denver on Tuesday, we saw how easily the Nuggets could win if Phoenix's two stars were merely normal; in Phoenix on Thursday night, we saw what it looks like when one of them is straight-up bad. For the second year in a row, the striving Phoenix Suns have been ignominiously eliminated on their home court, by a million points at the hands of a Balkan superstar.
Game 6 was over at halftime, maybe even before, as the Nuggets closed the last three minutes of the first quarter with a 17-0 run, then ripped off another 13-0 run in the second to build an 81-51 halftime lead. They didn't commit their first turnover until the dying minutes of the half, at which point their bench had already been doing silly dances to celebrate Denver's increasing number of absurd transition finishes. Nikola Jokic spent the first quarter destroying Jock Landale, then Jamal Murray took over in the second. It was a brutal display of offensive basketball, and though Kentavious Caldwell-Pope finally came alive and nailed a bunch of shots, the two teams were evenly matched from three, thanks to a heroic Cameron Payne performance. The Nuggets posted a 122.1 offensive rating in this series, which would have led the regular season, and they did it despite shooting a hair under their regular season percentage from deep. The Murray-Jokic two-man game was simply too devastating to contain.
The Suns were already stretched thin by Chris Paul's absence, and they found themselves even thinner without Deandre Ayton in Game 6. Paul wasn't great in these playoffs, and the Nuggets funneled shots to him early in the series, but he at least relieves the shot-creation burden on Booker and Durant. Without Paul or Ayton, who could catch lobs and score around the rim when he was sufficiently motivated, the two stars had to create and hit all the team's shots. The wild thing about Booker and Durant's incredible pair of games in Phoenix earlier in the series was that the Nuggets played them pretty tough. Aaron Gordon did as well as anyone can hope to do against Durant, and KCP at least made Booker work. They simply hit prohibitively difficult shots, over and over, through double teams and tough coverages.
The magic ran out in Game 6. An exhausted Booker went 4-for-13, and Durant came alive enough in the second half to salvage a disastrous first during which he clearly didn't have the legs to keep punishing Gordon. Landale's traffic-cone-ass performance against Jokic made me appreciate the maligned Ayton's performance in the paint, as the Suns were out-rebounded by 12. It was an ass-kicking, much like the 33-point whooping the Mavericks put on the Suns last year. This time around, Phoenix can at least claim a health and depth disadvantage. But that's the gamble you make when you gut the rotation to bring in an aging, injury-prone player like Durant and continue to rely on a 38-year-old point guard who never makes it through the playoffs unscathed. It was a bad bet.
The question is where the Suns go from here. They cashed their big chips in with the Durant trade, and while they reportedly would like to ditch Paul, I can't imagine he has much trade value, as his production declined in the regular season, he's shown he can only play very slow, methodical basketball with ball in his hands at all times, and he's only going to get older and creakier. Maybe they'll try to get off Ayton as well, but they'll need to do so in a transaction that brings back another starting-caliber center. It's a delicate path, though having Booker, who was one of the best players in the playoffs despite tough circumstances, ensures a reasonably high floor. Ayton is still good and young, so someone will want him.
But doesn't it seem weird that a team like this would even want to get rid of a former No. 1 pick? I suppose that speaks to the angsty, weird vibe of this team. Getting boat-raced out of two straight playoffs at home in eerily similar fashion has to have a deleterious effect on team chemistry. Also, Matt Ishbia is just now going into his first offseason as team owner, so while staying the course might be the sanest option, the Suns have the aura of a team that is ready to shake things up, for better or for worse. As for Denver, it is time to relax and watch some horse racing.
Stay in touch
Sign up for our free newsletter