Arts And Culture
The Abrupt And Anonymous End Of StripperWeb
12:12 PM EST on February 9, 2023
I first created my account on StripperWeb on a lime green iMac with a dialup connection. I had been working on my own website, where I posted my schedule in clubs and availability for bachelor parties, and had been looking at the handful of stripper sites that existed in 2002. There was Kiko Wu's straightforward Stripper FAQ (run by an ambitious Manhattan-based dancer who would go on to have an empire of early camgirl sites), the ASS-C Usenet Group (alt.sex.strip-clubs, full of customers trying to find the most bang for their buck), and Stripper Power (full of dubious advice from a dancer and her boyfriend out of Vegas). Author and all-around striptease expert Jo Weldon had created G-Strings Forever, a terrific repository of neo-burlesque and strip club stripping lore, and Alysabeth's Feminist Stripper Site had a comprehensive list of stripper names that I still think of.
All of those other sites are long gone, so it shouldn't have been such a shock to see StripperWeb shut down, too, but the mysterious abruptness of its shuttering came as a surprise. To the loyal users who were still online, and to those of us who hadn't been active for over a decade, StripperWeb was one of the few reliably safe online spaces dancers could go to share information, find community, and discuss the job.
On Jan. 21, a message went up on the site: "For over 20 years, Stripperweb has been one of the best resources for exotic dancers and webcam models on the internet. We've made the difficult decision to close Stripperweb effective February 1st. We urge you all to check out AmberCutie's Forum as a possible new home after we close. Thank you to everyone who has made this such an amazing community."
No one knew who owned the site or why they were shutting it down, but I know who used to own it, and why he opened it up, and I still had his number. So I got on the phone with Curtis Brown (known as Pryce on the forum), who was just as shocked as all the site users that this was how it was ending. It was the first he'd heard that the site he created was closing, and he'd just been trying to log in for the first time in a decade to make a goodbye post when the site was pulled offline.
In 2000, Brown was a college student in Southern California who was interested in strip clubs and the internet, so his searches took him to Stripper Power. "I think today maybe there could be a documentary that would have fulfilled my interest, but at the time it was fascinating to me, so I was just kind of searching the internet," he says. "Watching the customers chat and the dancers chat, it was fascinating to me."
When it became clear that Stripper Power wasn't all it could be, Brown decided to make a site for the dancers. StripperWeb went online in July 2002. When I joined that September, it had about 200 members. Brown ran it pretty much single-handedly until he got regular site users to help moderate, and the site grew steadily into the five digits over the next five years.
StripperWeb appeared at a transformative time for the industry, in the heady pre-recession aughts. (I'd like you to take a look at this playlist, just to create a mood; feel free to let "Make It Rain" play in the background while you read the rest of this paragraph.) Stripping was about 10 years into its upscaling, which had been rolling out across the country from Florida since the late 1980s. Sapphire opened an enormous Vegas club, the Penthouse Executive Club was getting its restaurant reviewed in the New York Times, clubs in Texas and Florida were pouring concrete for helipads, and Magic City was breaking hits. The earning potential was better than ever, but the stigma around dancing was still real, so for a lot of posters, a forum was the only place they could talk candidly about the job. Alongside threads about how to break in platform heels (with a hair dryer) or the safest place to keep your money during a shift (rubber-banded to a garter on your leg), they talked about the difficulties they found in dating, struggling with whether to tell family about their work, and how to conceal the job from future employers.
I asked one of my fellow old-days mods, username Velvet, what it had been like for her to come across the site. "After being on an old-type dancer bulletin board in 2000, finding StripperWeb was like walking into a new beautiful club and finding a whale in the first hour! It really cut down on walking blind into the unknown club or club culture." That's key to the site's value: Dancers could keep each other informed, and therefore, help keep each other just a little safer.
I became the moderator of the newbie dancer section, where half the job was telling posters to quit asking what their stage name should be, and I made so many friends from the site with whom I went on strip trips everywhere from Atlanta to Alaska. I had dinner with one of those friends just a couple of weeks ago, the very night before I heard the site was closing.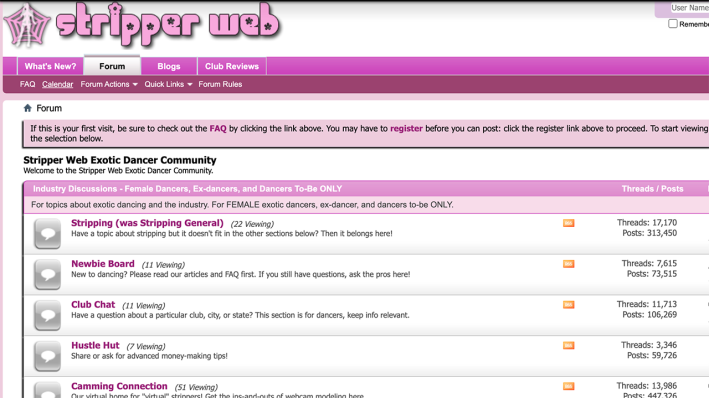 When news of the site's closing spread, forum users panicked about the loss of StripperWeb's deep archives of advice on everything from hair and makeup to the best sales lines to licensing costs in cities that required them. And, of course, timeless best-ofs like the threads about whether putting Monistat on your scalp really made your hair grow more luxuriously, if putting vaginal fluids behind your ears emitted sales-tripling pheromones, and why customers wearing athleisure would be forever known as Sweatpants Boner Man. Thankfully, the Wayback Machine at the Internet Archive has preserved many of these.
Many of us learned about online behavior, internet etiquette, and common scams on that forum. It was the first place we first encountered people faking cancer or their own deaths, men posing as female sex workers, and the wide variety of attention-seeking behavior that would be rewarded much more handsomely on social media. It gave me a good enough bullshit detector to instantly know when viral tweets were fake. It was the place where we learned IRL and online infosec practices, from making sure nosy customers couldn't trail you from the club to how to scrub incriminating Stripperweb visits from shared computers.
We also learned how fast an online community could fall apart.
One deep-pocketed male user of the site who went by the handle "The Other Owner" (which he claimed was a nickname he'd earned when other customers thought he was the owner when dancers flocked to him thanks to his generous tipping and suave manner) began paying the site's hosting bills a few years in. He also used the site to cultivate relationships with a number of dancers. His alleged activities ranged from sending dancers thousands of dollars for no real reason other than to prove he could, to paying for their apartment leases, to flying them across the country for visits. When several dancers accused him in the fall of 2008 of at best, pushing boundaries and at worst, sexual assault, nearly all of the site's moderators came to Brown asking him to kick this guy off. Brown refused to ban his account, professing that doing so would put him and the site in a position of liability.
"I was begging people to go to the police because I was like, 'They can actually investigate something. I'm a kid running a website, I don't know the truth of anything that's going on here.' I had no resources to really do anything or police the site or to prevent anything like that from happening again," Brown said. "I was pretty overwhelmed by it." 
Of course, no one was asking him to "do anything" aside from ban a user from a forum, and the likelihood of the cops investigating, much less convicting, this guy was laughable. Brown didn't ban his site's primary funder.
Almost all of the site's moderators stepped down, and a large number of veteran posters left the site for other online destinations. In retrospect, it was our first experience with how one guy with a lot of money could ruin posting for everyone else.
Brown kept running the site for just over three years before selling it in 2012, tired of the demand on his time and increasingly busy with relationships and his real jobs in IT. It was a confidential sale, and he was only willing to say he'd looked for buyers among "similar websites." 
"When I sold it, [the buyers] were big on building the site and supporting the community and taking it to the next level, bringing in a big professional website team, and I was disappointed to see that never happened," he said. And literally nothing happened. The site looked exactly the same in 2022 as it did in 2012. Stripper conversations moved to Twitter, Instagram, and Facebook groups–where they'd get shut down by the site and have to reform on a regular basis. 
There's worse things than buying a website and leaving it exactly the same. When Elon Musk bought Twitter, I posted a photo of this sticker I bought from @13inchheel that says "Fuck this, I'm going back to StripperWeb." Now we're stuck with these disintegrating social sites, where everything gets measurably worse every week and being able to search for what you like seems totally flattened by "the algorithm."
In the end it was Twitter, a site where you can at least say "stripper" without getting outright banned, where I found out about the site's closure the same way a lot of people did: via a viral tweet from one of my favorite stripper accounts, @prolepeach, Marla Cruz. Cruz is an astute, recently retired Texas stripper who used the site when she got started in the 20-teens. I'd barely visited in the last decade, stopping by last fall to take a screenshot of my account commemorating its 20th anniversary, but I went back immediately to see what was going on. It had remained a lot quieter in the post-social media days, but was clearly still of some use to dancers as a clearinghouse for regional information. The threads I saw on the site responding to the closure were perplexed—not even the moderators had a clue about who owned the site or why it was shutting down. Offers to purchase the site went unanswered. There was no one to plead with. When I tried to email the posted addresses at stripperweb.com, each one bounced back.
We're left with just two possible leads as to who was making the decisions about why the site was closed. One is that the only thing that changed after the site was sold was the appearance of a MyFreeCams banner that led to a recruiting wiki for MFC. In 2012, the site's camming forum was increasing in popularity as post-recession strippers looked to diversify, making it a fertile recruiting ground for cam sites. The other is that when the site announced its closure, the forum it directed users to was AmberCutie's Forum, a board that's run by a loyal MFC performer.
You might not have heard of MyFreeCams, but you've definitely heard of the company its owner bought in 2018, OnlyFans, and possibly of its billionaire owner, Leo Radvinsky. A huge part of Radvinsky's strategy was buying up related domain names. Could MyFreeCams be the "similar site" Brown sold to? He's not saying, and MFC and Amber didn't reply to multiple emails requesting comment.
Around 10 p.m. on Jan. 31, the site was barely online; everything but the front page had gone away. In the morning, even that disappeared, replaced with a generic error page. It was as sad as a broken ATM. In 2002, the internet seemed limitless. It was a place where you could start by typing in what you wanted to read about, whether it was stripping or Jandek, and find people to talk about that stuff with. Today, with capricious billionaires increasingly controlling every aspect of online life, it seems ever more limiting. This is doubly true for sex workers, whose avenues for marketing and communicating can make them feel like a mole trying to escape the whacks of the government, banking regulations and platform terms of service that target even discussions of their work. The research collective Hacking // Hustling has done extensive work on the ways that grip has tightened over the last ten years. It manifests in some of the most banal ways, like how MailChimp immediately shut me down when I tried to set up an email invite for a virtual StripperWeb wake—just for using the word "stripper." When you're naked for money, it seems, the only reliable platform is a single-sole molded acrylic shoe.
Susan Elizabeth Shepard just moved to Philadelphia, following repeat stints in Portland, OR, Missoula, MT, and Austin, TX. She was the 2018 winner of the Best Sports Story category, division 4, from the Montana Newspaper Association, and has an essay about stripper organizing struggles in the upcoming anthology Working It from PM Press. She can always be reached through her own website, susanshepard dot com.
Read More:
Stay in touch
Sign up for our free newsletter