Soccer
Sergiño Dest Lost His Damn Mind
10:52 AM EST on November 21, 2023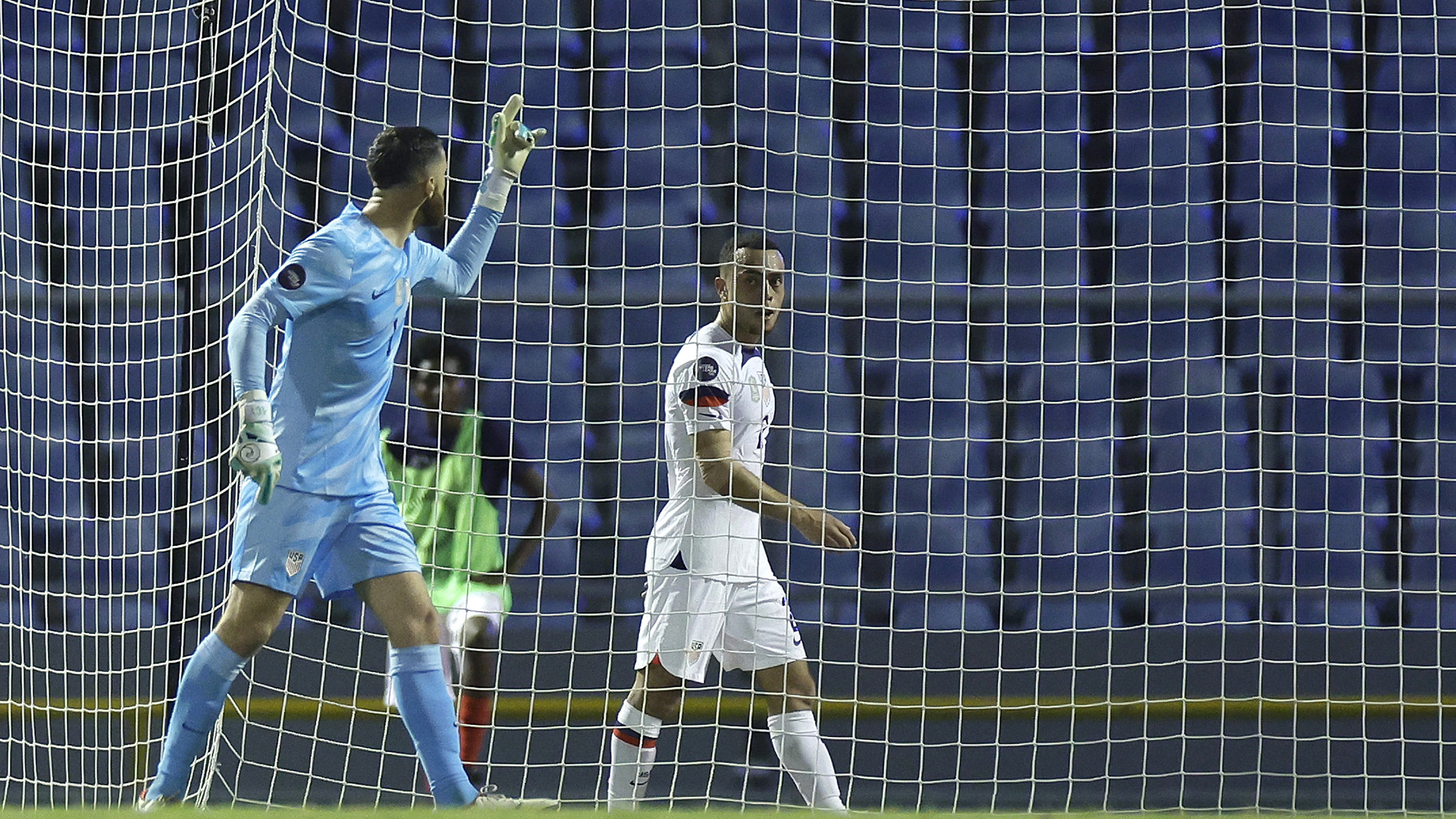 Let's be frank for a second: the CONCACAF Nations League is not the most important of international soccer tournaments. Sure, it's a nice opportunity for smaller teams to score big upsets and achieve glory they might not otherwise, but for the big teams in the confederation, they are essentially glorified friendlies, and the rewards for performing well—a trophy and, in this case, qualification for the 2024 Copa América for the semi-finalists and play-in winners—are nice, but not so fruitful as to go full throttle. As such, players treat these games generally with a mix of apathy and obligation, even in the later rounds.
The United States played in one such round on Monday night, traveling to Port of Spain to face Trinidad and Tobago in the second leg of the countries' quarter-final tie. The USMNT had won the first leg in Austin 3-0, essentially clinching a spot in the semis, barring a catastrophic shitshow in the second leg. (When has the USMNT ever failed against Trinidad and Tobago? Oh ... nevermind.) This meant that Monday's match was less a grueling competition and more a chance to try some things out and generally see out the tie with no lingering effects. Apparently, no one told Sergiño Dest about that.
In the 38th minute, with the USMNT up 1-0 from a 25th minute Antonee Robinson goal that Dest himself assisted, the PSV Eindhoven-via-Barcelona right back failed to save a ball from out of bounds on the sideline. This happens, and I don't think I'm exaggerating here, dozens of times during a soccer match, and is at most cause for mild annoyance. However, for some reason, Dest took this as a personal offense, setting off a chain of events that would see him get double yellow carded in as bizarre and lengthy a player meltdown as one will be fortunate to see in a match with such mediocre stakes:
The first part of this is maybe the funniest: Dest's reaction to, again, something that happens all the time, while his team was winning, is to pick up the ball and send it flying off screen and into Never Never Land. One of the Telemundo announcers—not the ever-professional Andrés Cantor, of course—can't stop laughing while Dest, it appears, tries to plead his case, pointing at the side judge and saying ... something. He then walks up to Guatemalan referee Walter López and says something else with his hand covering his mouth. Gio Reyna tries to get him away from López before any further damage is done, while Yunus Musah sets up a pretty solid pick on the ref to keep him away from Dest.
Unfortunately, both players fail in their duties here, and Dest once again gets in the referee's face, though at least he wisely covered his mouth so the television audience can't tell what was being said. He then, quite unwisely, reacts to the most obvious yellow card of his career by blowing a facetious kiss at López, much to the shock and disgust of the two players above and Tim Ream, who marches into the frame and pushes Dest away, who at this point looks near rage tears as López shows him a second yellow card. Ream then escorts Dest off the field while berating him for the short fuse, which becomes a team-building moment once Robinson and goalie Matt Turner get involved as well.
I feel like I need to reiterate something here: Dest's team was winning this match! The USMNT was up 4-0 on aggregate at the point of his freak-out, and could have easily seen this match out with minimal effort. Instead, not only did Dest force his team to play a man down for 50-plus minutes, he also knocked himself out of the first leg of the semi-final. Even down to 10 men, the USMNT only lost 2-1 to Trinidad and Tobago, clinching the tie 4-2 on aggregate and further making Dest's meltdown even more confusing; there was simply no reason to get that steaming mad in a game that was comfortably in his team's favor.
I understand that athletes at this level are under such pressure that even in a match as generally inconsequential as this one, they can crack. Hell, I've yelled at referees in company kickball games before, so I'm no stranger to being weird on the field of competition. But Dest's meltdown is particularly noteworthy because there was no reason for it. I'd understand it more if there was a real refereeing error involved, like a harsh penalty call or an egregious foul going unpunished.
But the ball just went out of bounds! Not even in that particularly dangerous of a position for Trinidad and Tobago! There is just no excusing what followed from Dest, and even his own teammates seemed furious at him, rather than the referee. After the match, Ream said, "There's not too many things that I can say here publicly that we said privately," hinting that the entire team berated Dest for losing his mind. Red cards can often feel a bit unfair to the offending team and player, but Dest truly earned his on Monday. At least, according to manager Gregg Berhalter, Dest apologized to his teammates and owned up to the fuck-up; anything less than that would have been even more galling than the meltdown was in the first place.
Stay in touch
Sign up for our free newsletter