NFL
Over And Under In The XFL Championship
5:11 PM EDT on May 15, 2023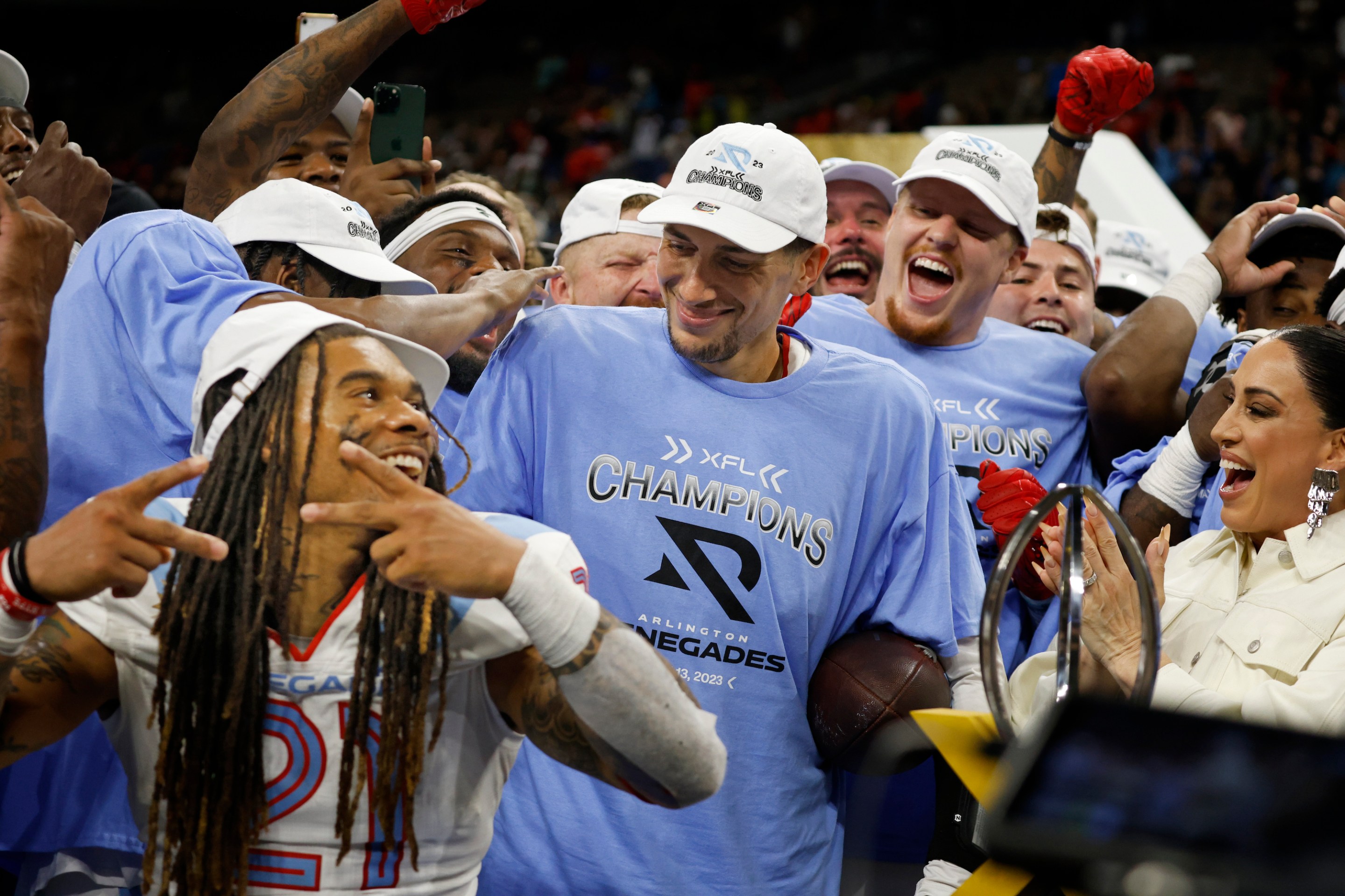 There was a time when talking allusively about and around gambling considerations during sports broadcasts felt almost fresh. It was never charming, exactly. For all the enduring appeal of gambling, charm and subtlety are just not on the menu, here. But if Al Michaels slyly nodding at the spread or over/under at the end of a Sunday Night Football game was never the best part of those broadcasts, it was still part of it, and because it arrived in Al Michaels's voice it was a decently welcome one. There was no sense in pretending that there weren't people watching the game with those numbers foremost in their mind, and a mention like that made them visible while still leaving them to grind it out somewhere at the outermost edge of the spotlight. Their clammy agonies were a part of the picture, but it was understood that even the most insignificant game offered many more interesting things to watch.
On Saturday night, an Arlington Renegades team that came into the XFL Championship with a losing record defeated the 10-1 D.C. Defenders. There are no insignificant championship games, and if you're just going by scarcity the XFL's championship would be one of the most valuable in sports—this is the once-xtreme spring football league's third iteration, and the Renegades became just the second champion in XFL history, joining the 2001 Los Angeles Xtreme. Renegades quarterback Luis Perez, who won MVP honors, has had an astonishing and wildly implausible career. As Rodger Sherman noted in a terrific profile of Perez at The Ringer, he is "the only QB to have won games in the Alliance of American Football, XFL 2.0, the Spring League, the USFL, and XFL 3.0." Not all of those leagues have lasted long enough to have a postseason, but Perez has played in the postseason in every one that did.
He didn't play football in high school at all at Otay Ranch High School in California; Perez was focused on being a professional bowler, then, and very nearly was. Once he committed to football, Perez began as the ninth-string quarterback on his junior college team; he won the starting job, then a league championship; he transferred to Texas A&M-Commerce and won a Division II championship there, as well as the Harlon Hill Trophy, which is like the Division II Heisman Trophy. Perez was invited to and then cut from training camp with the Rams. They put him on the practice squad the next day, then cut him a couple weeks later. This gets us up to September of 2018, at which point things really start picking up speed.
From there, Perez played in leagues like the AAF in 2019 (he was teammates with Trent Richardson and Nick Novak on a team that folded after one 5-3 season), and Vince McMahon's second stab at the XFL in 2020 (he was assigned to the Los Angeles Wildcats, then traded to the New York Guardians when the Wildcats backed into Josh Johnson's rights). Perez usurped Matt McGloin as the Guardians' starter right when that version of the XFL folded unceremoniously at the start of the COVID pandemic. (That team still plays in the XFL, but is in Orlando now. Terrell Buckley is their coach.) In 2021, Perez was reunited with Kevin Gilbride—the former NFL coordinator who'd promoted Perez ahead of McGloin on the Guardians back in 2020—on the Spring League's Houston Jousters; that league's big innovation was that players would pay to join it, for the exposure they got by playing on those teams, although Perez was enough of a name in the spring football scene that he got a waiver on that. Since then, Perez has thrown the first touchdown in the history of the new USFL—he was on the New Jersey Generals, this happened in April of 2022—and then been drafted and benched by the Vegas Vipers of the (third, no longer McMahon-aligned) XFL in favor of Brett Hundley. This is what led to him being traded to Arlington. Perez played brilliantly during the Renegades' playoff run, in which they beat both of the league's best teams. He's been in several NFL camps but never the NFL; his Twitter bio is "God | Husband | Father | QB." But I digress.
The point is, there is plenty to talk about where Luis Perez is concerned, and ABC announcers Tom Hart and Greg McElroy talked about it some as Perez coolly staked his team to a lead and continued not to make mistakes. But, because there are only so many people who know or care about any of this—I myself am not really one of them, but this was happening at a time when I was folding laundry and already wearing my "house jorts" and anyway I do not need to explain myself to you—that wasn't all they talked about. And so, just before the Defenders scored from 23 yards out with 1:23 remaining, play-by-play announcer Tom Hart noted that Arlington had been 8.5-point underdogs coming into the game.
"For comparison's sake," Hart added, "there's only been four champions who were underdogs of 8.5 points or greater, most recently Eli Manning," at which point a D.C. touchdown pass from Jordan Ta'amu to John Hammond interrupted him, which he was obliged to mention. (Ta'amu, who started at Ole Miss in 2017 and 2018 alongside DK Metcalf, A.J. Brown, Dawson Knox, Elijah Moore, and Van Jefferson, has signed six NFL contracts and never appeared in a regular-season game; his shortest stint, his second with the Lions, lasted six days in August of 2021. He beat out Taylor Heinicke for the starting job with the XFL's St. Louis Battlehawks in 2020.)
Per the league's rules, the Defenders, trailing by nine after the score, had the option to take 4th-and-15 from their own 20-yard line instead of kicking off; before that play, Hart mentioned the game's money line. Ta'amu's pass was tipped and intercepted and the game was over. Bob Stoops, who I was delighted to learn is the Renegades' coach, got some sports drink dumped on him, and the players celebrated while Kool & The Gang played over the speakers. When the clock hit zero, ABC politely ticked the Renegades' record up to 6-6. The graphic reading "Over 49" that had been on the scorebug graphic remained onscreen next to the final score, which was 35-26. 
---
In his Ringer feature, Sherman notes that we are currently in "something like a Golden Age of Spring Football." None of these leagues aim at competing with the NFL, as the previous iteration of the USFL once did. Some XFL teams draw better than others, but none draw enough to make a difference to the bottom line; the XFL's televised games are not widely watched, although the USFL's games on Fox are even less so. (The current version of the XFL has all the players based in Arlington, Texas and flies them to their "home" cities for what have sometimes been, in terms of attendance, something like actual home games; Perez told Sherman that when he was traded from Vegas to Arlington, it amounted to "just about a 25-minute Uber ride over to the Sheraton.") This version of the league is owned by The Rock and the businesswoman Dany Garcia, to whom the Rock was married between 1997 and 2008. There is some vaguely Rock-branded uplift inherent in the league's branding, which is plain about its ambitions as a feeder league for the NFL.
"The XFL is a league of opportunity," Garcia said on the field after the game. "It's a league of the players. They are our game." In longer shots, The Rock could be seen wearing an extravagantly tight shirt and nodding very strongly as Garcia spoke. Sounding somewhat hoarse, he took the microphone and read Perez's season stats in the same cadence that he might have read a WWE promo before awarding him the game's MVP. "We have a space between the X," Garcia said before awarding the league's trophy to the Renegades. "Which represents opportunity and dreams." (In a preseason promo for the league, The Rock took a slightly different rhetorical angle on the same sentiment, noting that "the X represents the intersection between ideas and opportunity.")
There is no reason to be too sentimental about any of this. This is a job, and one that the XFL's players are doing because they aspire to someday having a brighter, better, much better-paying version of it. Perez, who was unflappable and efficient in the biggest game of his pro career and has been successful everywhere he plays, is not undersized or noodle-armed or anything but unlucky, really, to be doing his thing on Saturday nights in May instead of playing—or wearing a hat and a headset—on Sundays in autumn. But there is something elemental to a story like Perez's, and to his kind of dogged uphill struggle; if you have spent any part of your life as a sports fan, you do not really know how not to cheer for someone like that. I had no rooting interest in the game, and no prior knowledge of Perez at all, but I stuck around to listen to him talk afterward. He sounded, unsurprisingly, both like someone who had been there before and who was not yet where he wanted to be. "The process, everything you go through in life, really makes the situation," he said. "There's no such thing as giving up in my book. That doesn't exist. When you want something so bad, you find a way to get it done."
There is another reason that spring football exists, which is the one that Hart kept bringing up down the stretch, not in some cheeky Michaels-ian way but in the practiced way that a professional broadcaster might hit a point of emphasis. That reason, which certainly seems more urgent than filling some latent and previously unremarked-upon national urge for football during the nice-weather months, is that spring football provides betting inventory to an industry and marketplace that cannot get enough of it. Any number of things could follow from the fact that gambling has so much to do with why these leagues exist. In leagues where players do not get paid all that much—XFL players, who declined to join their USFL counterparts in unionizing with the United Steelworkers in an April vote, get health benefits and a base salary of $59,000—and which not that many non-degenerates follow very closely, this could lead in a number of obvious and extremely bad directions. But it is a fact.
It is not unique to the XFL, of course. A glance at ESPN2 during the afternoon puts it into jarring perspective: You will see a little busy window in which some men stage playfights about legacies and pantheons and forgettable daily micro-controversies, surrounded by a rolling ticker of spreads and games and money lines, the visual din of the sportsbook crowding out even ESPN's non-stop noise generation industrial complex. However advisable it is (or isn't), this is the deal that sports leagues made with the gambling industry, and if you can easily see why—the appeal of all that money to team owners more interested in their team's bottom line than in their league's future—it's also increasingly hard to miss what it costs.
Beyond the finer and stranger things that make sports worth watching, there is the strange sensation of something once unspoken becoming part of the story. In a game like the XFL Championship, where there is only so much to care about, it is easier to identify that leverage as it works—to feel the pressure of it as it fills out smaller moments, and to see how the action seems to shrink, as all those other considerations crowd hungrily into the frame.
Stay in touch
Sign up for our free newsletter