WNBA
Natasha Cloud Nearly Tore The Script To Shreds
9:12 AM EDT on September 20, 2023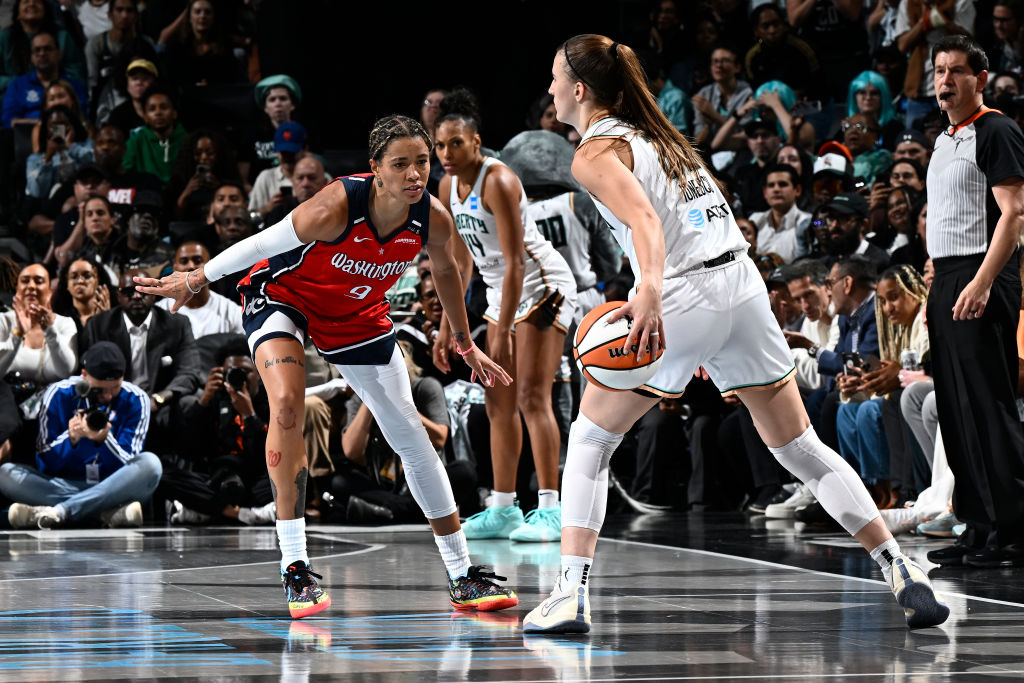 There's a psychological hump blocking the words "Game 2 with a 1-0 series lead" from holding any truly terrifying power, but Natasha Cloud dragged every Liberty fan over it with her performance on Tuesday night. In a frenetic, panicky, horribly stressful New York win, the Washington Mystics guard emanated chaos wherever she went. Though she scored 33 points with nine assists and four steals, Cloud and her team were just one play short, multiple times, of forcing the Liberty to D.C. for a do-or-die Game 3. Instead, after nearly stumbling into the abyss, the heavily favored Libs are headed to the semis, still on a collision course with the other giant in the WNBA, the Las Vegas Aces.
The first half, despite plenty of hustle from Cloud, came closer to expectations, as the Liberty cruised to an 11-point lead by virtue of their greater number of high-grade weapons. In the opening 20 minutes, Breanna Stewart scored 15, Betnijah Laney had 10 on seven shots, Jonquel Jones owned the glass with eight boards, and Sabrina Ionescu hit a couple of key threes and dished out four assists, a number matched by Courtney Vandersloot. The Mystics, meanwhile, had 13 points from Cloud, who's normally their third most-productive scorer when they're all healthy, and no more than five from anywhere else. The springy Brittney Sykes remained a wild card with six rebounds, three assists, and three turnovers, but top scorer Elena Delle Donne, though she later claimed it had nothing to do with nagging injuries, could never find a rhythm. It looked, at the break, that after a valiant effort the Mystics were just going to get overpowered.
But during that break someone must have stuck the Liberty in the freezer, because they reemerged for an absolute catastrophe of a second half in which, through the first 15 minutes, they had six turnovers and just seven field goals. Cloud deserves a ton of the credit for flipping the game upside down. With 17 points, four assists, and a technical foul, she was just an absolute maniac—diving, yelling, disrupting until even those watching her had to be out of breath. As time and again possessions went wrong for the Liberty, Cloud looked more and more willing to do anything it took to carry her team to victory. With five minutes to play and Washington in the lead, these back-to-back fearless drives that turned the tallest Liberty players into closed umbrellas left the home favorites reeling.
Maitreyi noted this at the end of the regular season, but the Mystics were, indeed, the more likable team heading into this series, and they didn't shed that label after the games tipped. They were an underdog squad, hard done by injuries, who were practically built out of effort. This year's Liberty, meanwhile, were consciously constructed with enough talent to survive like three simultaneous disasters as long as they remembered to flex their muscles eventually. (Game 1 was a less-dramatic example of this, too, as the Mystics punched and punched before finally getting leg-swept by a bunch of Ionescu treys.)
Though it came just in the nick of time, the Liberty made their run. Down 71-65 with a tad over three minutes remaining, momentum see-sawed back to them with the kind of good ball movement you can get when the defense has to respect everyone all across the floor. A bounce finally went their way as Stewart made a turnaround fade with 45 seconds left, giving them a three-point lead. But the Mystics didn't fold. A Cloud drive failed but led to an open game-tying three from Sykes. That's when the chaos infected everybody, creating a sloppy and gut-wrenching final race to the finish that wrecked the nerves of even the most hardened clutch performers. Well, except for Jonquel Jones. Ionescu bombed on her free throws, Cloud's own instincts failed her, and Vandersloot forgot how to play point guard, but the 2021 MVP with Connecticut cleaned up enough of the mess to deliver overtime for the Liberty.
The additional five minutes were a reprieve for New York, who played from ahead for most of the rest of the way. But the Mystics fought tooth and nail until they were officially dead. Down one with 20 seconds to go, they swarmed all over Jones for a turnover but just could not steady themselves for a go-ahead shot.
Stewart went on to make her free throws, Ariel Atkins missed her last gasp of a three, and the Liberty survived, 90-85. But even the aftermath wasn't simple or neat. Cloud, who along with Delle Donne is a former champion now at the end of her contract with the Mystics, didn't turn off her feelings just because the buzzer sounded on her season.
"I've been in D.C. for eight years," she said. "This is the only team that looked at me coming out of college. This is the only coaching staff that believed in me. I went through a lot of growing pains throughout my career. To be where I am today, I'm really proud, and I know the young version of myself would be proud. I know my family is really proud, and the support that I've had from the Mystics organization both on and off the court, you don't see that in this league."
It's a cold comfort to take into the uncertainty of this early playoff exit, but Cloud played a hell of a game, the kind the demands respect from every fan, player, and executive. Ultimately, her ferocity just wasn't enough to overcome the gravitational pull of a potential Aces-Libs Finals. In the semis, the Liberty will face either the Sun, who are 0-4 against them this year, or the Lynx, whom they've crushed by a combined total of 45 points in their last two meetings. It'll be their best-of-five to lose. And frankly, without Natasha Cloud in the mix anymore, the scariest part of this road to Vegas might already be behind them.
Stay in touch
Sign up for our free newsletter