Hey It's That Guy
Lois Smith Is Too Cool To Be Hollywood's Grandma
1:01 PM EDT on September 20, 2023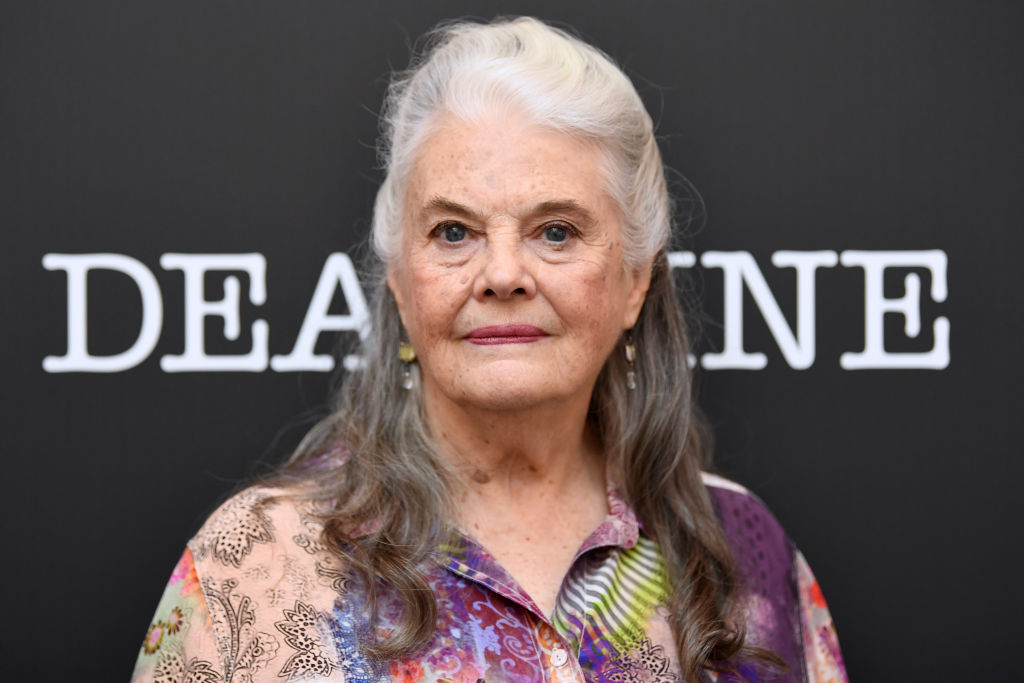 Welcome to Hey It's That Guy, a series celebrating a selection of character actors and spotlighting, in detail, the under-appreciated, singular traits that make them so indelible. 
I don't know what James Dean's cross-generational appeal is these days, but I have vivid memories of a particularly vociferous corner of the internet populated by preteens and high schoolers that worshiped him for his shyness, his beauty, and his charm that was at once awkward, off-beat, and a little self-serious. One such artifact from this time is Dean's screen test with Lois Smith for East of Eden in 1954.
It is virtually impossible to find a version of this three-minute clip that doesn't utilize some saccharine instrumental music over it, that doesn't reframe these silent shots, taken for wardrobe fittings, as somehow "romantic." Dean is typically disheveled, handsome, watching Smith carefully, lighting a cigarette, offering it to her. Meanwhile, Smith, at that time 24 years old, possesses the same immediate, startling gaze that has been in her artistic arsenal for decades. It's difficult to deny there is some spark of chemistry between the two of them, more apparent in their body language and the way they slowly draw closer to and then away from one another, than in the more obvious moments where, inches apart, they appear seconds away from kissing. What's missing in these clips is whatever the director is asking them to perform and thus the requisite context for what exactly it is that we're seeing. How much of this, if not all of it, is the result of a pair of talented actors playing for the camera is left to interpretation.
More notable than the screen test's ubiquity online is the fact that actual clips of Smith from the film are scarce. Dean is everywhere, of course, but Smith's part is diminished merely by proximity. One of the more irritating byproducts of the cultural obsession with Dean, really with the cultural obsession with many of her male co-stars, is that even today, when Smith is asked about her time acting with them, the focus is on the men and not her contributions. Smith has been polite about these encounters, patiently answering questions from strangers filming bits for their YouTube channel, participating in retrospective documentaries about Dean, or in interviews about her work. In a SAG-AFTRA conversation moderated by the stupefyingly aggravating Scott Mantz, nearly all of the questions Smith is asked about her most famous roles are in context of what it was like to work with Jack Nicholson, Jon Hamm, and Bill Paxton. I suspect that Smith, ever the pragmatist, ever the consummate professional, doesn't necessarily begrudge these associations, though one imagines they're not her favorite questions. 
If I first saw Smith in that screen test as a kid, then I fully paid attention to her for the first time in Steven Spielberg's Minority Report from 2002, where Smith plays Dr. Iris Hineman, the creator of precrime. Hineman is played almost as the neighborhood witch, a wise, old, slightly ethereal figure whose outsized impact on the country is sublimated by her self-seclusion. Hineman lives amongst a garden of ambulating plants that bite, sting, and writhe in reaction to their environment. She's like Poison Ivy living out a peaceful retirement. In Smith's hands, what reads as a fairly standard plot accelerator instead becomes a murkier, ghostly figure altogether. She stalks her garden, an alternately icy and inviting smile on her face, a font of knowledge and disdain who has neither patience nor compassion for the deluded or idealistic. The same eyes that darted around the room and at the camera during the East of Eden screen test are there, no less piercing, no less inquisitive, no less playful. 
Smith has been acting for over half a century. She's appeared in more than three dozen films, just as many theater productions, and nearly twice as many television shows. She sheds mirthful, familial light on Jack Nicholson's Bobby Dupea in Five Easy Pieces as the loving, sometimes conspiratorial sibling to one of cinema's most famous lost souls. She originated the role of Marjorie in the play Marjorie Prime, a role written specifically for her by playwright Jordan Harrison. She's given one of Lady Bird's most memorable lines (the one about love and attention). Over the course of her career, Smith has been called on to play all manner of characters, though lately she has, like many older actresses, been asked to play maternal figures. The 30 Rock character Jenna Maroney's running bit about clinging to her sex appeal and youth even as the industry increasingly hands her roles as the aunt or the mom is premised on a depressing reality that is difficult to transcend. Misogyny and ageism can be blamed, but perhaps also a lack of conviction about the skill and ability of actors like Smith who, now in her early 90s, has only worked harder and more often, with wondrous results. 
What's interesting, vital, and inspirational about Smith in the latter half of her career is her dogged refusal to capitulate to the easy interpretation. One look at her filmography and you'll notice what seem like two bad Hollywood jokes: 1) character after character with some version of "mom" in their name and 2) character after character named Helen. On the one hand, it's natural that these types of roles would find their way to Smith. Someone has to play "Protagonist's Grandma" and you might as well get one of the best working actresses to do it. On the other, it's unfortunate that so few writers and directors are unable to see past Smith's age. It's part of the reason that, for a certain generation of moviegoer, it seems as if Smith has been a cinematic grandmother her entire life. There seems to have been some sort of shift in the years after Fatal Attraction, where Smith played Michael Douglas's secretary, to that of the maternal elder, seen in early effect in movies like Fried Green Tomatoes and Twister. 
I lament this consistently unimaginative turn on the part of the industry, but I'd also be doing Smith a deep disservice by characterizing her screen roles as the totality of her work. For one thing, each and every one of the stereotypically wizened characters she's been given she has molded to her advantage. Smith is the epitome of a welcome familiar face and her interpretation of the white-haired, sharp-tongued family member is also a reflection of the fact that it is very difficult to see Smith as anything other than a quick-witted, formidable force. Playwright Annie Baker once called Smith "intimidatingly cool," while playwright Amy Herzog described her as "offended by cliche." Like Cherry Jones, Smith's work ethic is that of an artist only increasingly interested in the flexibility of her skill. It's hard not to see roles like her turn as the cranky grandmother with coke-bottle glasses in The Nice Guys as a small send-up of the audience's general perception of her. Her willingness to play characters whose minds or bodies are failing them, like Marjorie in Marjorie Prime, only reflects the veracity of Smith's craft, a deep curiosity not only for mining the depths of seemingly facile performances, but also a palpable enjoyment in doing the work. 
Smith has termed the longevity and busyness of her career "luck." Certainly, in the midst of two labor strikes within the industry, occasioned and exacerbated by corporate greed and open contempt for working artists, the sheer length of Smith's filmography seems rare for its breadth and variety. At the same time, it's typical, the mark of a busy actor and, for the majority of her peers, the mark of material insecurity. Which is to say, Smith, like all of her fellow union members, deserves reappraisal, no shortage of opportunities for fruitful artistic exploration, and the luxury of "luck" having nothing to do with their continued success. So much is wasted when trying to reduce the contributions of character actors, especially when those actors, like Smith, can only be mentioned as points of marginal interest in comparison with their leading co-stars. Oftentimes, the opposite is true. In so many of her projects, no matter who she shares the scene with, what I remember most is the indelible energy and presence Smith brings, one that never seeks to outshine or outdo, and is all the more memorable for it.  
Stay in touch
Sign up for our free newsletter