Tennis
Jannik Sinner Beats The Best At The China Open
5:54 PM EDT on October 4, 2023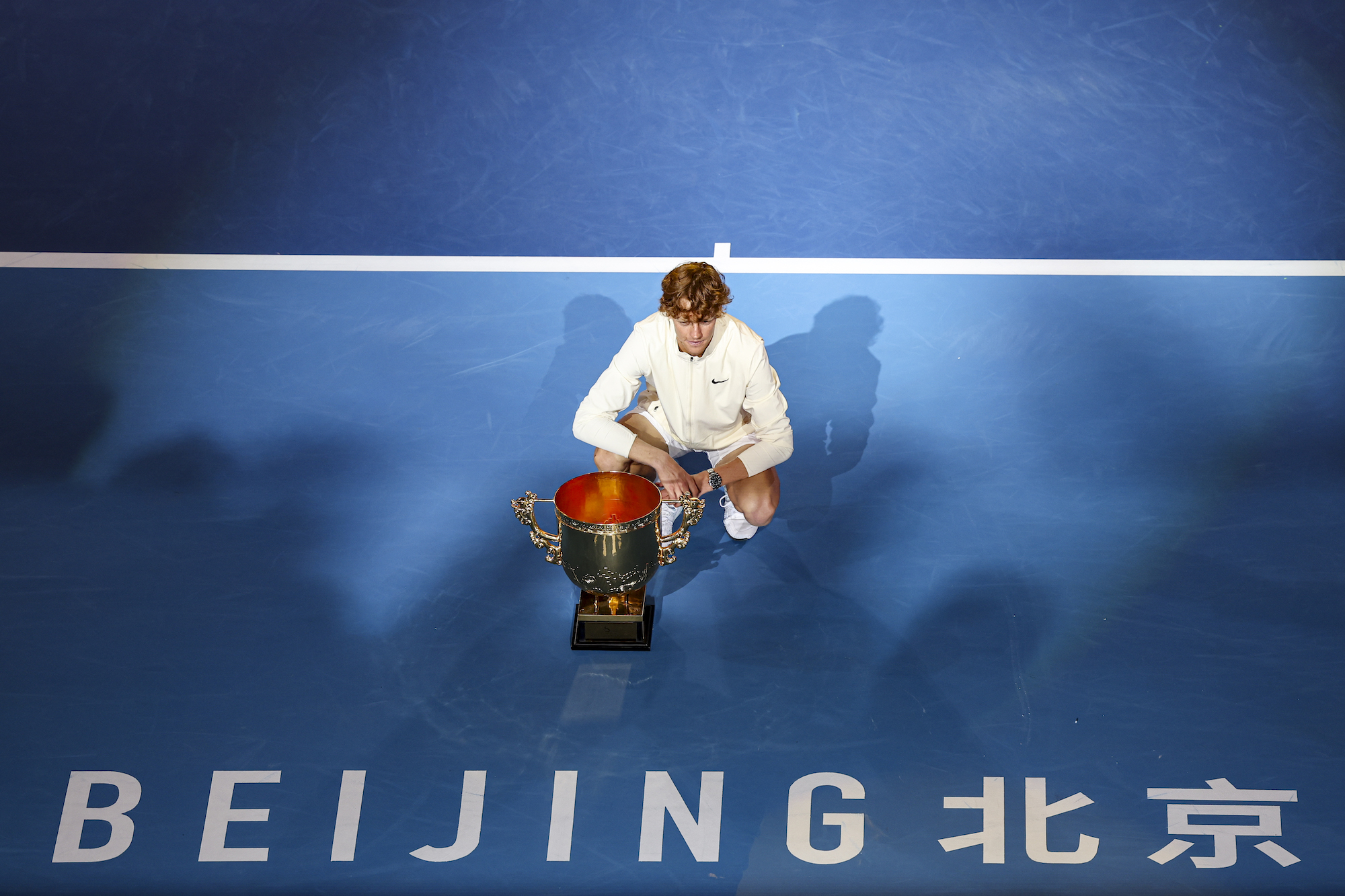 Given the same set of facts, a tennis fan could tell two stories about 22-year-old Jannik Sinner. The more pessimistic read is that he's a solid top-10 player who thrives in the best-of-three format, has middling head-to-head records against elite peers, and struggles with stamina and late-game execution, especially at the majors. Then there's my preferred read: Sinner is the heaviest baseline hitter on the ATP, a technical genius who just needs to build his body and serve to seize major titles, and Carlos Alcaraz's true rival, coming one ball away from snuffing out that 2022 U.S. Open title run.
Sinner's 2023 season has offered plenty of fodder for both camps, but this past week at the China Open has solidified the optimist's case. He cut through one of the most competitive fields ever to enter a 500-level tournament and won the whole thing. It wasn't always pleasant. Sinner literally limped through part of his first-round match and puked on court during his quarterfinal. But he also defeated the event's top two seeds, Alcaraz and Daniil Medvedev, without dropping a set, and lifted the title on Wednesday. Next week, Sinner will rise to a career-high No. 4 world ranking.
Even those who disagree about Sinner's future can align on one aspect of his past: He brings out his most incandescent tennis when playing Alcaraz. Before the Beijing semifinal, their head-to-head record was 3-3, having produced some of the most preposterous points of recent ATP memory. This 25-ball rally, from Sinner's semifinal win at the Miami Open in March, might be the most concise primer to their rivalry:
Since that meeting, Sinner won his first 1000-level title, a milestone for any player. Meanwhile Alcaraz won titles on clay and abruptly solved grass, winning his second major at Wimbledon. All summer it appeared as though Novak Djokovic was his only worthy competition, and Alcaraz is, without dispute, the most promising young player on the ATP. But it's as if that context falls away whenever he lines up across the net from Sinner. Tune in without any narrative baggage, and you'll see two well-matched contemporaries with lots of common ground. They are elegant lateral movers, with power on both wings, who can eke out world-class offense from fruitless court positions. They both have relatively mild serves paired with devastating return games, which is the sweet spot for fans of taxing baseline rallies, myself included.
In these matchups, very little separates the two. Alcaraz might have more obvious, crackling variety to his game: the drop shot, the net touch, the improvisational ease. Perhaps there are more discrete tools at his disposal, but tennis is not won by enumerating those tools and seeing whose list is longer. And while Sinner's gifts are harder to compactly describe, their effects are undeniable. His timing is immaculate. His two-handed backhand gets an unusual amount of topspin and depth, meaning his opponents find no relief on the court by sending their shots to a weaker wing. His knee-jerk aggression on return places a seed of preemptive doubt into every opponent's mind, since any poorly struck serve is liable to get swatted back onto the server's shoelaces. Sinner particularly enjoys luring his opponents into a wicked game of chicken: Stand on top of the baseline and bash ball after ball until somebody flinches. Throughout these nerve-shredding rallies, and throughout these best-of-three matches, he looks so placid, so difficult to frazzle or throw off-balance. That's because his strokes are so simple in their mechanics, and so devastating in their results.
Sinner won the holistic game of chicken in Beijing. He deprived Alcaraz of his usual creative resources: wide angles in the court, ample time on the ball. (Sometimes it feels like the challenge of playing Carlos Alcaraz is stripping away opportunities for him to remember how freakishly original he is.) Sinner's power often forced Alcaraz into scrambling defense; from there it was a matter of Sinner keeping cool as he negotiated those far-flung retrievals, no matter how many times they kept coming back over the net. Even when Alcaraz had the leverage in the rallies, he often overcooked his shots—he made 20 unforced errors on the forehand side alone—as he tried to match the punishing standard that Sinner had set. The Italian closed out the first-set tiebreak with a concussive return winner. He opened up the second set with a break, nullified five break points across his next two service games, and then strung together four straight games to win 7-6(4), 6-1. The technical gap between them is narrowing. Sinner still isn't a natively fluent volleyer like Alcaraz, but he should have left that match pleased with the progress he's made with his net game and finesse.
In the Beijing final, Sinner faced Daniil Medvedev, who had beaten him in all six of their previous meetings. It's the most conspicuous of several subpar records against top-10 fixtures: Sinner is 1-4 against Alexander Zverev, 0-2 against Holger Rune, 2-5 against Stefanos Tsitsipas, and 0-3 against Djokovic. Winning the biggest titles will require Sinner to shift those matchups in his favor, and he made some critical progress with Wednesday's 7-6(2), 7-6(2) win. Medvedev remains a nightmare on hard courts, a counterpuncher with limitless tolerance for pain. For Sinner to finally win this matchup, he had to maintain his usual power over a long period of play without losing his legs or focus. To exploit Medvedev's deeper court positioning, he had to prove himself a reasonable threat at the net, following in his serves or ghosting up there mid-rally. He did all that, and played airtight tiebreaks, to win his first title in Beijing. Afterward, he thanked Medvedev for letting him "win at least one match," and "making me a better player."
Sometimes it's hard to know exactly what to make of the indoor hard-court season. The majors are over, players are all banged up, and indoor conditions are so controlled that success there doesn't always translate to multivariate outdoor tennis. Sinner's most significant tests will come next season, when he confronts these same elite foes at the majors, and has to extend his successful game plan to the best-of-five format. But Beijing was an auspicious sign for all the optimists. If he keeps playing like this, he'll hold up his end of these anticipated rivalries.
Stay in touch
Sign up for our free newsletter