College Football
He Was A Colorado Recruit. Then Dozens Of Women Came Forward
10:22 AM EDT on May 2, 2023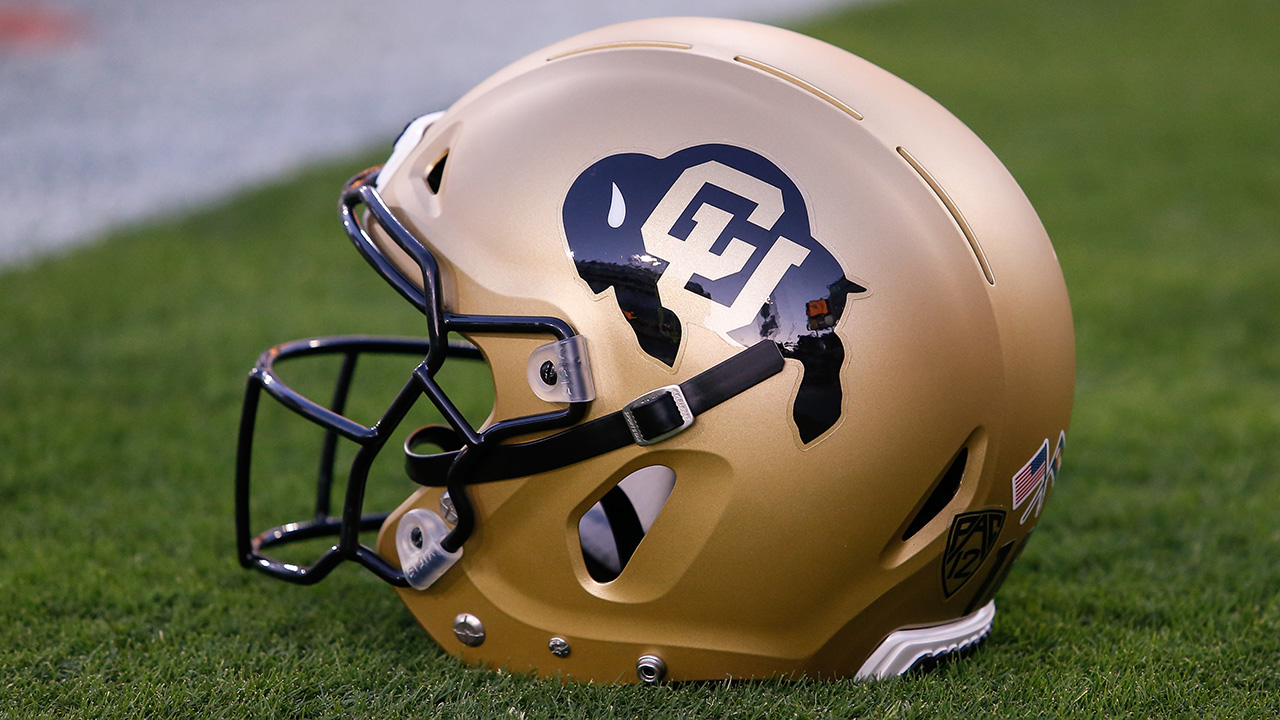 The website Buffzone.com broke the news last month that receiver Anthony "Deuce" Roberson was no longer a member of the Colorado football team. The story attributed the wideout's departure amid spring practice to unspecified "off-the-field issues."
But those issues have been talked about, often with disturbing specificity, since late January, when a petition was posted online describing Roberson as a sexual predator and calling for the university to expel him. Roberson had only recently announced his commitment to join the Buffaloes from Snow College, where he'd been named a 2022 JUCO All-American.
Roberson was part of an influx of highly touted talent to CU since head coach Deion Sanders arrived and kicked off the most exciting offseason Boulder's ever known. The Buffaloes went 1-11 last season and were among the worst teams and biggest laughingstocks in college football. Yet for the first time ever the school announced it would charge admission to this year's spring game, an annual intrasquad exhibition that's traditionally an afterthought, and it quickly sold out. Last month's game was also broadcast live on ESPN, also unprecedented for Colorado football. Soon after Sanders announced that season tickets for the 2023 regular season were also sold out, for the first time since 1996.
But everything that's come out about Roberson since his commitment has been shocking, in content and in volume. The petition to get rid of him garnered more than 5,500 signatures, and its comments section filled up with dozens of accusations against him of rape, sexual abuse, and sexual harassment.
The petition was produced by former students at Palmer Ridge High School in Monument, Colo., where from 2016 to 2019 Roberson enjoyed one of the greatest careers in the history of Colorado schoolboy football. Jenna Baker, a 2022 graduate of Palmer Ridge who is now a 19-year-old freshman at CU-Boulder, was the petition's lead organizer. Baker said Roberson harassed her for nude photos when she was a sophomore. She subsequently heard so many tales from high school friends who suffered far worse abuse that she said she felt lucky to have gotten away from Roberson comparatively unscathed. But Baker said too many awful memories came back in January, when she learned Roberson was on the CU football team and she'd again be sharing a campus with a guy who scared her and everybody she knew back in high school. She posted the petition the next day.
"My main goals with the petition," Baker told Defector, "were to spread his name as much as I could, to have girls recognize his name on campus to protect them, to get the school to investigate and expel him and kick him off the team if they see fit, and to give girls a chance to not be alone, to amplify their voices and organize, to open up, and press charges if they want to."
Baker's goals have largely already been met. Many of the accusations in the petition's comment section were posted by female alums of Palmer Ridge who put their names to their stories. Baker said that since the petition was published, the El Paso County Sheriff's Office has been told about criminal allegations against Roberson from at least 34 different women. And Roberson, who until recently was producing videos documenting his every move with the CU football program for his YouTube channel, is no longer on the roster. 
Defector spoke with several of Roberson's accusers and others who say they've been aware of allegations of sex crimes against him since he was in high school. Yet Roberson has never been arrested or charged with any crimes related to the allegations in Baker's petition.
The accusers admit they don't have any sort of "smoking gun" evidence. But they also have rational explanations for never taking steps to build a legal case against the local football hero. 
"I was 15," said Madison Cusick, who said she was raped by Roberson at a party when she was a freshman at Palmer Ridge and he was a junior. "I was so terrified. I was terrified my dad would find out. I was just wanting it to be over with." 
Roberson, reached on his cellphone, declined to be interviewed for this story. Roberson's Twitter bio indicates he is still on the CU team. Jack Sheffield, a sports marketer listed in that same bio as his business advisor, said he is not representing him.
But a counter-petition titled "We Love Deuce Roberson" was posted online just days after the Baker petition appeared. The purpose of the pro-Roberson document, according to the preamble by an anonymous author, was "[t]o combat any/all false allegations being made towards Deuce Roberson." To date, the counter-petition has 181 signatures.
"These allegations were made by females who like attention," wrote a counter-petition signer.
The counter-petition insists Roberson is the victim of a conspiracy put together by lots of jealous people from his old high school to ruin his football career. Dozens of women, however, say he's a sadistic serial sex offender from a town that didn't do enough to protect its kids.
---
"I worked with his victims," Amber Newberry told me.
Newberry is one of the few adults in Monument willing to admit to knowing about the allegations at the time the assaults were said to be taking place. In the fall of 2019, Newberry was running a fledgling practice in town as a yoga therapist. She focused on women who'd suffered sexual trauma. 
Newberry said three Palmer Ridge girls she was counseling told her that they had been sexually assaulted by Roberson. The girls also said they were aware of other classmates he'd assaulted or sexually harassed.
"I probably assumed there would be a few others," Newberry said. "But I was shocked by what they told me."
Newberry said she eventually heard of more than two dozen victims of Roberson at Palmer Ridge. She feared that a serial sex abuser would get away with his crimes. But the girls made Newberry promise she wouldn't ask police to pursue any cases against him. 
But she also learned enough about the clout Roberson and the football program had in town. At the time, the Palmer Ridge team was on the way to its third consecutive state championship, and Roberson was the dynastic squad's senior star. During his four years playing for Palmer Ridge, Roberson had 210 receptions for 37 touchdowns and 4,042 receiving yards, the latter breaking a Colorado state record that had been in place since 1989. He also threw for five touchdowns as a quarterback his senior year, and had 14 interceptions as a defensive back. He was named first-team all-state after each of his sophomore, junior and senior seasons, and honored as the best offensive player in the state as a senior in 2019.
Highlight reels from the Palmer Ridge glory years show there was more than gaudy stats and top accolades to Roberson. Though he stands only 5-foot-8, the player in the No. 2 jersey routinely stood out as the best athlete on the field. Like on this 2019 highlight as he made a couple wannabe tacklers miss and punished another who didn't on his way to the end zone, and the time he called his return of an onside kick for a touchdown in Palmer Ridge's state semifinal game that same season. 
And Roberson was, figuratively, the biggest man on campus at Palmer Ridge. Newberry said the more she heard about how Roberson used his clout at the school, the more the lack of girls coming forward made sense.
"He's a terrorist in the very basic meaning of the word," Newberry said. "He had them terrorized."
Newberry said she was not a licensed therapist at the time and was not required by law to report the accusations against Roberson to police. But she was too appalled to do nothing. Her young clients okayed her request to ask the school's football coaches for a meeting to discuss what was going on, with some caveats. "They would not let me use [Roberson's] name or their names," she said.
(Newberry said her current counseling job makes reporting allegations of sexual crimes mandatory. Newberry spoke with Defector at the request of a client who had told her of being abused by Roberson.)
Newberry said she told the coaches there was an epidemic of sexual assaults taking place at the school and involving members of the football team. She felt hamstrung by her inability to name a perpetrator, but said she went away feeling that the coaches took her seriously. She was later told that the coaches held a team meeting to tell players that they should report any sexual misconduct they were aware of.
"There really wasn't much else the coaches could do, since I agreed not to use [Roberson's] name," she said. 
Some accusers say they did tell higher-ups at the school about Roberson, however. Jayden Akers told Defector that in the fall of 2019 she told administrators that Roberson sexually assaulted her in a school hallway. Akers said the administration was uncooperative, and did not provide her with security camera footage that she'd requested in hopes that video evidence would get the police involved. 
"The school told me I'd waited too long and it was gone," Akers said. 
Then, Akers said, Roberson somehow found out she'd gone to administrators.
"He said he was going to start telling people that I was having sex with all these guys that I wasn't," Akers said. "He was making up rumors about me. He said he had explicit photos of me he would send around. I knew he didn't have any. But I was 16 years old."
Akers said she felt administrators treated her more like an adversary than a victim. She said she stopped pursuing the matter after she was told that Roberson would be kept away from her at school, and that he'd be suspended from the football team for one game. 
Roberson does not show up in the highlights packages, stat sheets, or newspaper accounts of Palmer Ridge's state playoff game against Conifer High School in November 2019. There were no explanations in media reports about the offensive player of the year's absence from the playoff game. Tom Pulford, who was Palmer Ridge football's head coach in 2019, declined to respond to emailed questions about meeting with Newberry or any potential suspension of Roberson during the playoffs or the flood of accusations that have surfaced against the best player that ever played for him. Pulford instead directed Defector's inquiries to Adam Frank, principal of Palmer Ridge. 
Frank, who came to the school in 2021, a year after Roberson left, referred Defector's questions to Mark Belcher, a spokesman for Lewis-Palmer School District 38. Belcher gave Defector a statement:
"Consistent with all school districts, Lewis-Palmer School District 38 is bound by FERPA to protect the privacy of all students. Therefore, we do not share specific details involving individual student reports, nor can we release records pertaining to current or former students.
"Still, we are supportive of all students, and we encourage any student who has experienced a violation of policy, student conduct, or the law, to come forward and report it to school officials. Any and all reports are taken seriously and acted upon in alignment with relevant policies, whether that be at the school level, or elevated to law enforcement when appropriate."
Belcher declined Defector's requests for an interview.
---
Madison Cusick said Roberson raped her at a Palmer Ridge party when she went into a bedroom with football players and suddenly found Roberson on top of her. 
"I was a virgin, and didn't know anything about what was going on when Deuce got on top of me and raped me," she said. "I mean, I knew what was going on, but really didn't. I was saying 'No!' and he was saying 'I will ruin your life if you don't!' Nobody in the room did anything. I didn't know if this was a plan, but it was weird that nobody did anything, and they were all his friends."
One former Palmer Ridge student, who wanted to remain anonymous, said she was aware of Cusick's rape shortly after it happened, and that it was widely known at school. 
Cusick said somebody reported the attack to police without telling her. But when the cops showed up at her house to investigate, she did not cooperate. "I didn't want my parents to know," she said. "I wish I would have done something, but I kind of denied it to the cops. I said no, he didn't do this. The whole school knew ... Deuce bullied me into thinking I was a liar."
She said she kept everything about the assault inside for years, telling only a couple close friends. So the petition Jenna Baker put together has been a great relief. For one thing, it allowed her to finally tell her parents about what happened to her on the worst night of her life.
"I think a lot of girls felt they were alone," Cusick said. "It's nice. It's not nice what happened, but it's nice to have a group of people I can go to."
Another alum of Palmer Ridge, who requested anonymity, told Defector that Roberson raped her in his car. She said Roberson was dating her best friend at school when he called up late one night and asked if she'd like to "hang out." She had occasionally accompanied her best friend and others on drives around town together with Roberson before that night, and admits that at that time his standing as the preeminent local football star made just being around him make her "feel important." So when he came by her house that night, she got in the car, even though Roberson was the only one in it. She said he drove to "an empty dirt parking lot" and turned off the engine.
"There was nobody around," she said, crying while recalling that night. "He wanted to go to the back seat. I said no. He tried to kiss me … I felt like I didn't have a choice or a voice. He was just a scary person, and he ended up raping me."
Defector spoke to a friend of this student, who says she told her about the rape soon after it happened.
The student said Roberson began mentally torturing her after the assault. "I was terrified walking around at school," she said. "I blacked it all out. Then he brought up that he wanted to hang out with me and [another classmate] one night, and I said something like, 'Why would you want to hang out with me? You raped me!' ... After that I really didn't have any friends in high school."
Taiya Werling, a 2021 graduate of Palmer Ridge, said that throughout her days at the school she'd heard lots of accusations that Roberson had sexually harassed several friends. Most of those stories involved Roberson saying inappropriate things, grabbing girls' bodies, or aggressively begging for nude photos. Though Defector did confirm that she'd told other people about what she'd heard, Werling admitted not making a big deal about the alleged abuses, fearing that anybody who got on Roberson's bad side would be an outcast in Monument. 
As more girls she knew joined the list of accusers, Werling began rethinking. Eventually, she said, it started sinking in that what passed for normal at Palmer Ridge was actually far from normal.
"Any other place in the world, if you hear about somebody committing sexual assault, that person gets shunned or jumped, sexual assault is a big thing," Werling said. "But in Monument, the rape culture took over and it was a normal, casual thing."
Werling said she believed everyone feared Roberson's bullying and blackmailing. Multiple accusers told Defector Roberson often got his way merely by threatening to send videos or photos of teens smoking, vaping, drinking, unclothed, or otherwise misbehaving, to parents and school administrators.
"I said [to a friend of his], 'How can you stay friends with him?' Everybody is so afraid of Deuce and what he will do to them. The amount of power he had was insane."
The accuser who requested anonymity told Defector she had deleted texts from Roberson from her phone, sometimes at his orders, other times by herself out of fear. She also said that Roberson usually communicated via Snapchat, where messages disappear within a week, and that she never screenshotted those messages because the app would alert Roberson if she did.
"He would grab our phones in the hallway and see what was on them," she said.
When she learned a friend had been raped by Roberson, Werling recalled it as the "make or break" moment for her. She could no longer do nothing.
"But this is really a whole lot of, just stories," Werling said she felt at the time. "There's no physical evidence. There's not going to be justice within the legal system. We have to take justice into our own hands."
Werling and two classmates did just that in December 2019. Roberson was flying high, having just won his third state championship and player-of-the-year honors. The girls put together an email, a draft copy of which was provided to Defector, that urged anybody recruiting Roberson to investigate his background. The email said 21 alleged victims of Roberson had come forward.
"There has been a congregation of strong young individuals that are coming together to take out rape culture within our community and it starts with your help," the email read. 
"If further action is NOT taken by these individual colleges this will be taken straight to the board of the NCAA Division 1 Committee of Infractions to not only review the recruit but the recruitment staff as well," it continued. "There is a whole community behind us in getting justice and we WILL be heard by ANY means necessary."
One of the students involved in crafting the email, who requested anonymity, told Defector they followed news reports, social media, and even just talk around town to learn about which schools might be recruiting Roberson. And then they contacted every one. Werling said the list of schools that got the Roberson email included the University of Tennessee, Arizona State, the University of Northern Colorado, the University of New Mexico, West Point, and Cornell.
For all his high school accomplishments and blatant skills, by the end of his senior year Roberson was not offered any D1 scholarships. He ended up at Snow College, a community college in Ephraim, Utah. Werling said Roberson eventually found out about her role in the email campaign and cornered her at a party. 
"He wanted to keep me quiet so I wouldn't initiate another anti-Deuce campaign," she said. "I'm not afraid of him any more, and neither are many of his victims."
Roberson was never the dominant player at Snow that he was in high school. But he had his moments. His play last year was good enough to earn honorable mention status on the NJCAA D1 All-American teams as a return specialist, and that and his peerless high school resume got him the invite to CU to be a part of Deion Sanders's debut season. 
But reporters at the CU Independent, a student newspaper at the Boulder campus, learned of Roberson's continuing behaviors at Snow. The newspaper obtained a copy of a no-contact order that had been issued to him by Snow College administrators in the fall of 2022. The order came at the request of a female student who told a Title IX coordinator at Snow that Roberson had sexually harassed her on campus. The order called for Roberson and the female student, who was not named in the report, to "maintain as much physical distance as possible" and to not contact each other via electronic means.
The Independent's report said it was unclear if Sanders or his assistants were aware of the complaint against Roberson at Snow College. But according to the report in the CU newspaper, the Utah school classifies no-contact orders as non-disciplinary actions, meaning it didn't need to be disclosed.
Curtis Snyder, a spokesman for the CU athletic department, declined Defector's request to discuss Roberson's recruitment or anything about his situation, beyond an emailed statement that Roberson "is no longer with the football team." Steve Hurlbert, a spokesman for the university, told Defector that the "athletics department's statement is the university's statement." Citing privacy laws, he declined to answer further questions. As of two weeks ago, Roberson was still enrolled as a student at Colorado. 
The El Paso County Sheriff's office, in response to inquiries, said two cases involving Roberson have been closed. In the first, a sexual assault case opened in 2019, the sheriff's office says "Robison [sic] was misidentified by a witness." The case is inactive due to lack of leads. The second, initially classified as Sexual Exploitation of a Child before being reclassified as a revenge porn case, was opened in 2023 but has been closed due to it being past the statute of limitations. The Sheriff's office did not comment on whether any open cases remain.
---
Jenna Baker's petition, and all the accusers it brought out of the shadows, created a stir in Monument. The local school board recently posted instructions online for students wishing to report sexual misconduct. A statement accompanying the instructions said the post was prompted by "a news story regarding a former District 38 student." The former student was not named. 
Amber Newberry said she has recently been asked by the school board to speak to students at Palmer Ridge High School about consent. She regards the invitation as progress and a sign that the grownups are no longer in denial about what took place at the school.
"So many people in the community are taking up for these girls now," Newberry said. "I don't think any of us, me or these girls, thought this would ever happen in 2019. The important part of the story is just how scared the girls were, and how we make it a safer space for them, where they can feel they can report these things."
Baker showed up at a school board meeting in Monument in April and was given a chance to speak. She told the gathering that she'd requested records on sexual assault reports and Roberson from the high school and the school district under the Colorado Open Records Act, but was told that only documents from within a year of the request would be made available. That meant nothing from Roberson's days at the school was turned over. However, the records Baker received and presented at the meeting did include a March 9 email written to district administrators by a former Palmer Ridge football parent after reading about the flood of assault allegations against Roberson in a CU newspaper. 
The parent, whose name and email address were redacted in the released records, wrote that when her son played alongside Roberson she and her family were aware of "everything that was published in this article and more," and she was "sick to her stomach" after learning from the CU article that Roberson had never faced real consequences. 
"[W]e were always told they were being addressed," the parent wrote. "Where were the school and district administration to protect our girls against a predator?"
In her presentation to the board, Baker blasted district administrators for what she called a "lack of transparency," and said, "The school board must move forward with more progressive policies that don't sweep sexual assault under the rug and enable abusers and serial offenders." 
A report on the meeting by FOX-21, a Colorado Springs TV station, said Baker demanded answers as to how Roberson "could get away with allegedly sexually assaulting, harassing and raping other students for four years." Photos of Roberson in a Palmer Ridge football uniform flashed on screen throughout the segment.
According to the report, "Baker's speech was met with resounding applause and tears from the crowd." 
Stay in touch
Sign up for our free newsletter