NBA
Draymond Shit The Bed
11:49 AM EDT on April 19, 2023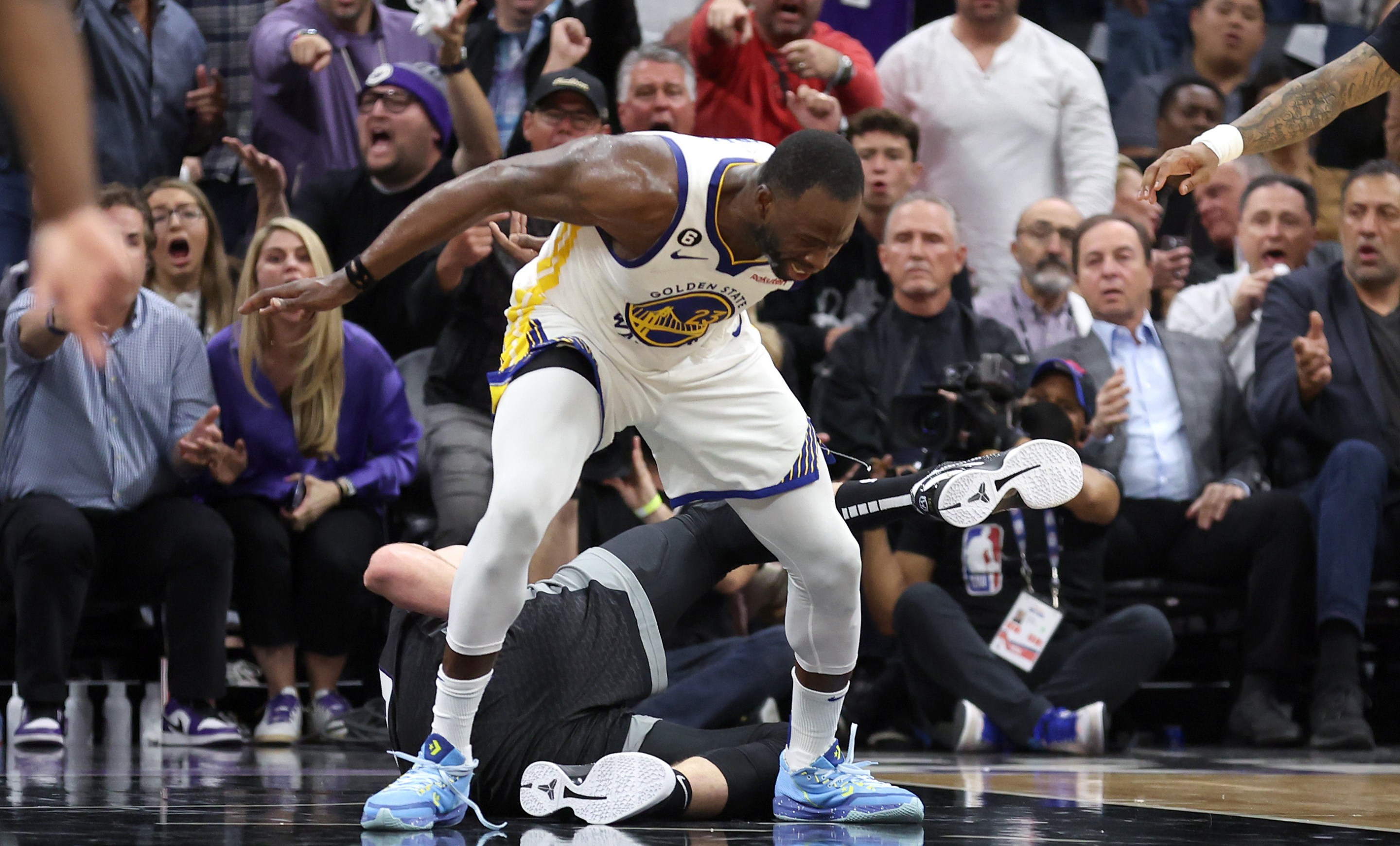 For some reason last night, Charles Barkley reacted to the news of Draymond Green's one-game suspension by complaining that it was obscuring the glory of the Sacramento Kings. I mean, even the Kings know that not having to face a Green-enriched Golden State team in Game 3 of this taut series is much better than getting full credit for one of the first times all year.
But as this is second postseason game Green will have missed (out of 146), and for more or less the same stupid reason as the other one, the series must at least for a moment turn over the podium to the proudly underhinged Green, whose work ethos clearly includes the legend "Never Fail To Make A Bad Situation Worse."
It is not disputable that Green acted foolishly and even with performative malevolence when stomping Domantas Sabonis's sternum, or that his goading the crowd with Adam Silver in the building helped make the decision to remove him from Game 3 an easy one. Indeed, the league included Green's past as prelude to dropping the hammer even though it jeopardizes their already tenuous hopes in a series in which the Kings are doing a grand impersonation of either the 2013 or 2015 Warriors, depending on how deep the Kings can go this postseason.
Go ahead and take a moment to appreciate the historical absurdity of that sentence.
Green was suspended because of his rich history, as the league's dean of students Joe Dumars made clear this morning, but it seems improbable that another player doing the same thing wouldn't have been suspended as well; Sabonis stomping Green would likely have produced a similar result. Green's C.V. just made the disciplinary meeting too short to cater—especially when you consider how he never misses an opportunity to explain how much more he understands about basketball than mere observers. Not stomping on someone's chest out of a moment's pique would seem like a minimal standard for a deep thinker, not to mention a grasp of how how past results affect future judgments.
This latest incident has been a perfectly Warrior way to punctuate a profoundly un-Warriorlike season, in that this team has never fully figured out who, what, or why they are. Even the shield of Stephen Curry as the symbol of competitive purity that hides all the other shortcomings cannot cover the dirty kilts behind it. The Kings may be inexperienced at center stage, but going to San Francisco should hold no fear, as the Kings had the fourth-best road record in the league this year and have shown they can not only do what they want but make it difficult for Golden State to do what it wants. That, more than anything else, explains who wins in the postseason and who does not.
But Green has made this series about himself anyway, because while his import cannot be understated, the cost of his contributions is approaching its benefits. And while it is true that Sabonis instigated the incident by seizing Green's leg like a Kraken from the deep, Green's self-styled rep as the smartest guy in the 19,000-seat room was betrayed by his choice of this particularly shortsighted forfeit. He skipped the outsmart-'em-with-basketball part and went right to WWE theatrics.
After two games, we have seen that the Warriors are not big enough across the lane or good enough defensively not to miss Green in Game 3, and his choice to problem-solve with his 14EEs isn't just impetuous, it's scandalously poor judgment from someone who lectures constantly and tediously on his superior basketball intellect.
Indeed, whatever the source of his short-and-ever-shortening impulse control, this is not about him in relation to his surroundings, but him in relationship to him. Trying to examine the underside of Green's hood to see how his engine runs is a fruitless exercise now, as he has stamped himself as the undisputed stereotype Warrior fans have rebelled at when outlanders complain about Green's behavioral resume. Warrior fans see his necessity because the Warriors make a point of explaining how they far outweigh his occasional tantrums; those not nearly so invested in the Warrior culture narrative just see him as an indulgent indulgence.
He was the trusted and reliable agent who made the Warriors better, and is no longer that because he is not there to be trusted or relied upon in a significant moment. If Golden State wins tomorrow, it will open new avenues of debate of how much they actually need him to succeed. If they lose, he will be blamed.
Green certainly could rally from this and become the fully focused weapon we saw in the latter half of the Finals last year. But helping steer his team into greater jeopardy because the center of attention has too compelling a gravity for him to ignore is an increasingly irksome exercise, not just for the outsiders and 15-watt brainbulbs but for Steve Kerr, Bob Myers, and even Stephen Curry. For someone so adept at explaining how much more arcane basketball is than those of us who don't play can ever grasp, Professor Green isn't playing tomorrow because he needed to vacate his nostrils on his own lesson plan.
Stay in touch
Sign up for our free newsletter