NBA
Dillon Brooks's Wings Have Melted
2:51 PM EDT on April 25, 2023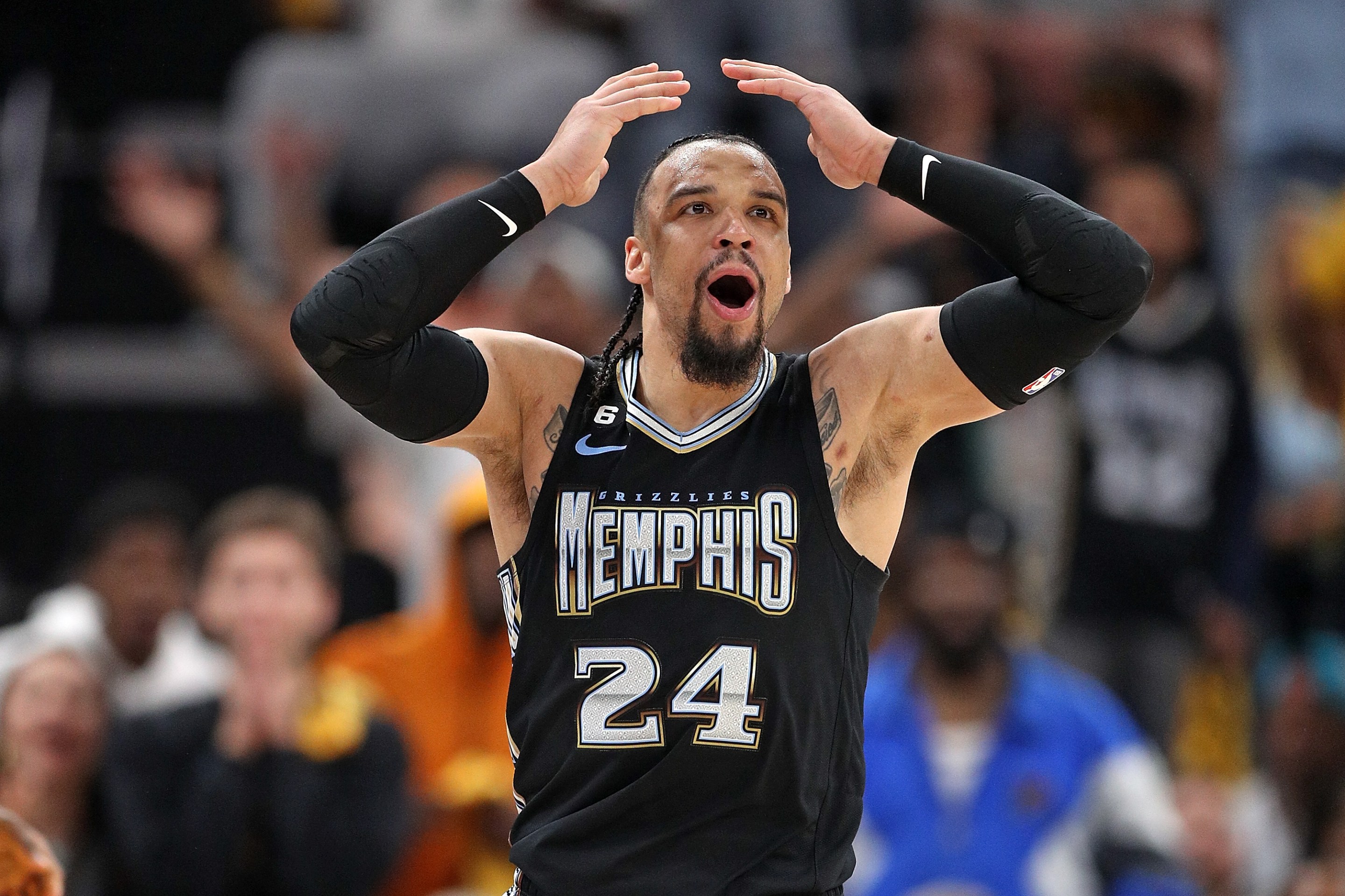 Dillon Brooks wants to be a star, and that's just swell. I love the wrestling outfits, I love the 'tude straight out of a PR office's test meeting, I love the Katt Williams Suga Free hair. It's been obvious this whole year what's going on: whether it's byproduct of Ja Morant's celebrity leaking into rest of the team, or a byproduct of getting crushed by last year's eventual champs and feeling like you're right there, Brooks made a conscious choice that this season was going to be his official debut as the new villain of the NBA.
The league's superheroes are a chosen few, but not its dirty work-doing bad guys. If you're good enough, there's plenty of space to get in on that. And why shouldn't you, Dillon Brooks? Draymond Green's got a whole media career now. Everyone remembers Dennis Rodman. People invite Patrick Beverley onto shows for some reason. Brooks was The Man when he played at Oregon, which means he was probably used to being The Man well before that. But now he's on an NBA team with another man who is obviously better than him. Matter of fact, there might be two or three guys on the Grizzlies who are better than him. It's hard to adjust to that reality; transitioning from star to role-player is something that all pro athletes, save for the best of the best, have to deal with, and credit to Brooks for making that transition work and finding a place to fit in on the court. Dillon Brooks is a dirty-work specialist, He does all the tough defensive work that nobody ever dreams of doing when they're a star in high school or college. He's a legitimately great on-ball defender, as ESPN's Tim Keown explained last month:
There is satisfaction to be derived from rising above your perceived station, and the statistics bear out Brooks' interest in seeking out All-Stars. Per Second Spectrum tracking and ESPN Stats & Information, Brooks has matched up in the half court defensively 922 times against this year's All-Stars, the most of any player. He has held those All-Stars, from Tatum to Curry to Durant, to a 45.7% effective field goal percentage, which ranks first among the 72 players to record 400 such matchups. (League average, for comparison, is 54.6.) Among the players who have the most half-court matchups against All-Stars, Brooks is allowing the lowest percentage. In short, he has matched up against All-Stars more than any other NBA player, and he has defended them better than anybody else. Just one player -- Lillard -- has scored 40 against him this year.

ESPN
Brooks also understands that the NBA is not just a sport, but an entertainment product; it needs some theater, and he wants to provide it, as many past enforcers have. This is where he's starting to undo himself, though. He has no finesse at all. He's clumsy at best and actively trying to hurt people at worst. On top of that, he's teamed up with Morant to make Memphis the most annoying team in the league, and one everyone wants to beat. Players get interviewed about Brooks and have to stop themselves from rolling their eyes. Arrogantly dismissing LeBron James as "old" is no way to endear yourself to anyone who knows anything about basketball.
The only thing that's worse than talking that kind of shit is totally failing to back it up, both on and off the court. After his ejection from Game 3, which the Grizzlies lost, Brooks started coppin' pleas. "The media making me a villain," he said to reporters. "The fans making me a villain and then that just creates a whole different persona on me." 
I don't think anyone in the media told Brooks to start dressing like Stone Cold Steve Austin, or to start antagonizing the best player of this and possibly all generations. Brooks did all that stuff because he liked the attention. He liked that the press was crowding around his locker for a quote, and he liked leading First Take segments. It's good branding, but you don't get to run away from it all once things start to turn against you. Say what you will about Patrick Beverley (and I will: fuck him), he at least embraced being hated. He knows how to play dirty and make it look clean enough for deniability, and how to lean into the bit even as results go against him.
Things got worse for Brooks in Monday night's Game 4. James didn't "drop 40" on him, but what he did was perhaps even more embarrassing for Brooks. James finished with 22 points, only really turning it on at the end of the game, when he really needed to. He wrapped everything up with a driving layup in which he took Brooks from the three-point arc to the rim, drew the foul, and made the bucket. Brooks got treated no differently than Lance Stephenson and DeShawn Stevenson were in past years: he got brushed aside.
Afterwards, Brooks ducked out on his media availability for the second consecutive game. Brooks was a no-show before that, too: he shot 4-of-11 in Game 4, hit just one of his seven three-point attempts, and contributed five rebounds.
If anyone knows what Brooks might be going through, oddly enough, it's the guy he spent the last two weeks shit-talking. James tried to go the villain route when everyone hated him for going to Miami. He tried to embrace the hate for a year, even playing into it with his Nike campaign, while soaking up the boos in every road game. It didn't take. James liked being liked too much, and fans eventually realized that he's more fun to root for than against. Brooks isn't good enough to get that same courtesy, but it's never too late to start making some changes.
Or maybe things will still work out for him. Maybe James will hurt his foot again, or Anthony Davis will get decapitated by a paper clip, and Brooks will be free to start peacocking like Ric Flair again. Even if that happens, though, everyone has already learned that Brooks isn't really cut out for life as a heel. The real ones can keep laughing and talking shit as they fly towards sun, but Brooks is sweating the entire way through.
Stay in touch
Sign up for our free newsletter