NBA
Dame Lillard, You Don't Want To Be The Face Of This
1:44 PM EDT on April 2, 2023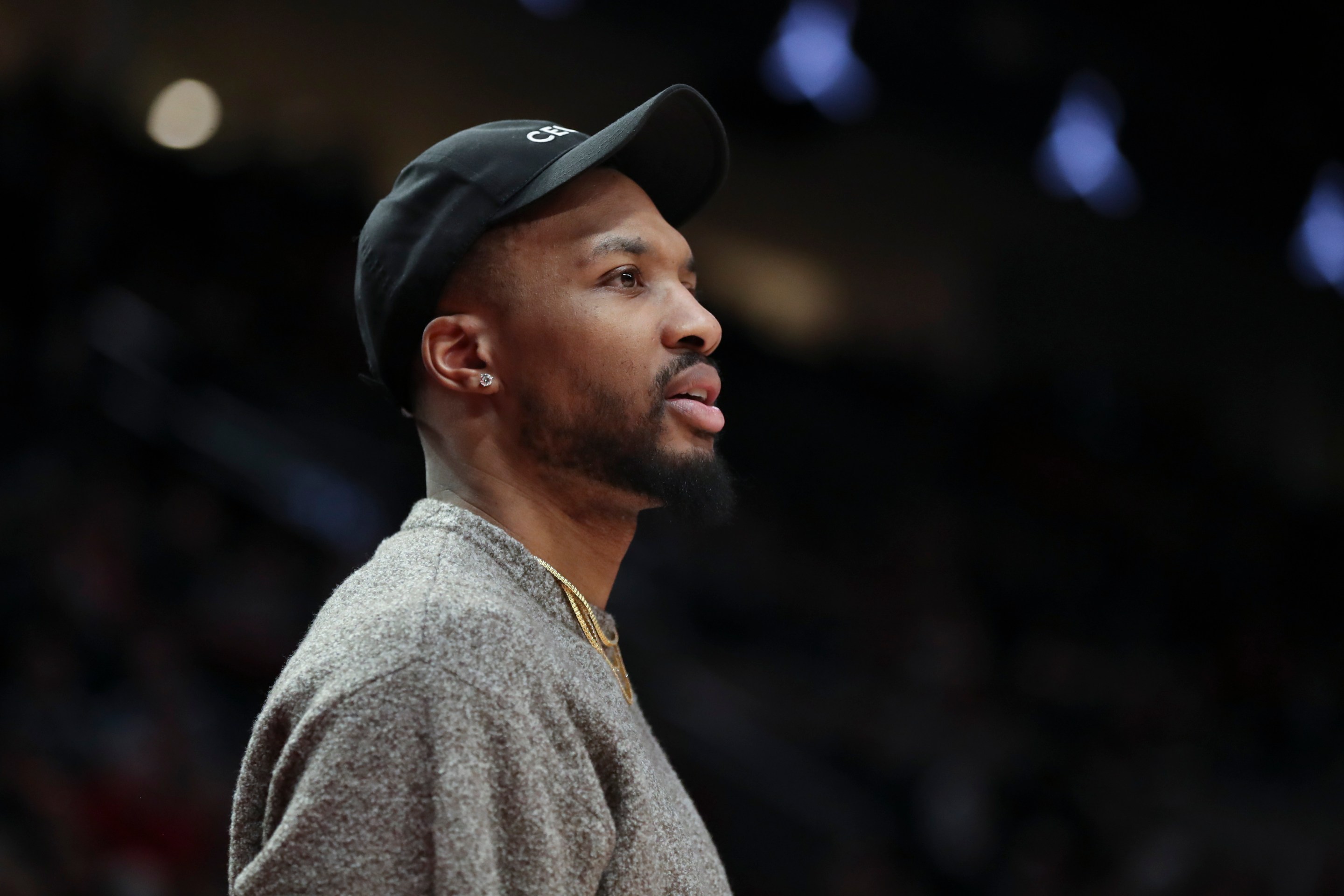 The Portland Trail Blazers have been officially eliminated from playoff contention, so you know what that means! It's the annual kickoff to Damian Lillard Narrative Season. Is he too loyal? Should he ring-chase? Is he a coward for not ring-chasing? Is he brave for not ring-chasing? Is Portland really that much fun to live in? Taking part in the discourse is a losing battle, all the more so when you're at the center of it. The more fans and media hysterics that treat staying on the team that drafted you as some sort of archaic practice like using a typewriter, the more maddening it is. So it's understandable that Lillard has been trying to combat and control the narrative, most notably in a recent interview with former player and current hater of reverse racism JJ Redick that appears to have taken place in a room at a La Quinta Inn.
Around the 3:30 mark is the gist of Dame's argument:
"Bro, I don't need to prove to y'all that I wanna win a ring. Why the hell do I play? I don't need to prove that to y'all. I understand that we play to win championships and we all want to win a championship, but we can't keep acting like nothing matters. Like the journey doesn't matter. We can't keep doing that. There are so many ways the league is different. There are so many ways. I think about it all the time that I don't know if I can play a long, long time because I don't enjoy what the NBA as a whole is becoming."
A perfectly fine argument. He's allowed to share his opinions he's right that the obsession with rings and rings alone has slowly decimated the significance of the regular season ("the journey"). Unfortunately, this is also savory grist for the sports punditry mill to grind to a fine powder, which it did as the clip began to go viral.
There's a tendency to sort people into genres and boxes, not out of malice but out of convenience. And as Lillard helpfully and correctly points out, people are not going to think about him once he's gone from the game. Neither of these things are intentional; people just have very little storage space and they're constantly adding new information. As a result, the people who are remembered get slapped with quick labels for quick recall. Russell Westbrook, for all his spectacle and high-flying exuberance, will be remembered for bonehead plays and bricked jumpers, or at best for triple-double chicanery. When Ben Simmons's career ends later this month, he'll be remembered as being scared of basketball. Hell, even Kobe Bryant, whose life and career have been under constant revision since his death, is more commonly remembered as some sort of Tony Robbins–esque, "grind" motivator than anything else. And it's becoming increasingly clear that Damian Lillard is becoming the face of not only team loyalty, but a more insidiously conservative argument. There are people who hear Dame's quotes as an aversion to the ultimate goal, but there are others who cling to it as the counterpoint to what they feel are the ills of the "player empowerment era." Both camps want to use him for talking points while missing the entirety of his point.
You can see that he's aware of this even if he's not quite sure how to end it. Just this week, Dame went on The Dan Patrick Show and got the "loyalty" question tacked on like it was no different than asking about an upcoming game. In his answer, you can feel him trying to explain what his belief system is without necessarily committing himself to the idea that he's just blindly loyal to the Blazers.
Earlier in the year he went on a different player podcast, Point Forward with Evan Turner and Andre Iguodala, and talked about wanting to be thought of as a human who stood on principle. The problem is no one gets their humanity remembered; people are flattened over time and those principles (about staying, about legacy, about how it's possible to be a true winner even in the absence of a championship) become bastardized depending on the priors of the person doing the remembering.
Every basketball fan with two working brain cells can see that too much emphasis is placed on rings. Lazy mythologizing has made it so that if an athlete does win, the debate only moves to demanding they do the hardest thing to do, again, just to prove it wasn't a fluke the first time. It's an insatiable ouroboros, and the only way to escape it is to literally be Michael Jordan or LeBron James. But at the same time, a current superstar calling this out can't help but feel like an attempt to paper over the fact that he hasn't had much playoff success, and has obviously never been to a Finals. The winners write the history because history is too arduous and processed to actually decipher, so the history gets condensed in bite-sized morsels that say you either did it when the lights were brightest or you didn't.
Dame Lillard is not like a lot of people. He's talked in these interviews about the reasons outside of basketball he has for staying in Portland. He talked about the friends he's made and the community he's built, he's talked about enjoying his life. And he talked about resenting the concept that he has to prove his fire-burning desire to win a ring through the performance of asking for a trade. In this era of player-led media, Lillard has been on a campaign to restore some of the humanity in basketball, but the more he engages, the more the conversation about him becomes a narrative, one used as a cudgel against every star who chooses a different path.
Stay in touch
Sign up for our free newsletter