MLB
Baseball's One-Year-Only Playoff Race Is Getting Weird
2:59 PM EDT on September 11, 2020
You haven't been paying attention to this. I know you haven't. You've been all stupefied by the return of the gigantic germ-swap known as football, and the decades-old Raptors-Celtics rivalry, and just one more five-overtime soul-grinder in the Stanley Cup playoffs, and the ACC's basketball coaches inviting Oak Hill Academy to the NCAA Tournament without asking anyone, and Stephen Curry shooting around with someone claiming to be Drake but who based on his newly buff physiognomy may in fact be Carrot Top. There's never a shortage of weird stuff, even when people moan that there's a shortage of stuff because we are a species with an infinite desire for the shiny things we think we need to keep the bad stuff like reality away.
Put another way, sports is still being played outside on the West Coast even though the average daily air quality index is your grandfather's left lung. Merry Christmas, suckers.
So strap this on. Major League Baseball may very well open its postseason bag'o'bloat (eight teams instead of the usual five, in three different tiers for division winners, division runners-up and associated flotsam, in best-of-three, best-of-five and then best-of-seven and best-of-seven formats) with some combination of five teams the entire planet agreed were too God-awful to even tank this year because they'd already reached bottom.
• Your Baltimore Orioles, who have won 101 games in the last two full seasons (47 and 54) and have been even worse when you look at them as actual people, are a game out of the eighth and final American League wild card spot.
• Your Detroit Tigers, who have been lousier longer (averaging 103-plus losses for the last three years) are half-a-game back of the Orioles. And even though only one of the two can make it in all likelihood, they would probably be doing so at the expense of the New York Yankees, who are one more injury away from becoming the Knicks. Anyone not see the hand of Satan there?
• Your Toronto Blue Jays, a team of apparent lepers whose travel companions are so unclean that they weren't even allowed into Pittsburgh and had to be sent to Buffalo on the theory that it was close enough to Canada without actually breaking strict Canadian laws about infecting that nation. And let me remind you—they were banned from PITTSBURGH.
• Your San Francisco Giants, cursed for hiring Gabe Kapler to oversee the teardown of a franchise that was proud way too long ago for the teardown to just be starting now, have been keeping up with the Dodgers and Padres for a month now, which of course they have no business doing.
• And most bizarrely, your Miami Marlins, the rolling Derek Jeter–sponsored hot mess which introduced the virus to MLB and blew up four teams' early schedules including their own, and currently maintain a playoff berth despite just giving up four touchdowns to Atlanta in a game stolen pitch by pitch from "Baseball Bugs," the 1946 Warner Brothers cartoon that brought you the concept of the base-to-base conga line.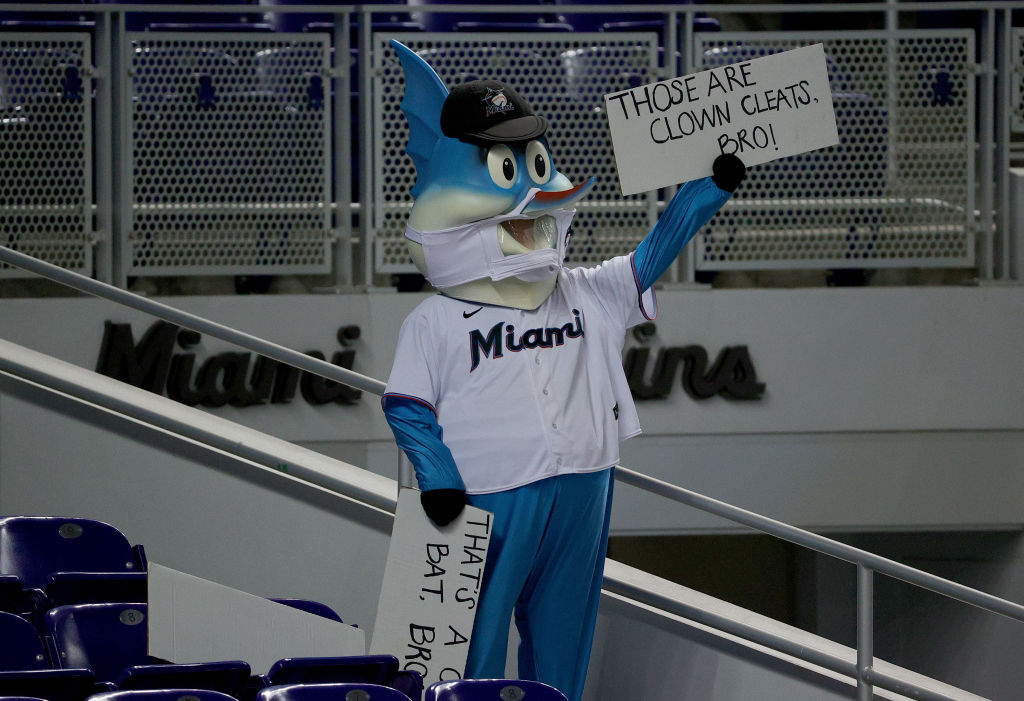 Oh, I hear you saying, "Well, that's just COVID rules; more than half the teams make it; lots of injuries; blah-blah-blah-de-blah-blah." And I hear you because if you had thought of this, you'd just whine about Rob Manfred ruining this and changing the rules that, and it's why people settle their bar tabs when they see you walk in.
But this year has been turned over to Crnobog, the Slavic god of night, chaos, misfortune, and winter, also known as Mike Gundy, so that's the world we have now. This is all part of the universe calling quintuple bullshit on this miserable obsolescent species, so yeah, Blue Jays and Orioles and Tigers and Giants and Marlins for sure.
The Jays have managed to become seasonally involved despite having no acceptable home (the ballpark in Buffalo had to be upgraded from what, an old salvage yard?) and because the Yankees are made almost entirely of papier-mâché. Toronto's leading home run hitter, Teoscar Hernandez, has 14 of them while driving in 27 runs for the entire season, which means he comes as close a player can come to hitting a no-run homer, and their entire pitching rotation has been acquired since December. It's almost as if the working plan was to become as close to an actual expansion team as possible and then wait for the Yankees to explode. And because this is 2020, all of it has worked.
Baltimore has been the unlikeliest of all because it seemed locked in the coldest corner of the meat locker. Their everyday lineup of Mullins, Iglesias, Nunez, Severino, Santander (or Stewart), Mountcastle, Alberto, Ruiz, and Valaika has the following first names of Pedro, Ryan, Renato, Pat, Rio, Hanser, Cedric, Jose, D.J. and Pat. We have mixed them up give you fun way of determining how many of them you actually know, and if you cheat and look them up ... well, you're going to hell like the rest of us anyway, so go right ahead. Point is, they hit well against all manner of pitching, and their pitching staff is John Means and even more mega-anonymii like Travis Lakins Sr., Cole Sulser, and Asher Wojciechowski, just to give you four guys who aren't currently on the 10-day IL. Brandon Hyde, the team's manager, whom you also don't know, doesn't know half these guys himself and yet they're close to a playoff spot they neither deserve nor imagined.
Detroit, on the other hand, has more recognizable names to baseball nerds, starting with noted antiquary Miguel Cabrera and second baseman Jonathan Schoop, who received the highest compliment a Tiger can receive by being mentioned often in trade rumors. Their pitching staff is largely shambolic, but they still are a non-revolting 20-23 in the best division in baseball. The Tigers' biggest problem is they still have to play the White Sox, Indians, and Twins down the stretch, so Cthulhu would list them as a longshot, but they were supposed to finish this season with about 20 wins total, so doing so with 16 games left is kind of a thing.
The Giants, the most baseball-intriguing of the five, cheated fate from the get by hiring Kapler because baseball ops lord Farhan Zaidi had some dynamitin' to do and had developed a relationship with Kapler that overcame Kapler's reputation in Philadelphia as a master of analytic gobbledygook whose non-math skills did not include paying strict attention at all times. In addition, Kapler had helped bungle the Dodgers' response to sexual harassment claims and was marked for scorn at his introductory presser, as bad a start as you can imagine. And things were going perfectly rancidly until the Giants screwed up and started winning. True, it was mostly against teams that proved to be as awful as they were supposed to be, but they've won 15 of their last 21, and are so enraptured by their present predicament that they have abandoned cratering as a strategy. Zaidi has released two old placeholders in Hunter Pence and more recently Pablo Sandoval in an attempt to try to win after a start that seemed mostly fit only for a Viking funeral. Their best player is Yastrzemski spawn, and rushed rookie catcher Joey Bart has not had a case of the second-time-around blues yet. They're still not ready to deal with the Dodgers or Padres, but who is this year?
And the Marlins? Remember what we said about the Orioles? Quadruple it. They've used 35 pitchers in 39 games, nine of them have double-digit ERAs, and two of them are named Josh Smith because they may be reluctant to give their real names. Their leading home run hitter, Corey Dickerson, has six, and on balance they look like they ought to be the same team that hasn't had a winning record in 11 years and dropped a cool 105 a year ago. How they haven't just melted just on contact tracing alone is why Don Mattingly is either the Manager of the Year or a warlock.
And it is perfectly conceivable that four of these five teams, which combined a year ago for 507 losses, could make the playoffs, no matter how many teams are invited. Now if you don't see the fine hand of malevolent powers in this, well, you haven't seen the red skies of Portland, Ore., at midday, my friend. The meek are rising to inherit the earth, even if it is only an earth where nature is in full revolt. And nothing says that more than the Marlins. They came, they saw, they infected, and now they've got the brass to keep hanging around as though they're actually welcome. How is that not 2020 in an evening gown?
Stay in touch
Sign up for our free newsletter