Tennis
Andrey Rublev Beat His Foe Instead Of Himself
4:33 PM EST on January 23, 2023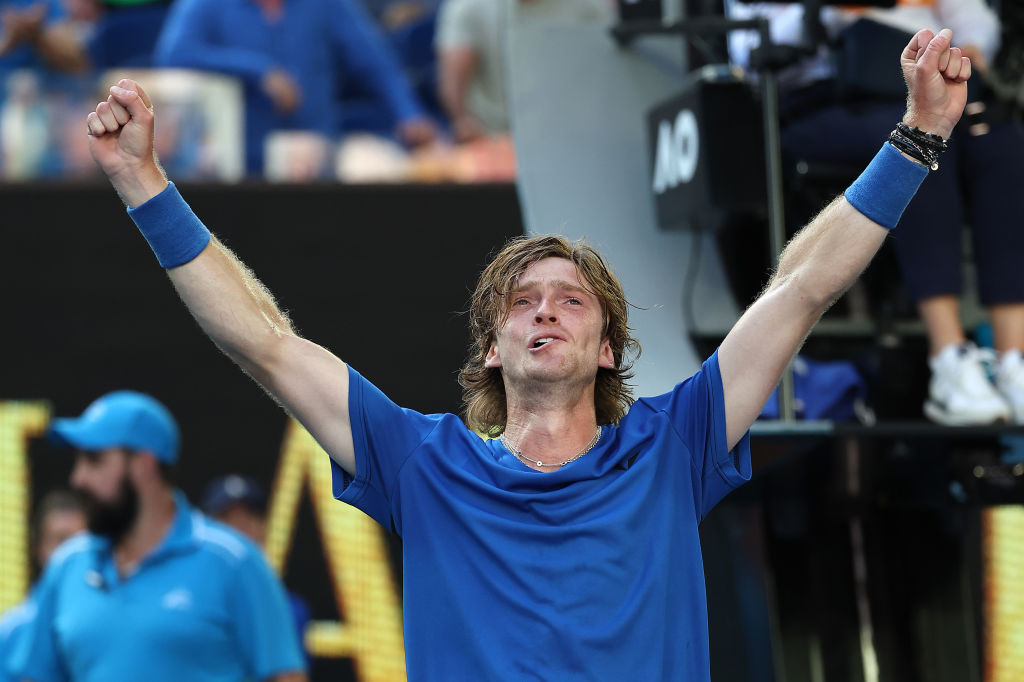 Oftentimes a sporting event is compared to a roller coaster. But is that true of a tense five-set victory in the fourth round of the Australian Open? Let's consult the emotionally direct No. 5 seed Andrey Rublev.
"It's not roller coaster, man. It's like they put gun to your head. I don't know, roller coaster is more easier, man," he said, clarifying the interviewer's metaphor, right after Monday's 6-3, 3-6, 6-3, 4-6, 7-6(9) win over Holger Rune. Given the speaker, that checks out. Perhaps no man on tour makes the pressure of tennis as visible as Rublev, a tempest of inwardly directed rage.
But this fourth-round match was a sign of personal growth. Rublev, as famous for his destructive forehands as he is infamous for on-court self-harm, found a precious patch of calm. At several junctures, victory seemed to belong to Rune, the 19-year-old who beelined to the top of the tour last season and came into this tournament as the No. 9 seed. Rune served for the match in fifth, and built a comfortable cushion in the deciding set tiebreak. The old Rublev might have done different things with his racket in this situation—punch the skin off his knuckles, or test the solidity of his own knee (or a banana, or his banana)—but this version used it to serve huge, regulate his errors, and eventually steal the win with a little boon from the net cord.
"I was 5-2 down in the fifth set; 6-5, down two match points. Then 5-0 down in the super-tiebreak," Rublev said. "I was never in my life able to win matches like this. This is first-ever time that I win something like this." That's the sound of relief. Afterward, Rublev said he had drawn on the dark memory of last season's fifth-set tiebreak against Marin Cilic in a French Open quarterfinal. He thought "at least not like Roland-Garros, when I completely gave up—just at least try to play better than there." He said in August 2022 that he used to watch videos of himself melting down, thinking, "What am I doing?" and hoping to "eradicate those things from my game." Rublev will have a more positive memory of late-game cool to draw on now, and his own skeleton should thank him.
For Rune, however, the result may be harder to stomach. The younger player had struggled with the heat—during a medical timeout early in the fourth, he had his pulse and blood pressure checked—but entering just the second fifth set of his career, he raised his game, which at its best is a startlingly athletic blend of offense and defense, of shot tolerance and shot-making. Given an opportunity to serve out the match at 5-3, Rune was broken at love: a Rublev forehand winner, a Rune forehand error, and, damningly, two double faults. His collapse in the fifth-set tiebreak was more excusable, as Rublev read Rune's serve well and found his own aces to rip off six straight points. Even after that disappointment, Rune managed to save two match points, one with an instant-classic backhand passing shot after a miscued putaway:
"I think I had all the chances that I could wish for. I just didn't close him," said Rune afterward, falling just short of his second major quarterfinal. During the match he looked very much the teenager, making a mouth-zipping gesture to his box at one moment and then calling on them to scream the next, as he pouted and stomped around. Contrast this to his unbelievably icy win last year against Novak Djokovic in Paris, though, and it's clear that he has the capacity to focus in these tight matches against higher-ranked competition.
Rublev, often critiqued for his one-dimensional game, has lately sharpened his ability to close out points at the net. In fairness, that single dimension—pulverizing forehands from the baseline wherever remotely possible—has proven difficult for most opponents to stop. After this match, he said it was first physical strength and later mental strength that kept him from advancing in his seven previous trips to major quarterfinals. If the win over Rune felt like a match at gunpoint, what will be the metaphor for Rublev's next test against Djokovic?
Stay in touch
Sign up for our free newsletter