Gymnastics
Al Fong, Valeri Liukin, And The Stubborn Culture Of The Tyrant Coach
2:28 PM EDT on August 28, 2023
SAN JOSE, Calif. — To be a gymnastics fan is to know the names Al Fong and Valeri Liukin. Both have coached multiple gymnasts onto U.S. Olympic teams, the most meaningful entry on any gymnastic coach's résumé. Both have had enough success that their gym names easily roll off the tongues of gymnastics fans: WOGA (World Olympic Gymnastics Academy) for Liukin and GAGE (Great American Gymnastics Express) for Fong. Both were, of course, here in San Jose with multiple athletes competing for the U.S. Gymnastics Championship; Fong always with a shaved head, clad in black gloves and a large jacket emblazoned with GAGE on the back; Liukin, also the father of Olympic all-around champion Nastia Liukin, in the less-assuming T-shirt and pants.
And both are still the subject of ongoing U.S. Center for SafeSport investigations. According to the Orange County Register, the Fong investigation involves about 40 allegations of physical, verbal, and emotional abuse and has been ongoing since June of 2020. Liukin also is being investigated for multiple allegations of verbal and psychological abuse, per the Register.
Neither the investigations nor their presence here were secret. Anyone could see them in the arena. I saw both every day I was here, walking along the arena floor while their athletes practiced and competed. I talked to other journalists about it. I talked with gymnastics fans about it. Everyone knew about the investigations, everyone knew about Fong and Liukin's reputations, and yet nobody was surprised by their presence.
---
The coach who wins enough to keep coming back, no matter how many horrors and scandals get attached to their name, is not a phenomenon unique to gymnastics. Art Briles, who oversaw Baylor football when multiple women said they were raped by football players, is still coaching. Doing nearly nothing about an employee's domestic abuse at Ohio State didn't stop the Jaguars from hiring Urban Meyer, and even after his disastrous time in Jacksonville—which included Meyer kicking a player—he easily got work as a TV analyst. Nothing could derail legendary college basketball coach Bobby Knight, who found another job after choking a player on video. In women's soccer, there was Paul Riley, and just go a little further up the management ladder to find Spanish soccer federation president Luis Rubiales forcing a kiss on player Jenni Hermoso, which got him a 90-day suspension.
But the greatest modern examples of coaches who can do wrong because they just keep winning remain gymnastics' Béla and Márta Károlyi. For decades it appeared that their legacy would be the stacks of gold Olympic medals won by U.S. women under their purview as overseers of the national team. Yet it is their legacy of hyper-controlling their athletes, of verbal and psychological abuse, and of outright cruelty that spread far and wide and now lingers, like a stain U.S. gymnastics is still trying desperately to blot out.
The Károlyis' behavior was no secret. Jack Rockwell, a former trainer for the national federation, said in 1995, "I drank beer with Béla on many occasions and he's an entertaining man, but he's a miserable SOB when he's coaching those kids. He forced kids to do things when they were hurt." The quote is from Joan Ryan's canonical book Little Girls in Pretty Boxes, which delved into the difficult and dangerous training of young gymnasts and figure skaters. The 1995 book meticulously detailed, again and again, a lot of people calling Károlyi a cruel coach who made athletes train with injuries and restricted what they ate. Except, once again, this would not have been shocking to anyone paying super close attention; Károlyi was making his infamous comment, comparing little girls to scorpions in a jar, years before the book's publication.
Fong actually tried to sell himself as something different than Károlyi, as described in Little Girls. He would let the athletes he coached eat pizza. Then two of his athletes died.
The first Fong athlete to die was Julissa Gomez. Gomez was 15 years old in May of 1988 and trying to do a Yurchenko-style vault at the World Sports Fair in Tokyo. A Yurchenko-style vault is one in which the gymnast does a roundoff onto the springboard, followed by a back handspring onto the vaulting table. It's a common skill for elite gymnasts today, but it was still fairly new in the 1980s. While training with Károlyi, per Ryan's book, Julissa's teammates said she never looked confident in the vault and struggled to execute it consistently. 
But Gomez kept training it. When she left Károlyi's gym after having enough of his verbal and emotional abuse, according to Little Girls, she switched to Fong's GAGE, and kept training the Yurchenko entry. During warmups for Tokyo, Ryan wrote, "Despite Julissa's chronic troubles with the vault, Fong watched her from yards away, rather than right next to the horse, where he might have given her the security of knowing that if anything went wrong, he could catch her." 
Julissa ran, then did a roundoff, but only her left foot got on the springboard. Her right foot slid off onto the floor, Ryan wrote. When she arched back, instead of her hands landing atop the vaulting table, she slammed into it head first. She was left paralyzed from neck down and died three years later, in 1991, from an infection. 
A few years later, Christy Henrich, who also trained under Fong, died after years of struggling with anorexia. It began at a 1988 meet, when a U.S. judge told Henrich that she needed to lose weight to make an Olympic team. At the time, she weighed 90 pounds. She died in 1994 weighing about 60. Henrich and other gymnasts who trained at the gym said Fong harped on them about their weight, which he denied. Even Henrich's parents agreed their daughter's death did not lie solely at Fong's feet.
"It's the whole system," her mother told Sports Illustrated in 1994. "No matter what you do, it's never, never enough. The whole system has got to change—parents, coaches, the federation."
Fong said he had no idea about the Henrichs' anger at him until he read a deposition they gave to the lawyers suing him on behalf of Gomez's parents. Yet he said that he expected Henrich to die and for her parents to sue him.
"They don't have much evidence," he told Ryan, "but they're simple enough to try to imagine they do."
Afterward, a lot of gymnasts stopped working with Fong. They did not stop working with Károlyi. Károlyi continued to coach multiple members of the U.S. women's gymnastics team. Gymnasts also flocked to the Károlyi protégés who littered the sport, like Steve Nunno, who didn't hide his yelling and screaming at future Olympic champion Shannon Miller. Miller's mother talked about it to a Los Angeles Times reporter about it back in 1992:
"Sometimes I will see Steve just lay into Shannon during practice and when we get in the car I will say to her, 'Shannon, what is his problem?'" Claudia Miller said. "And Shannon will say, 'Well, Mom, I was doing it all wrong and he had to straighten me out.'

"His yelling at her doesn't bother her, unless he starts to get personal. Every once in a while he will think she is not trying hard enough and tell her that she is obviously not an elite, and kick her out of the gym. Many times I have come to pick her up, though not many times this year, and she has been waiting for me outside the gym on the couch, because he has kicked her out, and that hurts her feelings."
After the 1996 Olympic games, in which the U.S. garnered four medals, including the coveted team gold, and the Károlyi-coached Kerri Strug vaulted on an injured ankle, even though she didn't have to, Károlyi retired from coaching; the retirement lasted just three years until a lull in winning gold medals had USA Gymnastics bring him back in 1999 as national team coordinator. When the 2000 Olympic squad didn't medal (though they would, more than a decade later, when a Chinese gymnast was disqualified for being too young, retroactively giving the U.S. the team bronze), the "solution" was putting Márta in charge, the implication being a woman could never be so cruel.
---
For years, Fong would later say, he was reduced to coaching after-school programs, and his career might have ended there. Except, of course, it didn't. 
As detailed in a lengthy ESPN The Magazine feature by Wright Thompson from 2007—it made a lot of hay out of the old Al Fong versus the new Al Fong—two things happened to Fong that read like clichés out of a Hollywood script: He fell in love with his future wife and fellow gymnastics coach Armine Barutyan-Fong, and a young and promising gymnast named Terin Humphrey agreed to let him coach her. Humphrey told ESPN, "We were a little timid about going to Al's gym at first. We'd heard the stories. But when we met him, we felt like he was a great person."
Also endorsing him: Márta Károlyi.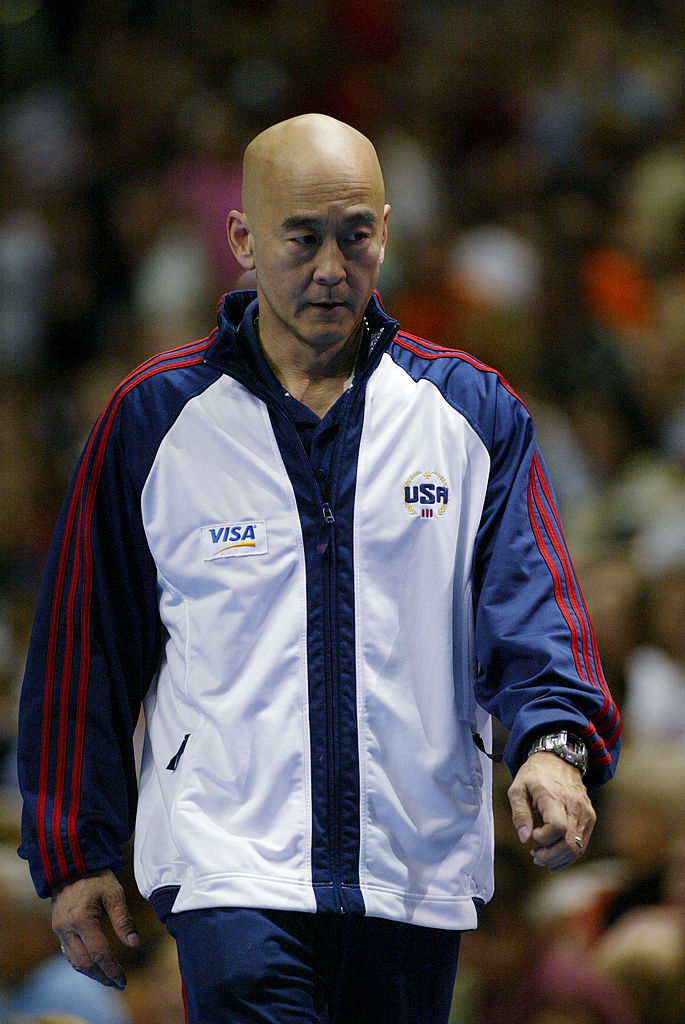 "I think Al is headed in that direction again," she said. "He'll probably place somebody on the next Olympic team."
At the time of the ESPN article, Humphrey was a few years removed from the 2004 Athens Olympics, where she was a part of the U.S. team that took silver overall while also garnering a silver medal for herself on uneven bars. She had fulfilled her promise, helped return the U.S. women to the gymnastics medal podium and, in turn, helped rejuvenate Fong's gymnastics coaching career. So did another gymnast, Courtney McCool, who trained under Fong and also made the Athens team.
(In 2019, Humphrey would be removed from her post as an athlete representative with USA Gymnastics after she posted a meme to Facebook that read, "What Champions consider coaching, the entitled consider abuse." She explained to TV station WGNO that she had posted the meme in reference to how she needed to be coached and "didn't even think" about how it could be a message to gymnasts who were sexually abused. She added, "I'm not sorry because that's how I feel.")
Even the ESPN feature conceded that "the old Al Fong has not gone away forever." In it, Thompson wrote that he saw Fong yell at an athlete who couldn't hit a skill on the uneven bars. Thompson wrote:
"That's not right," Fong yelled. She made a pig face to the girls around her, who tittered. "If you're not committed to hitting these, I understand, but you're shooting for the wrong level," he said, lowering his voice. "Stay at a level where it doesn't matter. But it's not an elite level. You're not a kid anymore."
The athlete was 11 years old.
---
Károlyi wasn't wrong about Fong's future. Since Humphrey, Fong has continued to work with gymnasts who compete at an elite level, and athletes from his gym have made Worlds and Olympic teams. Márta, like her husband, rode off into a glorious sunset, until hundreds of gymnasts came forward and said they had been sexually abused by team doctor Larry Nassar under the guise of him providing them with medical care. One factor in Nassar's decades of abuse: He seemed like such a nice guy, someone you could trust—especially compared to the domineering Károlyis.
And then came the news earlier this year that Fong was being investigated by the U.S. Center for SafeSport for approximately 40 abuse allegations.
A month later, more reporting from the Register indicated that SafeSport was investigating Liukin—who had worked with the Károlyis and repeatedly praised them during his own rise through gymnastics' coaching ranks—after receiving reports from multiple former gymnasts that Liukin verbally and psychologically abused them while training at WOGA and at the Károlyi ranch in Texas. The abuse included, according to the report, Liukin screaming, belittling, and forcing the athletes to run in the Texas heat while dressed in sweatsuits to drop weight.
This was not the first time Liukin's name came up in the context of abuse. During Nassar's sentencing hearing, former gymnast Mattie Larson mentioned the intense depression she spiraled into after two major errors in her floor routine cost the U.S. team gold at the 2010 World Championships.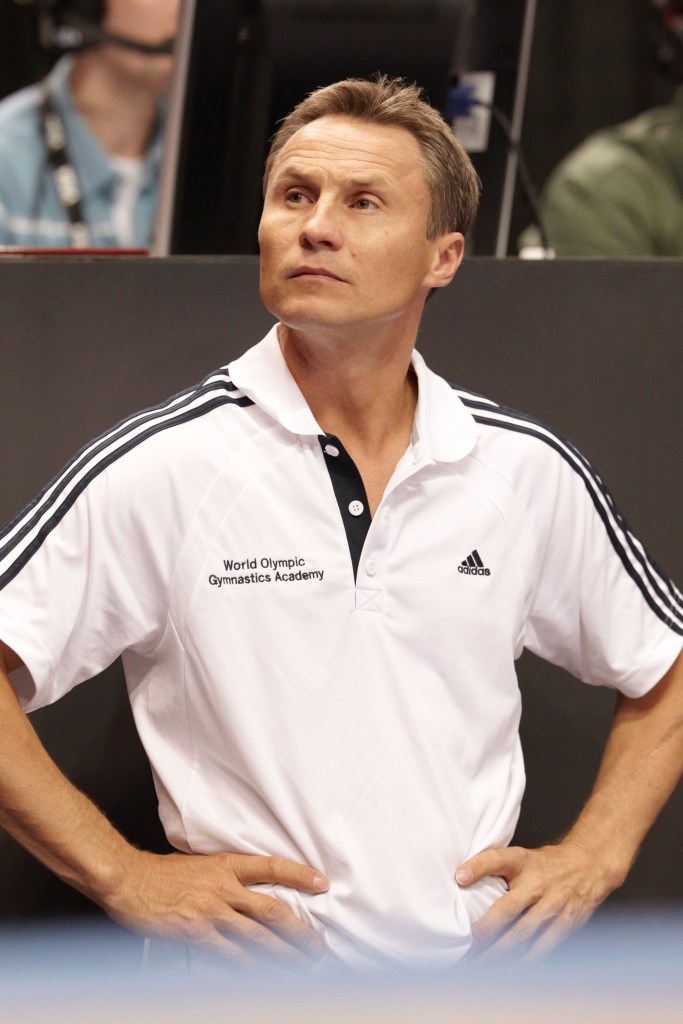 "It truly bothers me that one of the adults who treated me this way, making me feel completely invisible, is the new national team coordinator Valeri Liukin. It troubles me that he is now in that position," Larson said. "And I hope, for the sake of the current and future national team members, he has changed."
At the time, Liukin was national team coordinator after taking over for Márta Károlyi. The move wasn't a suprise; Liukin was seen as yet another Károlyi protégé and, at the time, he said he planned to talk regularly with the Károlyis and change very little.
"There is no point in changing something that isn't broken," he said. "There is nothing new for me. I believe in it."
---
Liukin eventually stepped down as national team coordinator, but he continued to coach at WOGA, and was considered for the position again until the SafeSport investigation became public through Scott M. Reid's reporting.
When I asked at her press conference about the length of the SafeSport investigations on Wednesday, USA Gymnastics president and CEO Li Li Leung said, "I think it's unfortunate that cases are taking so long and the organization wishes that they would resolve them quicker." When asked about Fong, as well as Liukin, a SafeSport spokesman said the center did not comment on ongoing investigations.
I've written about cases involving SafeSport for years, and I find that trying to get answers often feels like trying to catch a ping pong ball that is bouncing between opponents. An organization like USA Gymnastics will say their hands are tied because it's a SafeSport issue. SafeSport will say that's not true, and that an organization can take certain steps and measures while it investigates. All the while, nobody wants to say anything on the record, and lost in all the back-and-forth bureaucracy and politicking are the answers to basic questions like, What is going on with Al Fong and Valeri Liukin?
What's going on with them is that the legacy's of Béla and Márta Károlyi cannot be undone so easily. They might be gone, but the branches of their coaching tree remain. So here were Fong and Liukin at nationals, walking around as if their presence here were as normal as that of the phenomenal athletes themselves, everyone knowing why they were under investigation and also accepting it not making much of an immediate difference. Their figures served a stark reminder that, for as much as gymnastics has changed, so much work remains to undo the enduring belief in the tyrant coach.
Diana Moskovitz is Defector's investigations editor. You can reach her at diana@defector.com or, if you prefer protonmail, dfmoskovitz@protonmail.com. If security is a concern, download the Signal app and send her a text at 929-251-8187.
Stay in touch
Sign up for our free newsletter