Tennis
A Conversation With Matija Pecotic, The Office Guy Who Shocked The Tennis World
10:12 AM EST on March 8, 2023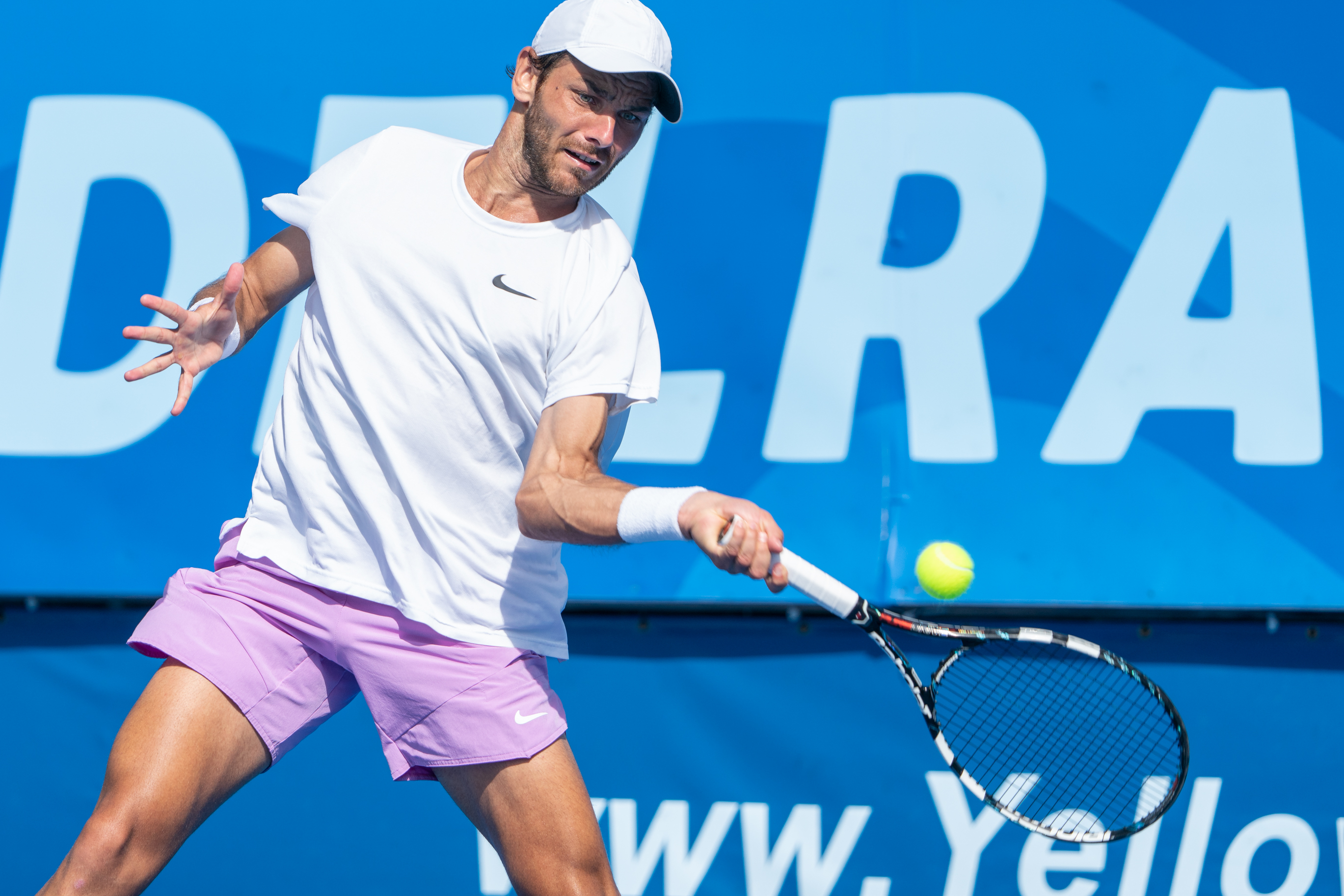 In February, 33-year-old Matija Pecotic won his first-ever tennis match at the ATP level. At the Delray Beach Open, he defeated former world No. 8 Jack Sock. Typically this would be of interest only to the purest tennis observers and the impurest sports gamblers. But there was a twist: Pecotic holds a full-time job at Wexford Real Estate Investors, a firm in West Palm Beach, Fla., where he lives. His victory was the actualization of many a finance bro's daydream. Headlines crowed about the "real estate broker" (CNBC), the "real estate exec" (Bloomberg), the "full-time finance professional" (CNN) winning at the pro level.
People asked me about this story. Could I believe it? I could definitely believe it: I knew Matija in college, and I remember him playing a mean piano in our dorm's common room and stomping the entire conference on the tennis court. Pecotic, who grew up in Malta, was not heavily recruited coming out of high school; Princeton took him because he'd mailed the coaches a DVD of playing footage, on a whim. The lefty was named the team's first All-American since 1984. He then went pro, rising as high as No. 206 in the world and becoming a hitting partner for Novak Djokovic, who wrote him an Instagram shoutout last month, in Pecotic's native Croatian: "You don't belong in the office just yet." Surgery complications and the pandemic rankings freeze led Pecotic to focus on business school and his present career. But cravings for tour life did not subside. In Delray, as with college recruitment, he found an unlikely opportunity—sometimes you drive to the stringer to pick up some rackets, only to get tossed into the qualifying rounds—and capitalized. The part-timer defeated Tennys Sandgren, Stefan Kozlov, and Sock, before losing to world No. 55 Marcos Giron in his second-round match. Now he's looking to play about 25 events this year. Yes, he will work remote.
This interview has been condensed and edited for clarity.
How have you been? Have you had some time to recover?
Yeah, I've been good, man. This sort of opened up another opportunity to go play a bunch more. And I said, you know, what the hell. Life hands you these opportunities sometimes and you just gotta go for it and not try to be too calculated. I'm not going to quit the job, so that's still there. And if I get to another 25 events, perfect, if I don't, life goes on.
That's awesome. I mean, even my friends who don't follow tennis were asking me about this story. It was cool to watch.
I was actually surprised that it got so much attention. It was just, like, one round at an ATP. But I guess it's kind of unusual. And there were a bunch of funny quotes. Like, I had to ask my boss for a day off.
Did you have a chance to read any of the articles about you? I think even some British tabloids caught on. And all these headlines say, you know, "real estate broker," "a real estate exec," "full-time finance professional," "part-time tennis player." It's funny, because for me at least, I've seen you as a tennis player the whole time. What was your self-image over the last few years?
Interesting question. I don't know. I've sort of never let go of that identity. And it's been such a core part of my life. I mean, I've been playing it for 30 years. My identity as a tennis player never changed, but my identity as a professional player—and my self-image as someone who was ever going to play a match again—was certainly not there. So that's the part that was different, I guess.
Walk me through the beginning of Delray. You're an alternate into the qualies?
Well, no. I'm driving down there. The sign-in for alternates is Saturday, 4:00 p.m. to 6:00 p.m. You go there, you sign in. And after 6:00 p.m., the deadline closes. And then if someone from the original qualifying list doesn't show up, then they'll take the No. 1 guy on the alternate list. And then if two guys don't show up, they'll take the second guy. When they put out the draw on Saturday night, I didn't get in. My name was not in the tournament. Tennys Sandgren actually was an alternate, he got in, he's ranked higher. And maybe there was one other guy. So I said, OK, that's it.
I had left three rackets up there on Saturday night, assuming if I got in on Sunday, I'd have them there. And then I woke up Sunday, and I'm not in the tournament, but I want to go play some tennis. I don't have my rackets. I don't have any rackets. So I'm like, Well, let me just drive down to Delray. It's 30 minutes down the road. And when I get there, I bumped into the supervisor, and he's like, "Oh, Matija, good to see you. There's a chance you might get in." He's like, "Yeah, one guy pulled out. But it's not official yet. Just stick around." And then like, 10, 15 minutes later, he's like, "Yup, yup, he's gonna pull out, get ready, get ready to go on the court." I was like, "What?"
I quickly change—I barely had any clothes—and then they announce the match. And they go, "next on center court, Stefan Kozlov and [Yosuke] Watanuki," this Japanese guy. It was so late that they didn't even know another guy had quit. So I was in the tunnel, and the supervisor told me to go. But they'd announced the other guy. So Kozlov walks out, and I don't want to walk out, because if Watanuki walks out on court 30 seconds after me, I'll look like the biggest idiot. Just imagine that scene: Kozlov, me, and Watanuki walk onto court? [laughing] Oh my God, I would sink into the ground. So we had to wait for five minutes for them to clear it up and for the supervisor to come and actually change the name. And then they announced me. So that's how it happened.
What's the hardest part about getting back into the groove, after a couple of months off? [Before Delray] you played for the Croatian team, at the United Cup in Australia. Then you played in Cleveland after that.
Yeah, and Cleveland was even crazier [than Delray]. Because I woke up and it was raining in Palm Beach, and I knew I wouldn't get my tennis session in for the day. The weekend is usually the time when I get to play a little more, because I don't have work. So I just opened up flights, saw there was a flight to Cleveland, and literally left the house with my tennis bag and went to Cleveland and ended up winning two rounds [of qualifying].
When you have like a long layoff like that, and then you come back to such a high level, is the hardest thing conditioning? Is it timing? Is it mentality? What is the hardest thing to get back?
It's just switching identities. For instance, last summer, I did the same thing at a Challenger in Orlando. I was on the phone all morning, and we were trying to figure out this deal, whether it makes sense. And I was dressed in meeting clothes. And then 30 minutes later, I'm warming up. An hour and a half later, I'm playing a guy who's No. 220 in the world, who's there with his coach. I'm surrounded by completely different people, completely different topics. And it's just like, switching from role to role. You gotta put on your Superman costume. I kid you not, I lost the first set 6-0 in 18 minutes. And I was down 2-0 in the second, and I said, Oh my God, I'm gonna get obliterated 6-0, 6-0. Similar to [the Jack Sock match] in a way—I was down 4-0 pretty quickly. But I managed to turn that match around and switch on the tennis player identity: OK, now I'm like Mike Tyson, forza, let's go. That's the tough part. It's less so—I mean, sure, timing, especially on the serve, guys are serving 130. I don't see that at Palm Beach Country Club. It's more like 30 miles an hour that these serves come. But it's more this mindset of—Wait, what? 15-all? What are we talking about? Like, let's talk about real estate taxes, you know?
Yeah, I was about to say, it sounds like Batman, you've got your day life, and then you just get up at night and have to start grinding. You must have seen Mike Tyson was at Delray, right?
Of course, I invited him.
I should have known.
I gave him the ticket. So, you know, that was like a dream come true, in a way.
You ever hit with him?
I haven't hit with him, but I hit with his daughter occasionally. They actually moved to Boca, and that's how I got the chance to meet them.
I feel like you have all these moments where you have to suddenly switch your mindset. Are you ever just in the middle of the match, and you're still thinking about a tough call you had at work or something like that?
Usually, yes, and it's on the changeovers. And it just puts this kind of a smile on my face, like, what the hell. Not in the match, though, not in the match. In the match, I'm trying to figure it out. But on the changeovers, I was laughing during the tournament. You know, my boss is in the stands, I barely had enough clothes in my bag, just funny.
How do you have the conditioning to go play a three-set ATP match while you have a day job? Like, what are you doing on your downtime?
I run every day. I find creative ways to make training tough, even though I'm playing with a 70-year-old. For two months, when I hit with Joe [Jacobs], my boss, I hit only forehands. For two months. So we'll play a set, and I can only hit forehands—full sprint, side to side, and not easy. Even though I don't blast the shot when I get there, I work on the right footwork, and that for two hours is a killer conditioning session. And then when I'm taking my morning meetings from home on Zoom, I have my [resistance] bands all over the apartment, and I really like band work, and I just find ways to do it. I didn't feel unfit at all. If you look, [then-world No. 223 Stefan] Kozlov retired with cramps—that's fitness. [Then-world No. 222] Tennys Sandgren called the physio three times—he just physically was gassed. I was there like, Come on guys, what the hell, I'm the office guy.
Speaking of playing with older guys, is it true that in the week leading up to Delray, you'd only hit with Mark Ein that week? [Ed. note: Ein is a tennis-loving, 55-year-old investor who owns the Citi Open in Washington, D.C., as well as a World TeamTennis team.]
Yes. It was a busy week. I saw him at The Breakers. And I remembered him from a Challenger from a couple years ago. Shit, the only good hit that I'm gonna get this week—I was like, "Mark, grab your racket, let's go!" He was like, "What?" I was like, "Dude, let's go." That was it.
How's his game? Should Novak hit him up?
I mean, listen, he can hang! He obviously can't move the same way as a tour guy. But he can read the game well, and he can give you a strong enough ball to where you can actually hit out and enjoy the session.
That's pretty impressive. I wanted to backtrack a little bit so our readers can know more about your background. You were about to break into the top 200 back in 2015. And then you had some setbacks—complications from a stomach surgery.
Seven months off. It's a long time. Your points start dropping off. It's tricky. Then I essentially shut down the tennis thing. And I applied to business school. Because I don't know if I'm gonna play again. If I play again, I don't know what my level is gonna be like. Let me just apply to business school, and we'll see what happens. Without any real intent to go, but I just applied because I had some free time. And then I was like, Oh, God, what do I do now? How do you turn down Harvard, when it's not like I was eighth in the world, making money, I was now 600, 700 again, with an exploding offer from Harvard. And they said, you either come or you don't, you can't defer, it's exclusively for the fall of 2017.
And I said, What the hell? I'll do it. Take the plunge. And then when I was at Harvard, a tennis coach from the undergrad team reached out to me and said, "Why don't you come hit with the boys?" I said, "I have no interest, because you turned me down when I was applying for undergrad." [laughing] He said, "Biggest mistake we've ever made. If you ever change your mind, reach out to me." And then a couple of weeks later, I did, and I went out for one training session. You know, college tennis, it just rekindled all those memories. Then I started coming twice a week, four times a week, six times a week.
Before I graduated, we had a month off for exam period. And I saw a Futures in Cancun. I wanted to go play. I requested a wild card. The tournament director didn't give it to me, but said, "You can go play a pre-qualifier." It's a six-round pre-qualifier to win the wild card for qualies. And I was in Boston, it was cold, what the hell am I gonna do in these horrible dorm rooms? I'll fly to Cancun. I won six rounds of pre-qualies. Then I got the wild card into the qualies, won two rounds in qualies, got the wild card into the main draw. And won five rounds in the Futures, to beat the guy in the final, who's now a top 100 guy. Tomas Etcheverry, he's Argentinian. I think he's playing the final of Santiago today.
I win the Futures. I fly back to Boston, now I'm like, 700 in the world, picking up my diploma, Well, this is interesting. What now? And then I had four friends in Boston, these guys from this venture fund. They used to invite me to their Sunday doubles game. And I came back and they were all super excited, like, "Holy shit, you call your hedge fund guy, and you tell him you're not working in finance, you're going back on the tennis tour." So similar to now—crazy unexpected event leads to new enthusiasm, make the decision. And then I start playing Futures right after business school. Most of my friends are going to BCG and Bain and Carlyle and I'm like, playing a qualifier in Portugal. And the funny thing is, I start playing insane tennis; I move up really fast. And now I'm back within the top 300 in five months. And I make the Davis Cup team, and [current world No. 20] Borna Coric is injured with a shoulder thing. Now it's like, maybe I can play on the Davis Cup team, and it's an Olympic year, and there's just so much to play for. And I win another 25K in Bangkok. And then COVID hits, and the tour shuts down.
It's shut down for nine months. Like the whole world, I'm stuck in an apartment, figuring out what the hell is going to happen next. When the tour does resume—here's the part where I got super fucked—they froze everyone's rankings for about a year. So no one moved up or down, whatever you did. And then if you remember, they said in 2021, half of your points from 2019 will still stay on. They gradually dropped off. So from being in a position where I made points from July to January with nothing to defend until July, now, everyone who had made points from January to July kept those points, and I couldn't accumulate more points, so I was really spinning in place. Whatever I did, I was permanently 280. You win a match—280. You lose a match—280. You win five rounds—280. And this is going to go on for two years. I'm not going to move up. And I bumped into these guys when I was in Florida for a tennis tournament, got into conversation with my current boss. And then he said, "Listen, if you don't want to do the tennis thing anymore, come spend some time with us learn about what we do." So that's how I ended up here. Sorry, that's a very long answer.
No, the detail was perfect. I was wondering about it, because I know the way the points worked during the pandemic did fuck over a lot of players.
Oh my God dude, it was terrible. Yeah, in 2022, Dusan Lajovic had points from Monaco 2019.
It was a totally surreal situation. I also love the story you were saying about the Harvard coach who turned you down. Do I have it right—you sent a DVD of your playing footage to the Princeton coach?
Yeah. I sent the same one to Harvard, and to no fault of his own, he responded and said point blank, "Matija, appreciate the note, you're just not good enough for this team. Good luck in your college search." Because I was the top 1500 junior in the world, not by any means a stellar standout. And then I never lost a set to Harvard in four years. That was my "fuck you" to them. [laughing]
And then you had the rituals where you printed out the photos of your rivals, too. [Ed. note: Pecotic printed pictures of his college opponents and hung them on the wall of his dorm.]
Yeah, the red X. [Ed. note: He'd cross out the picture after beating them.]
And then you picked up a couple more Xs in Delray too, right?
I did. Yeah. Although I have to rekindle the ritual, I didn't do it in Delray.
You think you're gonna bring it back now? You should put it in your office, dude.
On the pro tour that could backfire. You lose a lot more than you do in college. If I do it, I'll do it secretly—only for the Netflix documentary, but not for my Instagram.
You've run into a lot of these guys in the Challengers, Futures, and some of them obviously blew up later. You played Aslan Karatsev, for example, in 2016. What was it like watching him go on his big run in Australia in 2021?
I mean, I wanted to rip my hair out. Tennys Sandgren, making the quarters [of the Australian Open] twice, right? Karatsev making the semis [of the Australian Open]. [Matteo] Berrettini playing the finals of Wimbledon. So many of these guys that broke through. It's just encouraging because you say, OK, I know exactly what this guy plays like. And I've beaten them and I've done it officially. Not just in practice—you can beat anyone in practice, it doesn't mean anything. So on one hand, it's encouraging. On the other hand, of course, it's frustrating, because you keep asking yourself, Oh, God, what if? Then you say, Listen, maybe if he could do it, I can do it.
The important thing there, psychologically, is if you actually watch tennis on TV, it makes you think that they're playing a different sport to what you're playing at Futures or Challengers. And beating these guys and spending time with them and just being in the locker room, it just sort of humanizes them, where you don't look at them as some supernatural beings. They're just like, guys. And there's TV and cameras and microphones and replays. If I watch myself on Tennis TV at the Delray Beach Open, I look 10 times better in my head than I do at a Challenger. The camera's different, the sounds are different, there's a crowd. These are little mind games you play—you have to feel like you belong. It's not about hitting a big serve or big forehand. It's about convincing yourself that you belong there. You don't have to be some sort of crazy, crazy specimen to just be out there and beat these guys. Just look at Karatsev: middleweight, 6-foot, just a normal dude that works every day and beats big guys.
Huge calves though.
Huge calves. The largest calves on the tour.
I know it's so expensive, especially at the Futures and Challengers level, to travel around. And then the payouts aren't that big, and you don't know if you're gonna get paid any given week. How did you make it work? Did you have a sponsor?
Yeah, I didn't have a sponsor, I had an investor. And I treated myself very much like a startup, where I happened to be the product. So, think of Shark Tank, and that's exactly what I did. Here's how much money I need. Here's how much equity I'm willing to give up. And here are my milestones. And that was it. So that's how I structured it. And, you know, I want to partner with these guys. I don't want to get sponsored, or I don't want it to be a charity thing. I want it to be a business transaction. And if I do well, they do well, and if I perish, we all perish together. [laughing]
You've had this experience [in Delray]. You go back into work. You get a personal shoutout from Novak Djokovic on Instagram—obviously, you guys used to hit together, so there's some history there. Do you feel like that week changed the course of 2023 for you?
Yeah. Listen, I've been complaining, to friends and family: God, I gotta get back on the tour, I just miss it, I just want to do it so bad. There was just no justification for how I'm gonna go to my employer and say, "Hey, like, I'm gonna go back on the tennis tour." And I needed a catalyst. And when you ask, sometimes God delivers in strange ways. It's like my prayer was sort of answered. And this definitely changes the way 2023 plays out for me. I don't know how it's gonna look, I have no idea what's gonna happen. I could go out and be a big flop, or something happens, but it's given me the opportunity, at least, and now it's now it's on me to make the most of it.
What kind of flexibility do you get in terms of work? It helps that your boss is a tennis guy, it sounds like.
Yeah, they're supportive. They know it's not forever—it's a short window. And they're so wealthy and successful, it's like, I'm not a needle-mover at the firm. Even though, you know, the media might want to portray it in that way. They're very, very, very comfortable. And they kind of like [the tennis]. They'll be flexible. I still have to go in, and I still have to deliver on my requirements and responsibilities. But I'll be able to do it remotely, and get my 25 weeks in, and maybe show up to work a little bit later.
That's exciting. Do you keep tennis on one of your monitors at work? Do some scouting?
Secretly, yeah. Secretly, Tennis TV is permanently logged on.
What are you playing next?
So, impulsively, I wanted to go out and ask for a bunch of wild cards, but the reality is, if I want to do this and take it far, I've got to spend five, six weeks getting really ready. So I just started a six-week training block, and then I can really go from April to September or October, have a good stretch playing in conditions that I like. So yeah, mid-April, if everything goes according to plan.
Stay in touch
Sign up for our free newsletter