Zillowing Out
A $1.1 Million House For Our Brain In A Vat
10:01 AM EST on February 11, 2023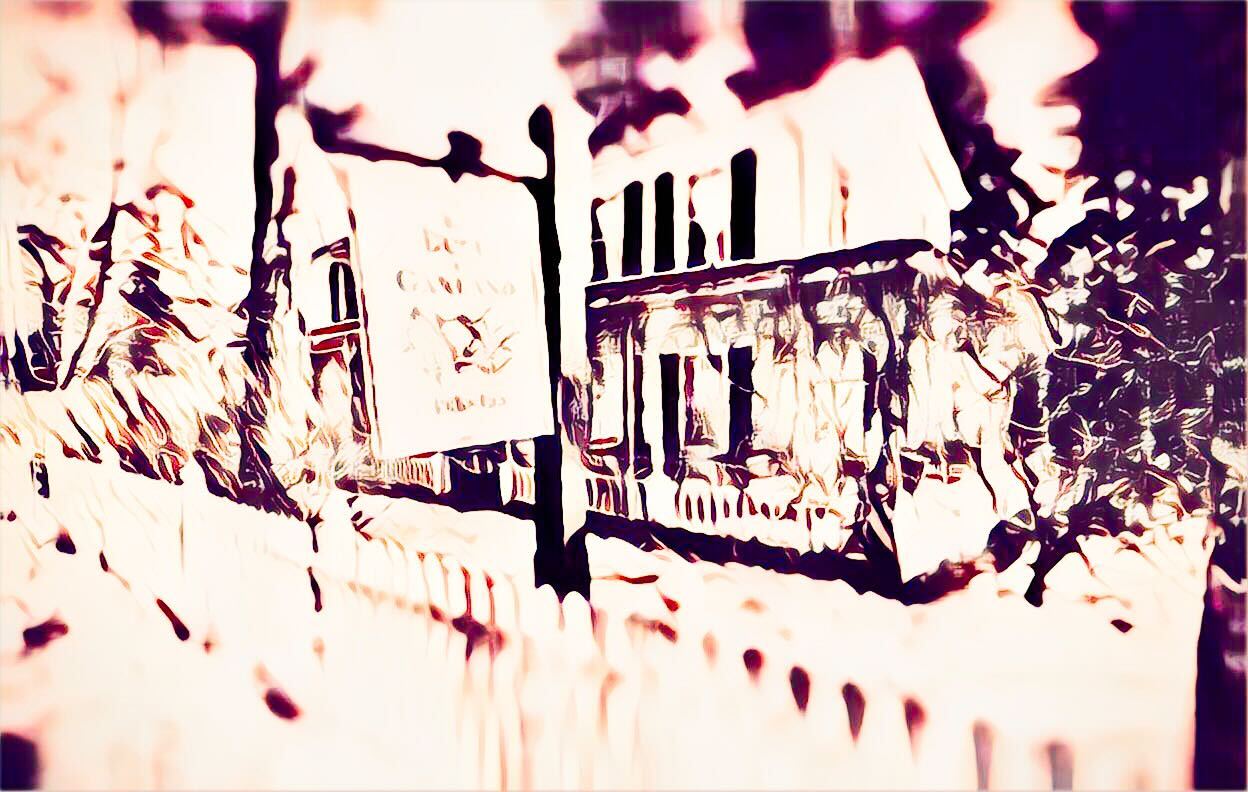 I was forced to take a few philosophy classes in college for my major. I did not like this mostly because I realized pretty quickly that much like effective altruism and utilitarianism, all rhetorical arguments can be presented as moral when they are actually evil. Also all the books were boring. The only piece of philosophy I managed to absorb, before I teamed up with a philosophy major and traded beer for him to explain concepts to me while I quickly wrote our papers, was Gilbert Harman's modification of Rene Descartes evil demon experiment: the brain in the vat experience. It's an argument for philosophical skepticism and probably solipsism.
Again, I don't really know anything about this on account of bribing a philosophy major. What I do know is that I loved thinking about the brain in a vat completely amputated from Harman's theory. I liked thinking about literally dropping my brain into a vat of water. It seemed like it would bring me great relief. I would doodle the brains inside tubs of water and kiddie pools and oceans. I imagined how calm I would feel if only I could saturate my brain with water and ring it out. I was, as you may have guessed, extremely depressed and not in treatment.
I dreamt about washing my brain because I wanted to rinse it out and start over. I wanted to control what was happening in there. But brains are not controllable entities. It's annoying and frustrating because it seems like you should be able to control your brain, fix it, restart it, mold it into a slightly more comfortable shape. But that thought of wishing to fix your brain is already inside your brain. It's an impossible prison with a life-sentence.
All of this is to say that I've been having a harder time writing lately. It feels like every word is connected to a piece of floss that I have to reel out of my mind to get it onto the page. It's mostly annoying, but I had a dream about the brain vat the other night. These paragraphs are the first in months that came easily, mostly thanks to the Ray Ratto Writer's Block Solution Program™. But for a few weeks I did the thing I always do, and considered abandoning my entire life for some other version of it.
This week's house is the alternate reality I want. If I could throw it all away, I would throw it all away for her.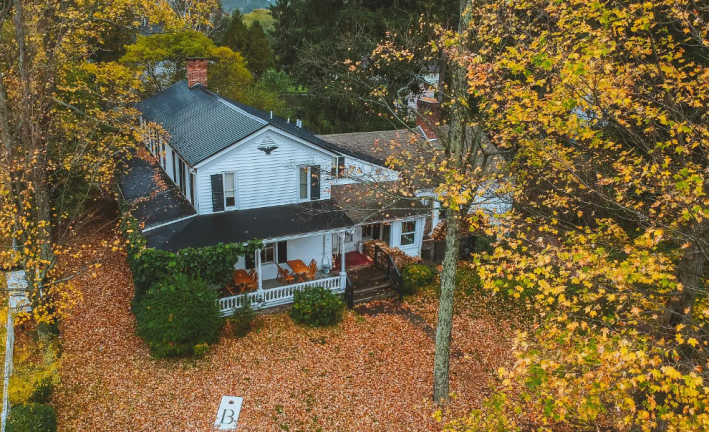 Wow. She's so beautiful. Look at all those leaves. Look at that big B that I assume is for cornhole, one of my favorite games. Let's look at the specs before we continue.
Here we have a home built in 1890 and located in Hobart, NY. Hobart is an ideal Catskills town because it has like 14 bookstores and it is extremely close to one of my favorite restaurants in the country, Brushland Eating House. So already, my future is looking bright. This house has been operating as an adorable little inn that I have had on my list of places to stay for years. Maybe now, I can just simply stay forever.
We've got five bedrooms, seven bathrooms, 3,571 square feet with five guest rooms, a beer garden, a fully-equipped commercial kitchen with adjoining pub, and enough space for all of our dreams to spread out.
Shall we look around inside? Let's start as all good parties do, at the bar: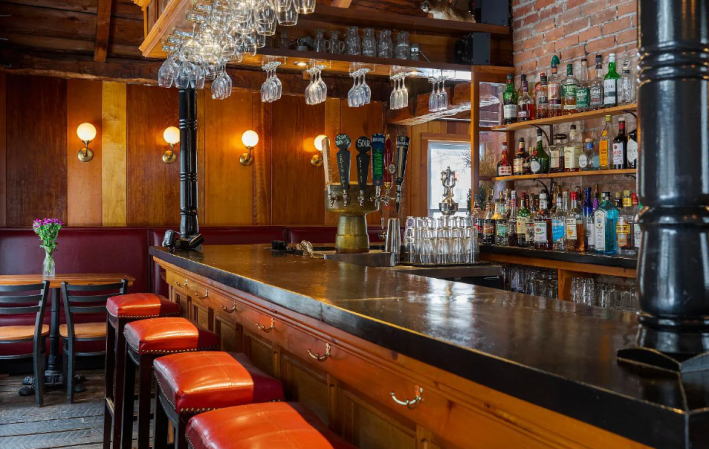 It is probably entirely unsurprising to all of you that I have a lot of opinions about bars. I think every stool should have it's own coat hook, that the stools should not spin and should have cross bars for me to put my feet on. I think the bar should be wide enough for me to order five things and have a drink and hold my book, but not so wide that I have to lean across it for things. This bar is very close to meeting all my requirements. It's only failing is that I think the bar should extend out a little over where my knees go so that I don't drop food on my lap and have to hunch over. I love this bar. If it were by my house, I would become a regular so fast that people would think I owned the bar, which in this case, I guess, I would.
Here is another angle, where you can see the tables:
It's a U-shaped bar! It's a little hearth. It's big vinyl booth-land with wood paneling and warm light and scuffed floors. It is perfect! Imagine how happy you would be when you saw all your guests (who are preferably your friends and not people who paid to be there) just lounging around the bar, and eating little deviled eggs and fancy olives and meats.
This house/inn/restaurant was listed for sale in August for $100,000 more. I have had it saved in my Zillow since then. When the listing was removed in December, I heaved a sigh of relief. Finally the nightmare of the other perfect life I do not have would stop taunting me and allow me to live in peace. But I was wrong. It is back. Look at it: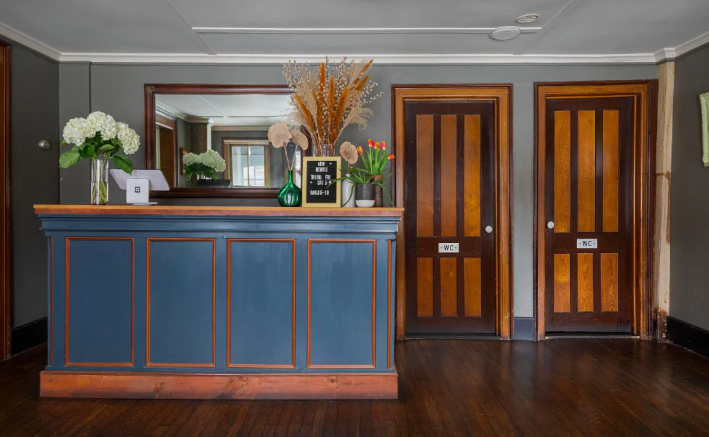 The two single stall bathrooms are so small and so cute. I love these extremely old doors with the different stain inlays. I also love this check-in counter even though I usually do not approve of painting old beautiful wood.
Let's look at some guest rooms: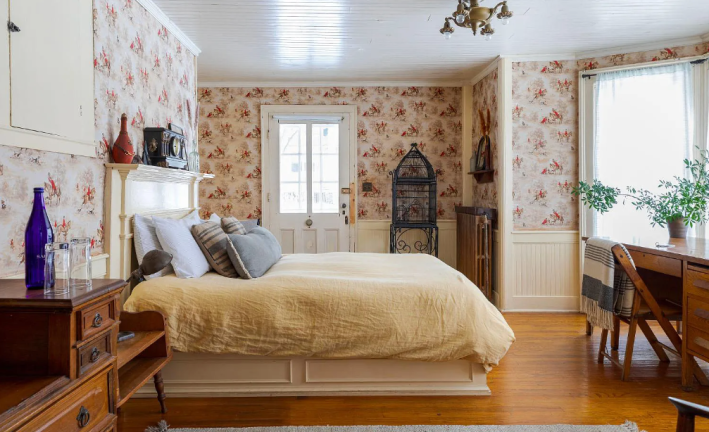 My soul cries for what this ceiling must have looked like before someone painted it white. A true tragedy. But everything else about this room, is lovely. It is not my personal style to enjoy pastels and decorative bird cages, but my desk and chair look almost identical to that one, and I love a honey-gold wood floor. This we can work with!
Here's another: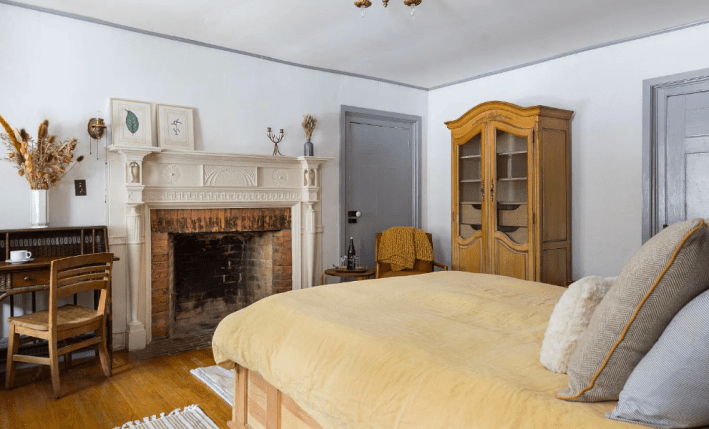 FIREPLACE! FIREPLACE! Let's look closer: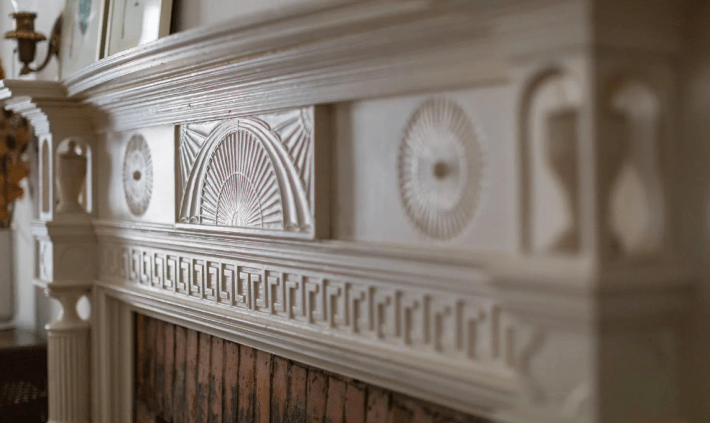 OH SHIT! Oh hell yeah!!!! I am hootin' and hollerin' over this. Look at that gorgeous woodwork! I don't even care that it's painted because it's not gloopy! Gloopy landlord paint jobs are the problem with most painting. But this is so beautiful. I want it. I must have it.
Here is another room with nice wood work that is not gloopily painted: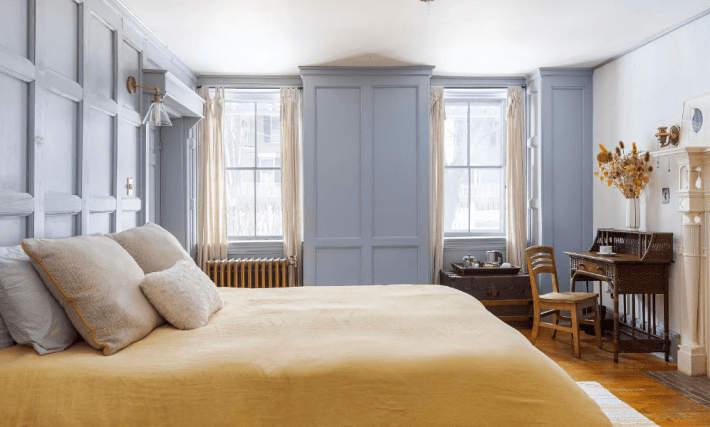 Again, I would immediately paint this and switch the duvet because I don't believe in soft colors. Imagine how nice this would be dark green and cream. Cozy. Here is the room where I will be at all times: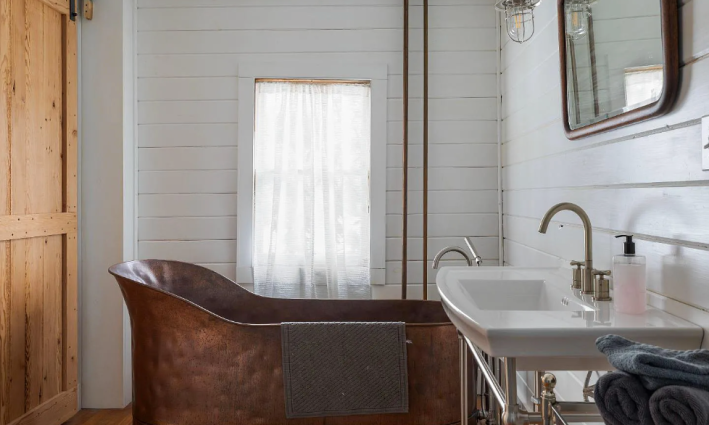 Hammered edged copper slipper tub?! I imagine this thing is worth my entire salary and I am willing to stop eating for decades to have it. All I want is for my whole adult body to be able to be underwater. The rest of this bathroom is an embarrassment compared to the tub. Have some respect for the tub and get a sink that is also pretty. Replace all these fixtures with copper or brass. As much as I love a claw foot tub, slipper tub is my true soul mate.
Here is something I don't like: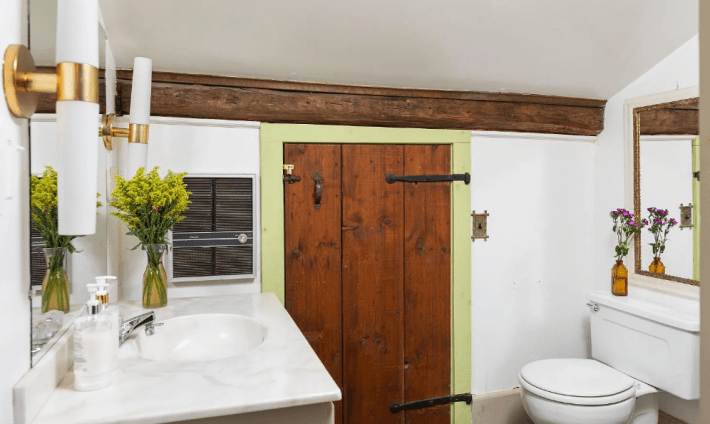 What's up with this tiny door? Where is it going? Why is it locked from in here? I appreciate that someone tried to tone down the spooky by painting the trim the color of an easter egg illustration, but it's not working for me. I'm scared. I don't like it.
Here is the basement, I think: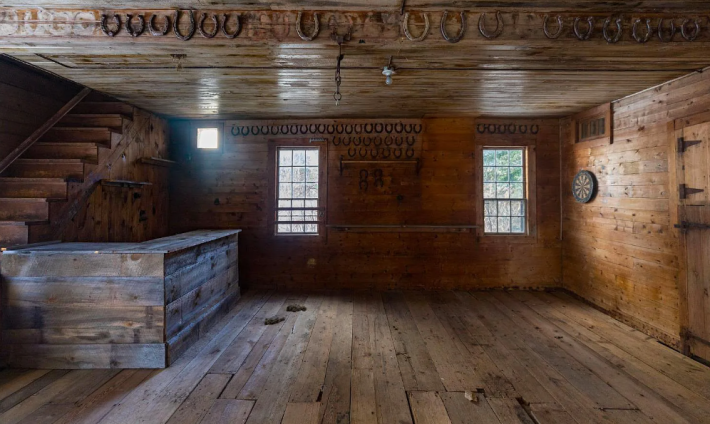 This, I like. It needs a pool table, one of those long Tiffany stained glass lamps, several light up Budweiser signs, and some leather chairs. But otherwise it is perfect. This place is perfect for Friday nights. Every night is Friday night here. In the winter, Friday night is in this basement, with a TouchTunes and a great happy hour menu. But in the summer, Friday night is in the beer garden: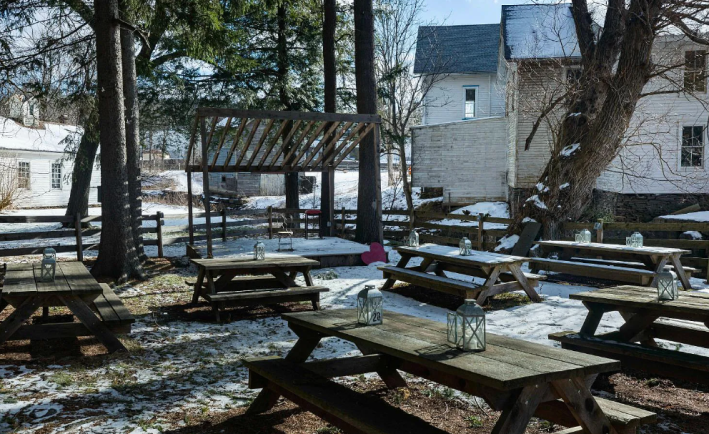 A little band could play up there on that tiny stage, or your two best friends could get married! It would be so lovely. It will smell like citronella and fresh-cut grass. I love my new idyllic life as an inn keeper who never writes anything at all.
Though, this porch does seem like a really nice place to sit with a journal and have a couple of quick ideas, or to daydream with a big glass of wine.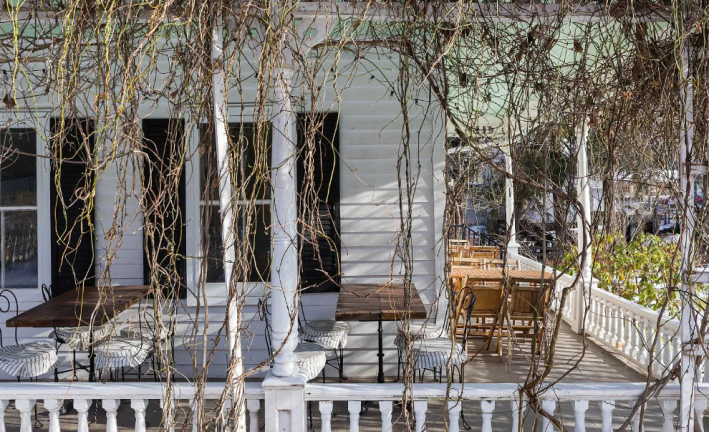 Maybe, in the end, I just want to be a visitor at the inn. I don't need to own it. I can love it just the same without blowing up my entire life.
This week's house has been listed on Zillow for $1.1 million for three days. If you buy this house, I am available to visit every hour of every day, thank you.
Stay in touch
Sign up for our free newsletter