MLB
The Search For The Real Jason Heyward Continues
11:45 AM EST on February 21, 2023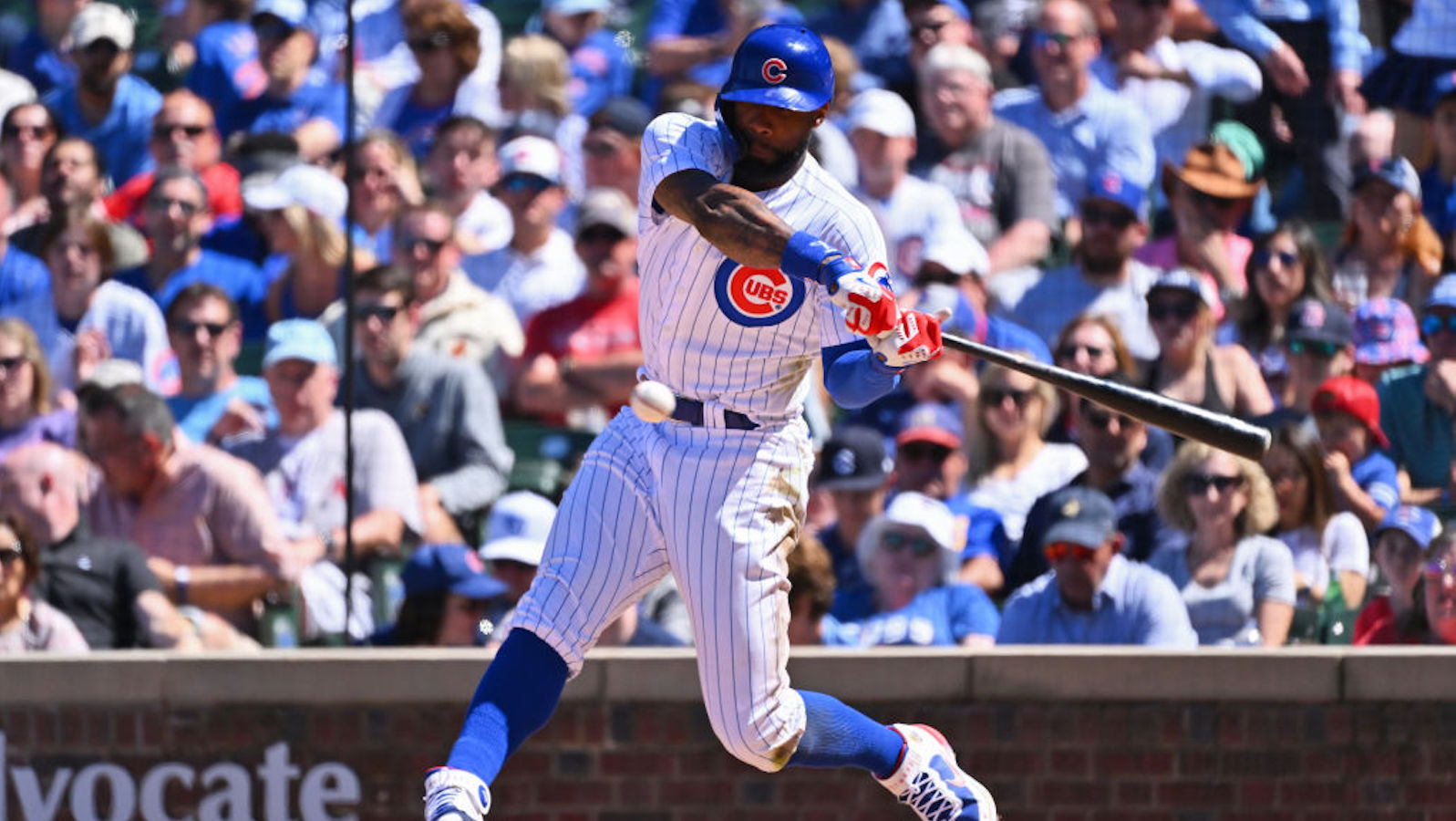 Sometimes you don't even need to take a look at a player's Baseball Reference page to get a good sense of how his career is going. In the case of Jason Heyward, contract details provide all the information you really need: In the winter of 2015, when he was 25 years old, Heyward signed an eight-year, $184 million contract with the Chicago Cubs. This winter, after being released by the Cubs after seven seasons at 33 years old—an age that many players would consider to fall within their prime!—he signed a minor-league deal with the Dodgers. He's currently with the team at spring training, fighting for a big-league roster spot, and, once again, trying to fix his swing.
For how long has Heyward been trying to fix his swing? It has flitted in and out of various stages of brokenness ever since he followed up his outstanding rookie season with a sophomore campaign in which his batting average fell by 50 points and his OPS dropped by 141 points. Since then, Heyward's offensive output has been heavily scrutinized, with each season of subpar production only increasing everyone's frustration with how Heyward's career was unfolding. You look at a guy with all the physical gifts he has, who was drafted in the first round out of high school and made the All-Star Game as a 20-year-old rookie, and you can't help but wonder what the freakin' problem is. Why can't this guy just figure it out already?
Heyward's swing has always been the preferred culprit, and it's easy to see why. He's 6-foot-5 and lanky as hell, which requires that his swing include a lot of interlocking parts. Heyward and his hitting coaches have long struggled to get these parts aligned just perfectly, and just about every season has brought a new set of tweaks and adjustments meant to finally unlock his true potential as a hitter. If you were to randomly select 10 at-bats from throughout Heyward's career, there's a decent chance you would see his hands, elbows, and feet in 10 different positions.
Back in 2017, Ken Rosenthal wrote a fun story about how the Cubs were rebuilding Heyward's swing from scratch, which included all sorts of fascinating anecdotes about Heyward deconstructing his swing into its component parts before reassembling them. Some of the drills Rosenthal described Heyward doing would have looked great in a third-act training montage in an inspiring sports movie.
It's funny to go back and read that story now and compare it to one that was published on MLB.com yesterday, about how the Dodgers plan to rebuild Heyward's swing. The main thing the Dodgers seem to be focused on is the positioning of Heyward's hands:
The Dodgers made it clear to Heyward that his swing needed a major overhaul. There were some things that weren't working for him and had prevented him from producing at a high clip for a few seasons. The biggest thing was his stance and the use of his hands.

Over the years, Heyward preferred to keep his hands closer to his body. But this spring, Heyward has kept his hands higher and more compact, allowing him to catch up to the ball more freely. Spring Training games -- and ultimately regular season games -- will be the real indicator if those changes worked, but Heyward showed off his new stance on Monday, taking Tony Gonsolin deep during live batting practice.

MLB.com
And here is a bit from Rosenthal's 2017 article concerning Heyward's hand placement:
Heyward's hands are lower than they were last season, closer to his body. His bat is more vertical. He's shorter to the ball, and his follow-through is stronger.

"I'm able to be more balanced. I'm able to get more good swings off because I'm at the right spot at the right time," Heyward said.

Fox Sports
So, the problem five years ago was that Heyward's hands weren't close enough to his body, but the problem today is that his hands aren't far enough away from his body. Obviously, different hitting coaches will have different ideas about how to solve the problem of hitting a baseball, but you have to wonder what Heyward, after all these years of adjustments, truly thinks when some new guy waddles over to him and tells him where to put his hands. Oh move my hands up? Wow, holy shit, nobody has ever suggested that before. Thank you man!
Maybe the lesson of Heyward's career is that hitting is bit more alchemical than mechanical, and that no player, no matter how strong and coordinated they may be, can start hitting like an all-star through the application of One Weird Trick. Or maybe the lesson is more about why some swings get defined and studied as broken while others are simply overlooked for being not very effective. A broken swing implies the existence of a better version that has been lost, but the longer Heyward stays in the league, the harder it becomes to identify what exactly he is meant to be reclaiming. Take in his 13 seasons all at once, and what you see is pretty consistent. There are a few seasons in there in which Heyward's OPS spikes up a bit, but for most of his career his statistics have told the same story: he's just not a very good major-league hitter.
That sort of macro view of Heyward's career misses all sorts of little details, though, and it's from those details that the fixation on Heyward's swing grows. A Baseball Reference page doesn't easily reveal those month-long stretches that Heyward tends to go through, in which everything really does seem to lock into place and he can't stop rapping doubles off the centerfield wall. Nor can it capture those weeks upon weeks worth of at-bats in which every ball Heyward makes contact with is a weak grounder to second base. To watch Heyward play baseball every day is to be alternately tantalized and confounded. How could you not conclude that there is something there that needs to be fixed?
I wish the Dodgers, and their fans, good luck.
Stay in touch
Sign up for our free newsletter