NFL
Steve Wilks Made His Case
12:29 PM EST on January 9, 2023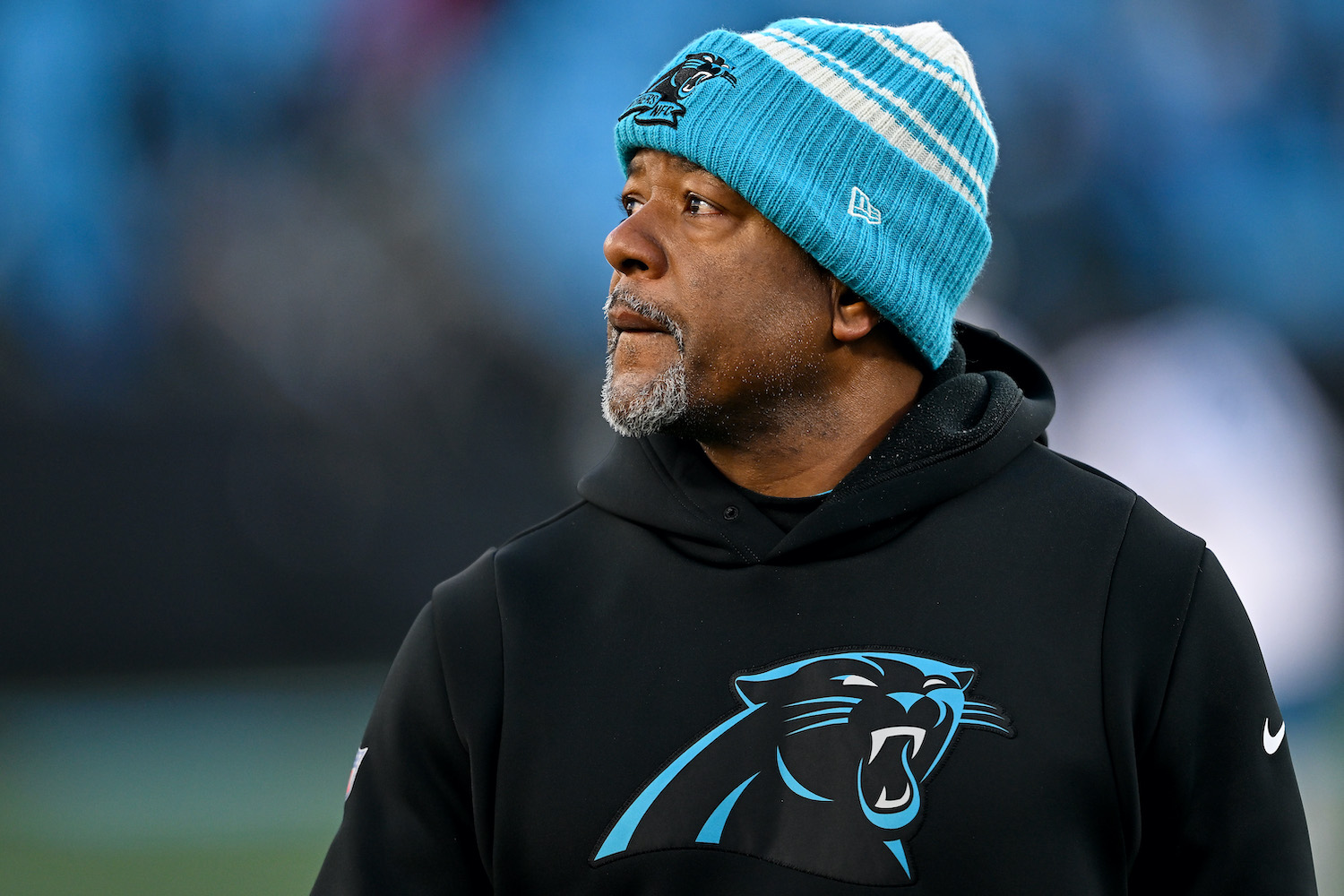 After firing head coach Matt Rhule in October following the team's 1-4 start, Carolina Panthers owner David Tepper said interim coach Steve Wilks would be considered for the job on a permanent basis "if he does an incredible job." Wilks might not have taken the Panthers to the playoffs, but what he did in 12 games with this roster feels close to incredible.
On Sunday the Panthers beat the Saints 10-7, with a last-second field goal by Eddy Piñeiro. The win was ugly, and quarterback Sam Darnold was awful (5-of-15 for 43 passing yards and two picks), but it meant that the Panthers finished the season with a 7-10 record, with Wilks going 6-6 as head coach. Rhule never had more than five wins in either of his two full seasons in Carolina. The Panthers overcame a terrible start to the season and became a competitive team—especially in the NFC South, where the 8-9 Bucs won the division—and it felt like redemption not only for the players but for Wilks, whose prior experience as head coach was one 3-13 campaign for the Arizona Cardinals in 2018.
The mood in the locker room was joyful but pragmatic. Linebacker Shaq Thompson acknowledged that it could be the last time those key players and that coaching staff were together, though he hoped it wouldn't end there. "You guys keep asking the question," Thompson said in a separate postgame interview. "You guys know: We want Wilks."
So, let's review the case for Wilks. Thompson's quotes suggest that players like playing for him. He inherited a roster with some talent but no direction. One week after he took over, the Panthers traded their best offensive player, Christian McCaffrey. Under those circumstances, Wilks went .500. Most of his wins were against middling opponents, but in November the Panthers did beat Tom Brady and the Bucs, 21-3, with former XFL player P.J. Walker at quarterback and AFC South castoff D'Onta Foreman as the primary running back. Wilks and his coaching staff worked around the limitations within the quarterback depth chart. It's an impossible game to choose from Walker, Darnold, or Baker Mayfield, and yet Wilks had to play it for his portion of the season.
For his efforts, Wilks has won the chance to be non-interim. He will formally interview with the Panthers on Tuesday, according to Joseph Person of The Athletic, but Tepper will likely set up chats with a number of coaches, including one or two offensive coordinators who remind him of Sean McVay. You can tell that Carolina's an appealing gig because Jim Harbaugh reportedly cold-called Tepper about it. If the Panthers owner wants to explore other candidates, fine, but it would not make much sense to let Wilks leave.
Consider the Panthers' situation. This season they finished second in their division, and weren't too far off from competing for first place and a playoff appearance. They aren't at the bottom of the league but also aren't one player or coach away from a big leap. As it stands, they are much less grim than the Houston Texans. Quarterback Matt Corral didn't have an actual rookie season due to a Lisfranc injury in the preseason, so his abilities are unknown. The Panthers have a few more draft picks in 2023 because of the McCaffrey trade. There is a path to winning a relatively soft division, and it doesn't necessarily involve overhauling the coaching staff. Hiring Wilks would avoid the route of starting from scratch.
There is another factor to acknowledge, though: The NFL is historically bad at hiring black head coaches, even with the Rooney Rule. That's why Wilks joined Brian Flores's discrimination lawsuit against the NFL this past April. The league's owners—in this case, Tepper—can find any excuse to go with someone else, and when a team does hire a black head coach, he tends to have a less patient boss. For evidence, look at how the Texans fired David Culley and Lovie Smith in back-to-back seasons, or how the Cardinals treated Wilks right before they drafted Kyler Murray. (Kliff Kingsbury, Wilks's successor in Arizona, went 4-13 in 2022 and has a 28-37-1 record across four seasons. The Cardinals fired him on Monday.)
When hiring a head coach, every advantage can be twisted into a disadvantage, and vice versa. It merely depends on how an NFL team wants to spin it. Wilks is familiar with the Panthers; that familiarity might be used against him. He's not a well-known name; Nick Sirianni wasn't either. A prominent college coach would make a bigger splash; Urban Meyer definitely made a bigger something.
Do not misconstrue this as an argument that Steve Wilks will lead the Panthers to a Super Bowl. The point is that he was put into a bad situation and rose to the occasion. What could he achieve if the Panthers put him in a good situation, maybe with an offensive coordinator who isn't Ben McAdoo? Realistically, what more could Wilks have done to merit a full-time head coaching position? As best demonstrated by that Week 18 win, Wilks got a team to buy in and care, even when it had nothing to play for. Too bad Tepper wasn't in attendance to see it.
Stay in touch
Sign up for our free newsletter