NBA
LeBron James Advanced The Lakers A Few Of His Precious Minutes
9:04 AM EDT on October 27, 2023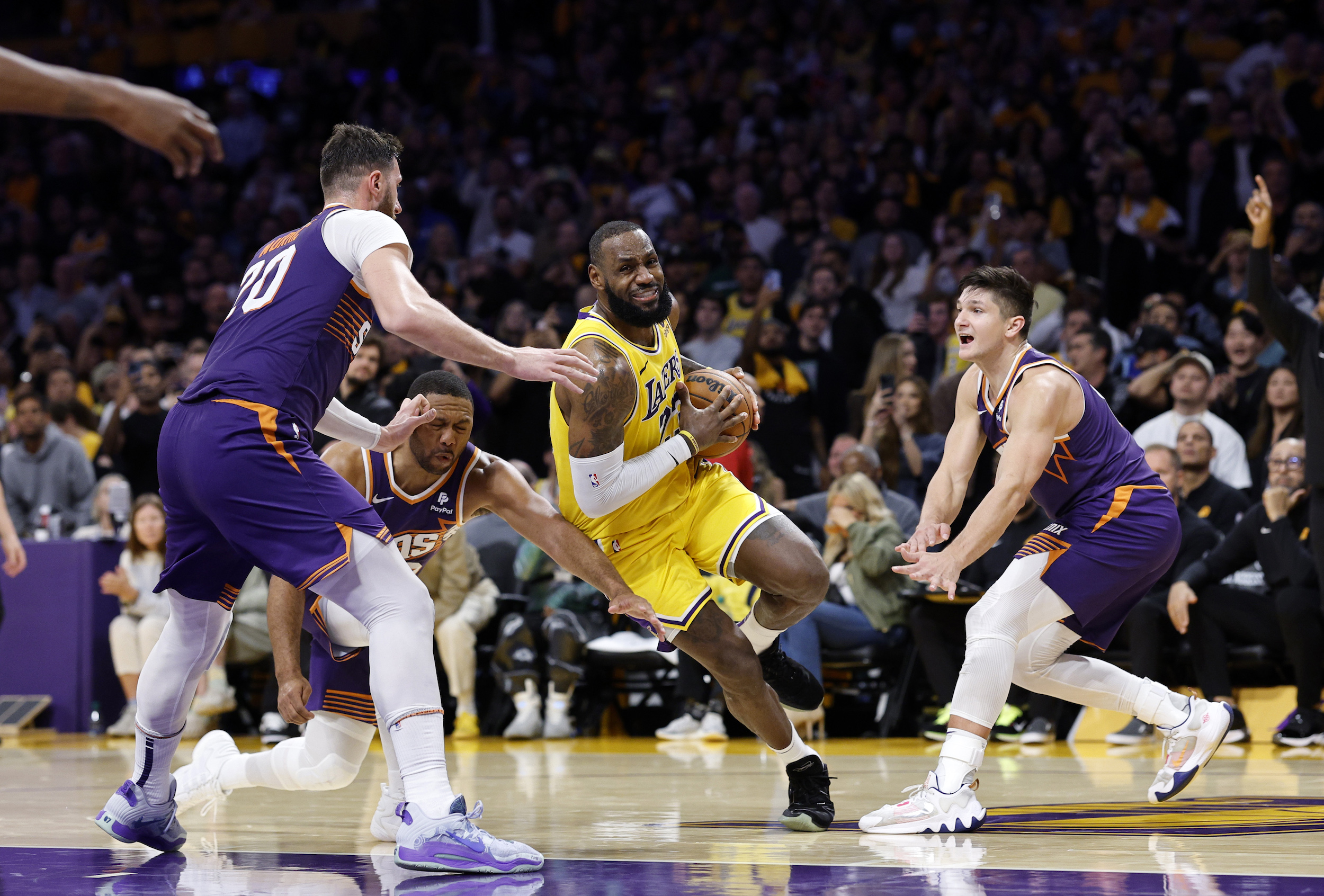 The Lakers are going to need a lot of LeBron James this season. Head coach Darvin Ham is hoping to get away with using less of him, but the early returns aren't great: Through two games the Lakers have won James's 64 minutes by 29 points, and have lost the 32 minutes he's spent on the bench by 36 points. Tuesday they lost their opener on the road to the defending champion Nuggets, and Ham limited James to just 29 minutes of play. The Lakers were in that game at the start of the fourth quarter—they spent the middle quarters clawing their way back from an early double-digit deficit—but Ham stuck to the plan and gave his 38-year-old captain some late rest, even though it meant watching Denver's lead balloon with his best player sitting on the bench.
This is new territory in James's career, but then he's never been 38 years old before. In 1,705 career regular-season and playoff games entering Thursday night, James had played 29 or fewer minutes just 85 times, and his record in those games was 65–20. The average margin of defeat in those 20 losses is over 17 points; start subtracting times when James was limited by foul trouble or felled by a high ankle sprain or wiped out by an iron Dikembe Mutombo elbow and the average margin of defeat shoots up over 20. Generally speaking, when James is ambulatory and his team has a chance to win, he is out there on the floor until the bitter end.
Tuesday's minutes restriction was an early testament to how seriously Ham and the Lakers are going to manage James's workload during his 21st NBA season. The plan, reported ESPN's Dave McMenamin, was put in place by Ham and Lakers general manager Rob Pelinka during the offseason, in consultation with James's longtime personal athletic trainer, and received James's consent. With the NBA cracking down on load management, the Lakers had to devise a way to keep James upright and fresh across what they hope will be a full season spent in the thick of the title hunt, and the solution they came up with is to keep his minutes in the sixth-man range. James will need to be maximally efficient during his stretches of play, and the Lakers will need to survive his extended breaks. There will be times—many of them, based on the season's early returns—when this will mean grinding his teeth on the bench while his Lakers teammates flail around and give away a lead, or allow a manageable deficit to expand into a stupid one.
"I always want to be on the floor," James said after Tuesday's loss. "Especially when you got an opportunity to win a game or you feel like you can make an impact. But this is the system in place and I'm going to follow it."
There's wiggle room built into this system. Ham allowed after the Nuggets game that there will be some "day-to-day" evaluation, in communication with James and the team's medical staff. Thursday night, in the team's home opener, Ham and LeBron faced another difficult late decision. The Lakers entered the fourth quarter down 12 points to a Phoenix Suns team missing both Devin Booker and Bradley Beal. James was the only Lakers player who'd won his minutes to that point in the game, but he'd already played 23 of them. A few more minutes of rest to open the frame might've doomed the Lakers to a second loss in as many games. With the Western Conference as deep as ever—there are at least 11 teams in the West that expect to make the playoffs—a team with title aspirations can't afford to cast off winnable games, even in the first week of the regular season. It's good to have a plan; it's bad to stick to that plan if it's leading you into a toilet.
Ham approached James at the start of the fourth to ask whether he had enough in the tank to play the entire quarter. This was a no-brainer. "I looked at the time and the score and what was going on in the game, and it was an easy answer for myself," James said. "I understand that we definitely have a system put in place, but tonight called for me to go outside the box." James played every minute of the final frame; the Lakers defense clamped down on an exhausted Kevin Durant; James and Anthony Davis combined for 23 of Los Angeles's fourth-quarter 28 points; and the Lakers surged to an important win. James finished with 35 minutes of run, and made the big plays down the stretch that turned the tide.
A fully healthy Lakers team is supposed to be strong enough to breeze past a hobbled opponent, affording LeBron chances to sit without any question of the opponent suddenly turning into the Harlem Globetrotters and moonwalking off into the distance. This is why Anthony Davis and D'Angelo Russell get the big bucks; this is why Austin Reaves was re-upped to the maximum allowable salary; this is why Rui Hachimura was signed to a four-year contract and made James's unofficial understudy. Pelinka went out in the summer and brought back some recognizable names to add oomph to their rotation (although several of those names—Christian Wood, Cam Reddish, Jaxson Hayes—belong to goofballs whose careers require rejuvenation, if not resuscitation) and some untapped upside to their bench. Some healthy combination of Lakers co-stars and role players is supposed to make it possible for Ham to preserve James now so that he will be near his best six months from now.
It will take some time for the Lakers to figure out what those combinations might be, but the whole load management plan is about managing time, which at this point in James's career has become precious and finite. LeBron can't come swooping down nightly to rescue the Lakers like he has in the past.
"Once we get more comfortable with each other, he's not playing 35 minutes," Ham said Thursday night. "Once our guys get caught up to speed, he'll be back in his sweet spot with his minutes." That assumes, of course, that LeBron's teammates ever, in fact, get there. In the meantime, the Lakers will continue to draw early advances from his reserves that are meant to someday carry them over the finish line.
Stay in touch
Sign up for our free newsletter